Sewer expansion proposed for Southside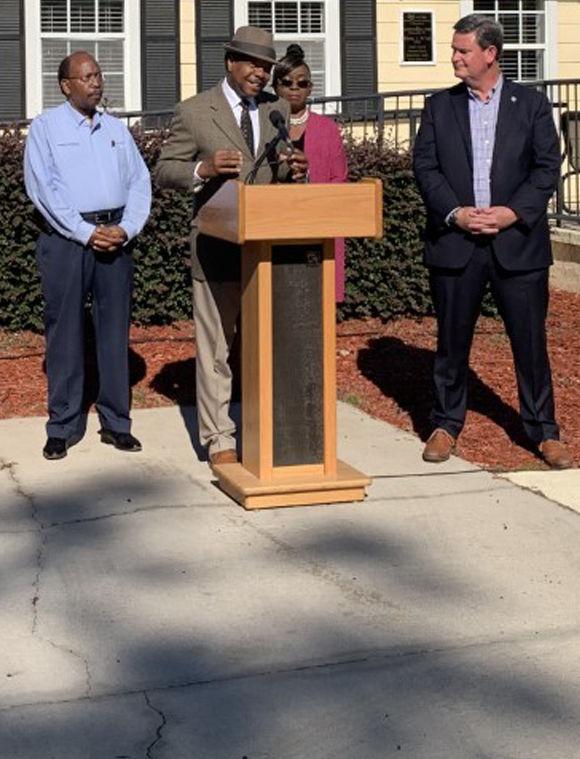 Leon County Commission Chairman Bill Proctor and Tallahassee Mayor John E. Dailey announced their intention to support proposed septic-to-sewer improvements in the unincorporated area of Southside.
The targeted area is bounded by Woodville Highway to the east, Crawfordville Road to the west and Capital Circle SW to the south.
During the Oct. 6 press conference at Tillman Funeral Home in Tallahassee,Dailey announced his intention to ask for support for the proposed project at the Oct. 12 meeting of the Tallahassee City Commission, and he did exactly that. An agenda item related to the proposal is expected to be on the agenda at a future city commission meeting.
Proctor said the pandemic amplified heightened awareness of the need to improve public health in this area.
"As mayor, I'm proud to join with Commissioner Proctor in calling for more investment in the Southside," Dailey said. "We launched the Southside Action Plan to ensure a high quality of life, and as part of this plan, I'm committed to investing more than $10 million to provide sewer connectivity to homes and businesses in our community's Southside. Working together, I'm confident we can make this happen."
Proctor thanked Dailey for supporting the project. He said he met recently with a lobbyist in Washington, D.C., to discuss ways for the county to complement the city effort, providing a hookup fee of "free-99" for Southside residents who would have the opportunity to move from septic to sewer service.
Proctor said moving homes from septic to sewer in the proposed project area will also benefit Wakulla Springs, the Floridan Aquifer and Lake Munson.
When asked by The News about the local impact the proposed project could have on Wakulla Springs, Wakulla County Commissioner Chuck Hess said moving homes in that area of Southside from septic to sewer would be beneficial, but only if density is restricted. He said if more residential construction is allowed in the area, it would be "a zero sum game."
Leon County is also in the middle of a $60 million project to provide sewer to roughly 1,500 properties currently on septic tanks in South Leon County in the Primary Springs Protection Zone. Project areas include: Woodside Heights, Belair and Annawood subdivisions; Northeast Lake Munson; and the Woodville Community.
Leon County will pay the cost for Leon County residents there connecting to the new sewer system and abandoning septic tanks during the septic-to-sewer project.