Law and Order: Those Who Serve – Cody Fenton willing to go extra mile at Sheriff's Office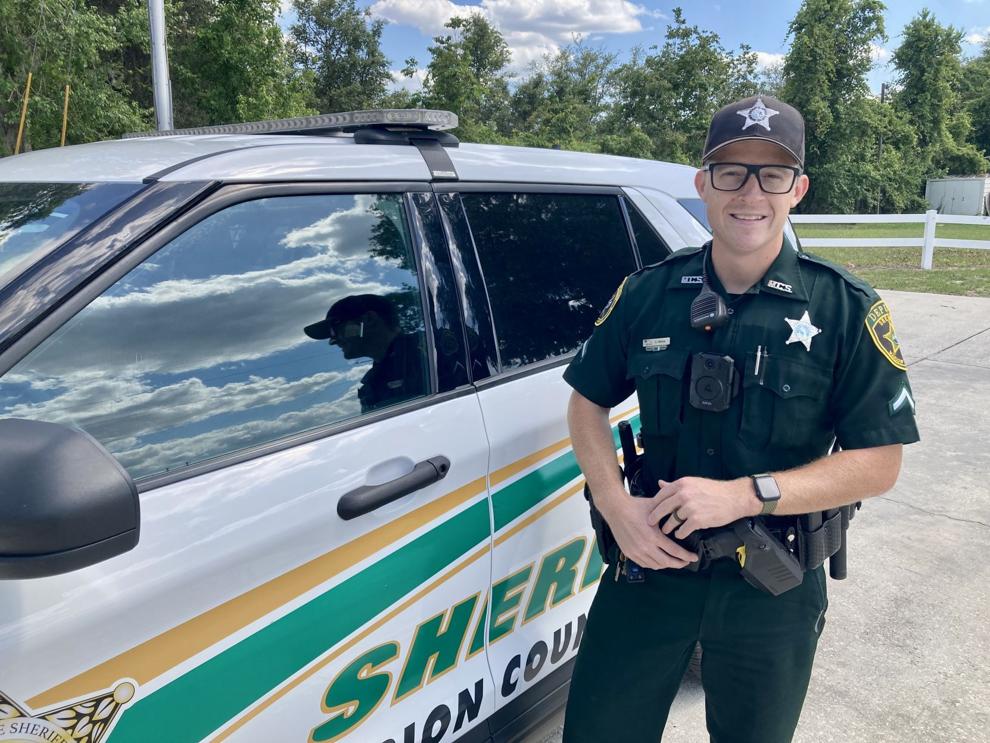 In the past two-plus years, we've featured more than 40 individuals in the column "Those Who Serve." Most of those folks were members of the sheriff's office, often people involved in specialized jobs like K9 officer, helicopter pilot, school resource officers, etc.
It's been awhile since we have featured one of those fine individuals who comprise the backbone of the organization; the deputies who patrol the streets and roadways in our community. They're the ones that make sure the job gets done every hour of the day and every day of the week.
The work may not be glamorous and may at times be very dangerous, but it's these men and women who bear the weight and responsibility of keeping us safe, while risking their own safety in the process.
It's no secret that police recruiting has become very challenging. Police work is not for everyone, and everyone is not for police work. More than ever, the job calls for total honesty, integrity and courage, along with a genuine desire to serve.
Some agencies throughout the U.S. have responded to the recruiting crisis by lowering hiring standards, but the Marion County Sheriff's Office (MCSO) has instead opted to double-down on its recruiting efforts with no diminution in criteria.
One of the outstanding young deputies hired during the past few years is Cody Fenton, a 25-year-old Ocala native who joined the sheriff's office in 2019.
In addition to his regular patrol duties, Fenton is also a certified Field Training Officer (FTO). This job carries significant responsibility by helping new recruits successfully complete probation and get their careers off to a strong start.
Additionally, FTOs also provide a "firewall" to ensure that "bad apples" don't slip through any previously unforeseen cracks in the recruiting and hiring process.
In the relatively short time Fenton has served in the MCSO, he's established a reputation as a dedicated, hardworking law enforcement officer willing to go that extra mile.
As mentioned, Fenton is native to Ocala, born in 1997, into a working class family with a younger brother. His dad was a supervisor at Big Sun Fabricating. Fenton is grateful his parents taught him that success in life requires hard work and that, "nothing is handed to you."
He graduated from Lake Weir High School where he distinguished himself as a starting pitcher and led the varsity baseball team to a regional championship. After completing high school, Fenton attended Central College of Florida for several semesters while working part-time at Publix. After three semesters, he felt there were good career opportunities at Publix and left school to begin working for them on a full-time basis.
He was subsequently offered a promotion that involved moving to South Carolina. He enjoyed his work there, but homesickness finally steered him back to a Publix in Ocala.
His ongoing career in the food service industry was pleasant enough but didn't fulfill his strong desire to serve. After much soul searching, he applied and was accepted into the police academy in 2019 and became a member of the Marion County Sheriff's Office.
He has been happily married for three years. His wife is a speech therapist working primarily with younger children. Cody Fenton and his bride are proud "parents" of two spoiled black labs, Riley and Miles, however he indicated they intend to have an actual family at some point down the road.
Fenton also confirmed that the value of a college education was not lost on him. He plans to resume his studies online soon.
He also has firm beliefs about careers in law enforcement. In his role as a FTO, he emphasizes to his recruit deputies the importance having your partner's back and maintaining a sense of compassion in your everyday dealings with a wide variety of people
His goal for the immediate future is to become an investigator. His long term goal is to serve as a compassionate leader within the agency much like his role model, Lt. Robbins, who "… takes care of his people."
Without hesitation, when asked what the most common misconception people have about the police is, he responded, "…that we are out to get them."
He went on to say, "The ideal police officer should focus on learning all they can about the community they work in and the people who live there. The more you know about the people you serve, the better you will be able to maintain a degree of alertness as to what doesn't seem right, or which people seem out of place.
"Additionally, you will often receive helpful information about possible criminal activity from those in the community whose trust you have gained. Finally, it should go without saying that law enforcement practitioners must be beyond any doubt, people of integrity."
For Deputy Fenton, the least enjoyable part of police work is accepting and working within the regulations necessary to police work. People at times may become frustrated when officers can't use unlimited powers to instantly fix a bad situation. "People don't always understand there are limits to how much we personally can fix within the constraints of the law."
Contact Ross Olmos at sosolmos4@gmail.com.