Animal rescues among several issues discussed during Levy County Uses Workshop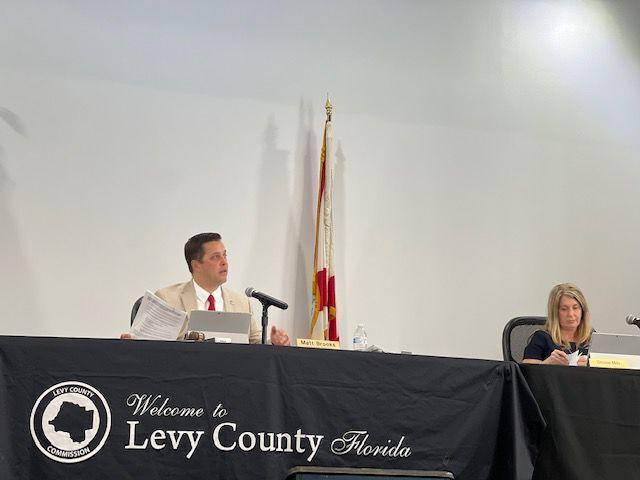 BRONSON — A number of people filed into the auditorium at the Levy County Government Center for an afternoon Levy County Uses Workshop on Feb. 21.
On the agenda was discussion about revisions to the Land Development Code to address zoning district uses within the county.
During the workshop, Stacey Hectus, Levy County Planning and Zoning director, took to the podium and provided the county commissioners and audience with a presentation that went over a proposed zoning district table, which laid out uses within this code that staff are suggesting should be taken away and also issues that they wanted to further discuss with commissioners.
One of those issues up for discussion was whether to prohibit animal rescues/sanctuaries, animal breeding, canine clubs, private dog parks and animal daycares in residential districts or allow as conditional use in F/RR (forestry, rural residential) and A/RR (agricultural, residential).
Hectus said they want to permit animal rescues/sanctuaries, if the commission makes the decision to add them to the code. Hectus added that they have already approved them in the commercial districts of the county, which is where they are proposing they go.
Commissioner Tim Hodge asked Hectus if there was a certain limit in regards to how many dogs an individual can have and also about licensing and permitting. In response, she said nothing is required currently, which has, in turn, resulted in several code enforcement issues.
"Too many animals in residential subdivision areas," she said. "Those are the issues that we've been having, which is why we are bringing it to you to ask you for direction. "
Hectus said currently, there are "no provisions in the code for rescues and sanctuaries" in the county. She added that they would end up "starting from scratch" and also look to other counties for guidance, as well.
Chairman Matt Brooks was not opposed to the idea of looking to see how different counties handle rescues.
"I think there is a decent road map in other counties and agencies that talk about animal rescue...that we can possibly glean some information and help this board decide, if this is going to be an allowable use in these areas, here is the criteria that they are going to be judged off of, basically, for if they're run properly."
Several people representing a handful of the animal rescue organizations in the county also took to the podium during the workshop to express their opinions on the issue. One of those individuals was Cheri Jenkins of WAG (Williston Animal Group), who said the organization "understands both sides of the issue."
"We know that you guys have no way, right now in the code, of determining who is hoarding animals and who has a rescue," she said. "We definitely understand there is a critical need for understanding the difference between that."
"There is also a critical need for the county to be able to have legitimate rescues in people's homes in a way that works for everybody," Jenkins said.
Brooks also brought up the issue of waste deposal as another point of consideration.
"If you're having a rescue or a large amount of animals that you are kenneling and taking care of or rescuing, then what's your plan to dispose of that waste?"
Commissioner Rock Meeks followed up on Brooks' comments and said that there needs to be somewhat of a "management plan" as they move forward.
"It's a real complex animal that we're dealing with, to say the least," he said.
No votes were taken during the workshop, and Brooks said that there could be "multiple workshops" following this one before any kind of decision is made.