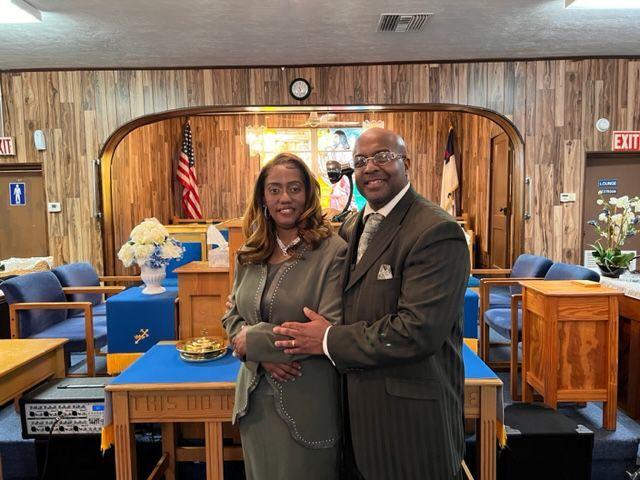 CHIEFLAND — Mount Pleasant Baptist Church has its pastor.
Members and visitors gathered at the church Sunday afternoon in Chiefland as Rev. Calvin A. McGill was officially installed as the church's new pastor during an installation service that featured singing, worship and more.
"I was overwhelmed," McGill said when asked what he was feeling throughout the service. "(I was) trying to fight back tears and hold back emotions. At the same time, (I was) happy and joyful."
"Just seeing the people (and) seeing how we all are able to come together, especially in a a day and time where churches are closing and people are pretty much walking away from the church, it's refreshing," he said.
According to McGill's wife, Pamela McGill, Mount Pleasant had been without a pastor for roughly the last "two to three years" following the passing of its former leader, Walter Hunt, who served at the church for 42 years.
Calvin, who is from Gainesville, brings more than 20 years of ministry experience with him to Mount Pleasant. In those years, he has served as an assistant Chaplin for the Virginia prison system and was also an associate pastor at Pleasanthill Baptist Church.
"It's always been in me because my mother had it in her," he said of preaching. "It was a calling that I just couldn't run from."
Calvin is no stranger to this area. He said he also spent about two years serving as pastor for St. John Missionary Baptist Church in Chiefland before taking the same position at his most recent stop, Wings of Eagles Worship Center in Gainesville.
But after eight years of serving as the leader at Wings of Eagles, where he also had the opportunity to bring his family closer together, Calvin said God has laid the path out for him to come back and finish what he left behind in Chiefland.
Ultimately for Calvin, it was the sense of community and familiarity that drew him to Mount Pleasant.
"When I was at St. John here in Chiefland, we used to have this Tri-County union where the churches in the area would meet ... we would all come together and have fellowship," he said. "So, I was very familiar with the congregation."
After having the chance to preach at the church a few times on the fifth Sunday prior to taking over the role of pastor, Calvin said a connection was formed with Mount Pleasant.
Now, as the church's leader, Calvin said he his hoping to bring "excitement and enlightenment for God" to Mount Pleasant.
"There's a vast community out there that may want to stop by and see what we have," he said.
"We want to meet the community, and we want to strive in the community," Calvin said. "We want to be a blessing to the community. We also want the community to be a blessing to us, as well."