The definition of education includes the act of developing the powers of reasoning and judgment, and generally of preparing oneself or others intellectually for mature life.
I live by that definition.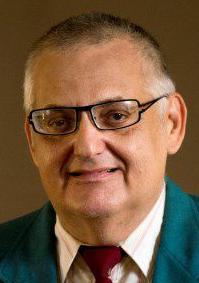 I moved to Beverly Hills with my family after high school in 1979. I studied at College of Central Florida.
After attaining my associates degree with honors and my Bachelor of Science degree in New York State, my higher education included studying: emergency medicine, preventive medicine, infectious disease, epidemiology and internal medicine at the University of Medicine and Dentistry of Jersey hospitals; general surgery at Columbia University, Mount Sinai School of Medicine, City University of New York hospitals; pediatrics at Johns Hopkins School of Medicine hospitals; pathology at Case Western Reserve University; diagnostic radiology and psychiatry at the University of Miami School of Medicine-VA hospital; obstetrics and gynecology, and pathology at a Cornell University hospital.
I was inducted to and am a member and past officer of several professional associations and member of various honor societies at all levels of my education.
I am proud of my prior state House race. I was the first and only legislative candidate to actively oppose the transport of toxic waste to Crystal River from Fort Myers. I pressed that issue and won.
I am very qualified for the position. In fact, I was the first candidate prequalified for this race.
I taught in the Citrus County School System and taught dual enrolled high school students from Ocala schools and health science students in anatomy and physiology at the College of Central Florida
I will completely rid our district of the vestiges of Common Core that continues to be pushed on us. The new standards BEST is often referred to as the same deck of cards just shuffled differently.
I promise that I will perform this job full time. I will be responsive to calls and emails made to the district. I will never surprise parents with sudden "pop" announcements that affect scheduling of school, causing burdens to their household.
The state teacher union just filed suit to stop brick and mortar education. Frankly I knew this was coming. I attended law school and clerked for a renowned labor and civil rights attorney in Sarasota.
The families, teachers, staff and their unions are far from convinced of the safety of the upcoming school year. This is why all of the sudden we had a surge in virtual enrollment.
I was not surprised. Parents were pushed into it.
This causes hardship on those families desiring brick and mortar education for the important psychological development of the child.
A lot of parents want the checks and balances of a live teacher but do not want entirely virtual nor want entirely brick and mortar. They stated they can be home three days a week and want hybrid classes now not later. One group does brick and mortar on Monday,
Tuesday-class cleaned, Wednesday-another group comes in Thursday, Friday.
One simple step in preventing an outbreak of COVID-19 or any infectious disease in our schools is when a child is displaying flu like symptoms the child should stay home. The CDC school COVID-19 decision-making tree clearly states that absences should be monitored. We had in past years four positions in the Citrus County schools titled School Attendance Officer. These positions were terminated. It was a great position, where these officers monitored absent students somewhat like the old-time truancy officer. I will bring these positions back immediately.
We hear of success stories but what about the average kid?
I need to prepare these kids for a future in life, not jail.
I'll adopt two frontal attacks.
1. A tutoring program called the Gateway Method for students being taught great study habits and critical analytical thinking to get more out of their courses.
2. A temperance program that teaches the consequences of abuse of alcohol, drugs, smoking and teen pregnancy — the social and health consequences.
We do not have meaningful dual enrollment nor high school flex schedules for construction and maritime trades like the other school districts in Florida. The state pays for tuition, books and expenses for high school students in CF to attain an associate degree. I also want Shop and Home Economics classes.
Currently, high school students who like to work with their hands have no immediate pathway to a job upon graduation in the building, maritime and other trades.
The high school flex schedule allows time to go to work, college or trade courses in the morning like other counties. The students attend regular high school courses in the afternoon and early evening. This is a great option that is not offered.
I will adopt an upfront square deal management style eliminating any possibility of a revolving door of lawsuits and the constant unrest of firings that create a hostile work environment. We will not lose good people due to harsh management decisions.
I want blind resumes to avoid nepotism and favoritism.
I want honest and fair hiring, retention, and advancement opportunities.
All employees will receive the respect they long deserved.
I want fair and open contracting with the school district without favoritism.
There is no reason someone earns over $100,000 for a part time job to supervise only eight or nine people. That is a job that deserves the pay of sergeant level.
We have multiple open doors and other soft targets. I want the schools inspected by the NRA School Shield Program to eliminate these soft targets. I will not advocate leaving our school children and teachers vulnerable in today's dangerous environment.
If Annie Oakley taught in Citrus County Schools she would not be allowed to protect our children. Arm the teachers willing to be armed anonymously and trained by our sheriff, not by an unqualified school board. They will go through rigorous screening.
Children will no longer know more about other countries than their own.
I will ask the school board to have "God Bless America" sung in every classroom.
I will return half my salary to Citrus Blessings.
All the above is more valuable to me than any award or accolade.
I've learned a life of service is the best award you can ever receive.
Dr. Paul John Reinhardt is a candidate for school superintendent.