After two elections and an uncontested race, Citrus County School Superintendent Sandra "Sam" Himmel and school board members Ginger Bryant and Sandy Counts were reinstated.
With close family and friends nearby, the incumbents were sworn back into their respective positions during an organizational meeting Tuesday, Nov. 17, 2020, in school board chambers.
Himmel was sworn in by school board attorney Wes Bradshaw, before she swore in Bryant and Counts.
Counts, who starts her second term in office, was re-elected without opposition after candidate qualifiers ended in June.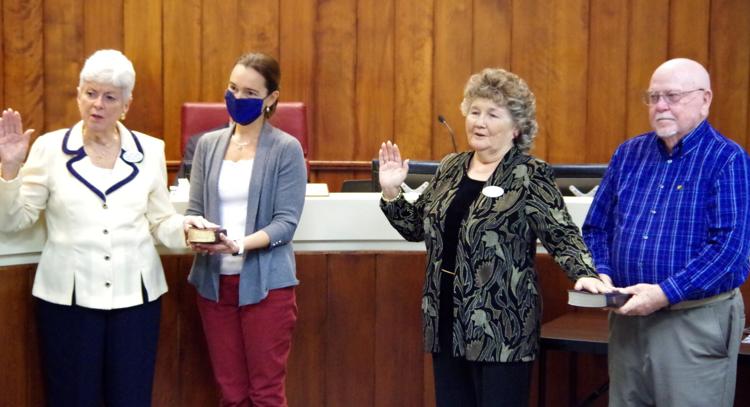 Himmel, who was first elected to superintendent in 2004, won 75% of county votes during Florida's Aug. 18 primary, beating challenger Paul John Reinhardt.
After coming up just shy of the majority of votes in the primary with two opponents, Bryant was pitted against Danielle Damato Doty in an Election Day runoff, which Bryant then won with 59% of votes, earning her sixth term on the board.
Also during Tuesday's meeting:
School board members nominated and voted in Linda Powers and Bryant as their respective chair and vice chair for 2020-21.
School board members scheduled future meetings for 4 p.m. the second Tuesday monthly.
School board members voted 5-0 to rehire Bradshaw, who will be starting his 15th year as the governing body's attorney. According to the school district, Bradshaw has a $2,500 retainer and a hourly rate of $200.
Himmel and Powers awarded Counts with a plaque honoring her role as school board chair during 2019-20, when COVID-19 began impacting local campuses.
"We should celebrate our teachers and our school administrators … these teachers are showing up, they're doing what they need to be doing and our kids are feeling safe," Counts said. "I can't say enough about our school district, and it starts in our classrooms."