Don't miss the chance of a lifetime to be a part of the City of Inverness' 100th anniversary as an incorporated city — established Sept. 18, 1919.
Members of the public are invited to two upcoming themed events to ring in a new century of the picturesque southern city known for its iconic downtown, parks, lakes, biking amenities and annual Cooter Festival.
Pay your respects to the "small town done right" and kick of the beginning of another 100 years in Inverness at the following events:
Take a gander at what life was like in Inverness in 1919 during Founder's Day on Saturday, Sept. 14, down by the Old Historic Courthouse.
From 9:30 a.m. to 4:30 p.m., the square will go back in time to the days of old complete with merchants, reenactments, living history presentations, a Florida Cracker Cowboy Campsite, music and more.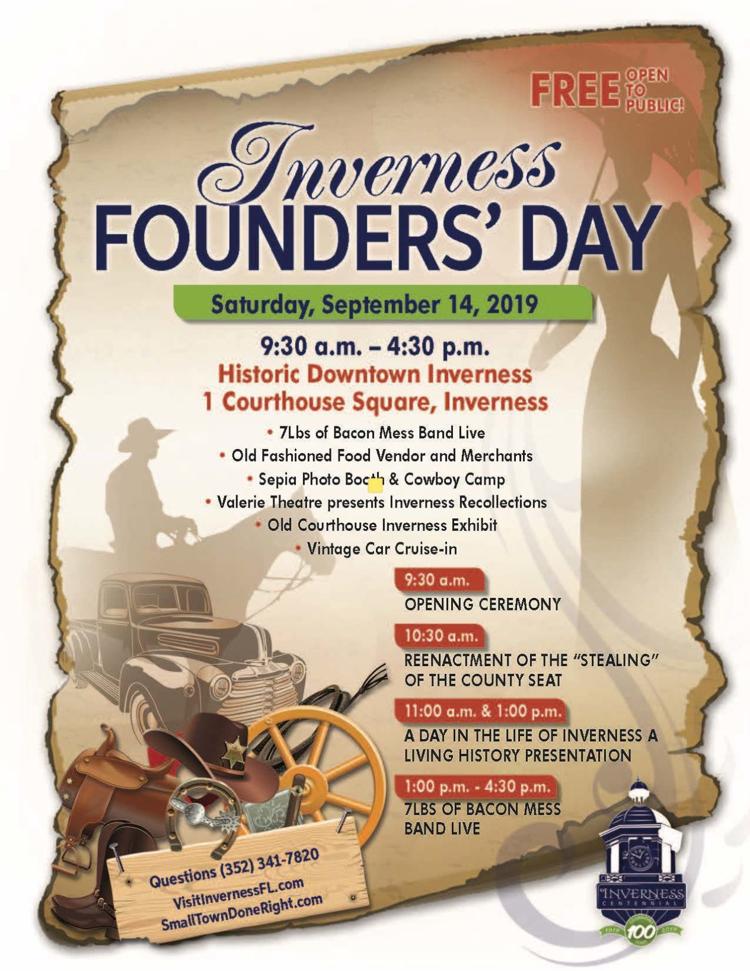 "This is the big to-do," City of Inverness Marketing Manager Liz Fernley said. "We're going back to 1919."
An opening ceremony will begin at 9:30 a.m. in front of the Valerie Theatre, followed by several historical reenactments throughout the day.
"We're doing the reenactment of stealing the county seat," Fernley said. "Angela Vick, our sitting county clerk, will be whisked away from Mannfield and brought into Inverness. There's going to be a live presentation of that with horses and wagons at 10:30 a.m."
During the pioneer days of Citrus County, Mannfield, located in the present day Withlacoochee State Forest in Lecanto, was chosen as the first acting (temporary) county seat. In the process of choosing a permanent county seat, tensions arose.
After several inconclusive elections, Inverness won the seat by a close vote, however, not without resistance. Those in Mannfield refused to accept Inverness as the county seat, and then-County Clerk Capt. W.C. Zimmerman refused to move to Inverness. So, in the middle of the night, Zimmerman was lifted in his chair, placed upon a wagon, forcibly transported to Inverness and told to declare Inverness the new county seat.
Vick will play the part of Zimmerman, and several other true-to-the-time Citrus pioneers will be in attendance throughout the day.
"The [Citrus County] Historical Society is working diligently with us to put together a living history presentation which is called 'A Day in the Life of Inverness'," Fernley said. "They have researched real people from the 1919 period, and we will have locals playing characters from back then."
At 11 a.m. and 1 p.m., watch and listen as a narrator tells the stories of the city's earliest townspeople with a cast of over 20 notable characters from the day.
"You'll meet the preacher, and you'll meet the teacher and you'll meet the school marm," Fernley said. "So while you're watching the presentation, you'll see what they really look like and see a little bit of what life was like in 1919."
Throughout the day, attendees are invited to enjoy festive food on the Old Courthouse lawn in the Florida Cracker Cowboy Campsite. Stroll through old-time merchant vendors and devour old fashioned barbecue, pies, homemade sodas and more.
"The goal is to have as many things true to the period as possible," Fernley said.
The 7 Lbs of Bacon Mess Band play from 1 to 4 p.m.
Exhibits will be open at the Valerie Theatre and inside the Old Courthouse Heritage Museum from 10 a.m. to 4 p.m.
The Valerie will debut "Inverness Recollections," a series of video histories of long-established families sharing snippets of Inverness life through generations.
Speakers include former sheriff Charlie Dean, the Rev. Doug Alexander, former city clerk Marilyn Jordan and more.
The Old Courthouse Heritage Museum will have "Inverness through the Ages" on display.
Admission is free. Parking will be available throughout the downtown.
On the day Inverness officially turns 100, put on your dancing shoes for Roaring into the 20s from 6 to 10 p.m. Wednesday, Sept. 18, at the Valerie Theatre.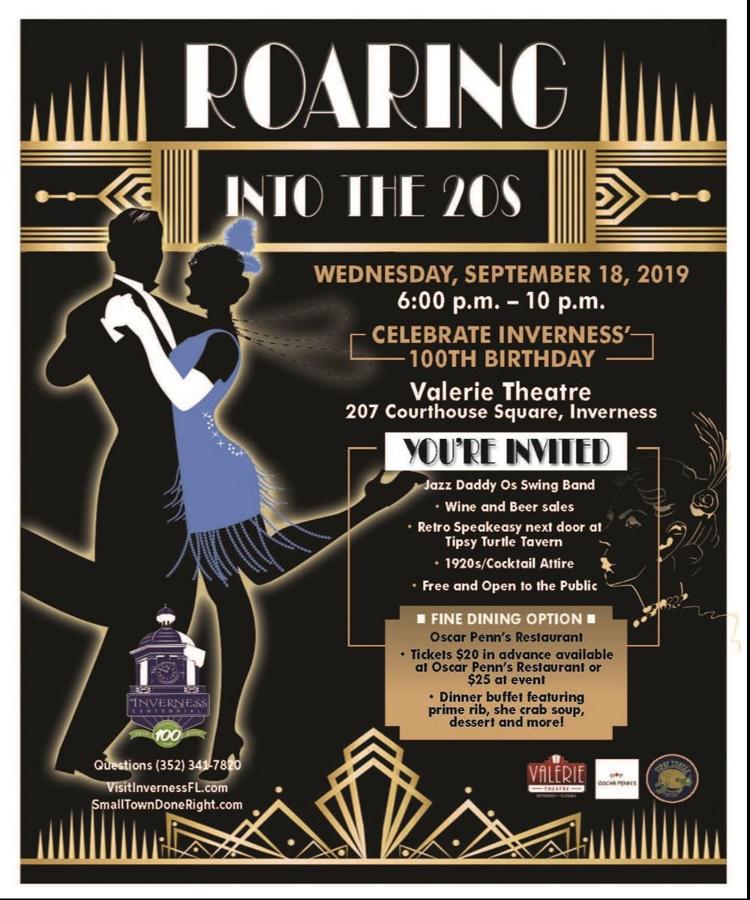 The Great Gatsby-style affair will kick off another century in the city with remarks from city officials, a jazz swing band, libations, dinner buffet and speakeasy.
"It'll really just be a nice night to commemorate 100 years," Fernley said.
Centennial reflections will begin at 6:30 p.m. and the Jazz Daddy Os band will play at 7.
Oscar Penn's will provide a buffet dinner with prime rib, chicken marsala, she crab soup, vegetables and dessert. A cash bar will be available with beer and wine for purchase.
Attendees are encouraged to dress up in 1920s jazz-era cocktail dress. The Tipsy Turtle bar will host a retro speakeasy to compliment the celebration.
"They're going to dress up and play into that theme as our neighbor," Fernley said.
Admission to the event is free. Cost for dinner is $20 in advance (buy tickets at Oscar Penn's) or $25 at the door.
The Valerie Theatre is located at 207 Courthouse Square.