Like it or not, coyotes are here to stay.
In every state except Hawaii, the animals roam the rural and urban landscapes.
At an average weight of 28 pounds, coyotes prey on insects, small mammals, birds and deer — but they will also gladly eat people's trash, livestock and pets, and can pose a danger to humans, making them a nuisance in many communities. 
So what can people do to respect wildlife but keep themselves and their pets safe living alongside these common creatures?
Sit in on the Florida Fish and Wildlife Conservation Commission's (FWC's) upcoming presentation at a local library to find out.
Sarah Helm, an FWC wildlife assistance biologist, and other staff will speak to the public and answer questions about living with coyotes at 5 p.m. on July 30 at the Central Ridge Library, located at 425 W. Roosevelt Boulevard, Beverly Hills.
They'll go over how to keep pets safe from coyotes, ways to remove or deter coyotes and coyote biology, as well as discussing the laws that govern the animals.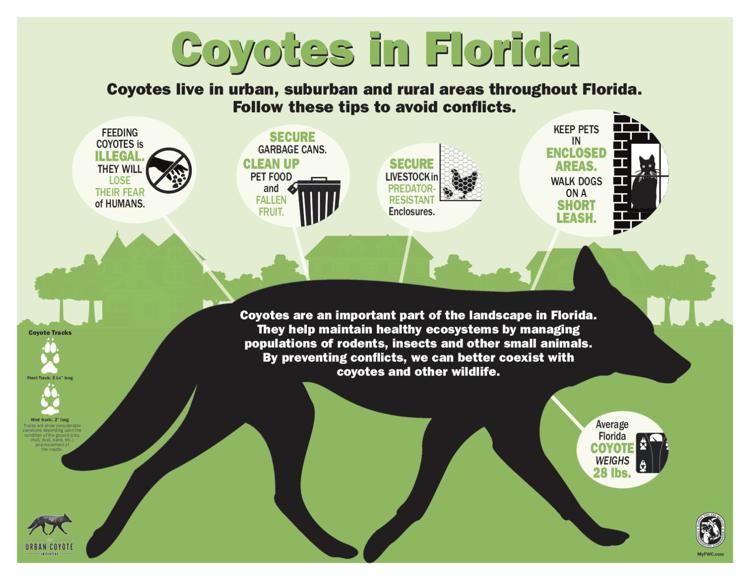 For example: Feeding coyotes is illegal in Florida, according to FWC, though as designated nuisance animals, it is legal to kill them.
The reason is that unintentional feeding can lead to close and frightful encounters with coyotes, who will take chances to check unsecured trash bins or food just thrown outside. Coyotes will lose their fear of humans who are consistent sources of food.
But according to FWC, removing or killing coyotes is not an efficient way to control populations. 
This puts added pressure on their dens, and causes coyotes to breed at a younger age and produce more than their average 4-to-6 pups in a litter.
FWC advises people to be aware of coyotes behaving unusually or aggressively, like approaching people, chasing joggers and bikers or attacking leashed pets.
To report coyotes, contact FWC's nearest regional office at 386-758-0525.