Citrus County was not out of Hurricane Michael's reach Wednesday.
Michael's bands of wind and rain, coupled with Wednesday evening's high tides, whipped Gulf waters onto the county's coast, flooding low-lying properties and roadways, including parts of U.S. 19 in and around Crystal River.
Forecasters Wednesday predicted 4 feet to 6 feet of water would surge onto shorelines between Cedar Key and southern Pasco County during and after Michael's landfall at roughly 1:30 p.m. near Mexico Beach, east of Panama City, according to the National Hurricane Center.
Fueled by winds between 15 mph and 20 mph, with gusts up to 30 mph, floodwaters throughout the afternoon submerged portions of numerous roads west of U.S. 19, prompting the Citrus County Sheriff's Office to issue several closures.
These winds continued into Wednesday evening as high tides crested, bringing more water onshore as night fell — sights reminiscent of Hurricane Hermine's flooding in September 2016.
Emergency officials said Citrus County will experience more tidal flooding into Thursday until Michael's westerly winds die down that afternoon.
Citrus County's northwest and western shores were predicted to get the brunt of Michael's storm surge as Wednesday became Thursday, according to forecasters.
Crystal River's waterfront residents experienced minor to moderate flooding Wednesday morning, when gusty winds ahead of Michael's northward push coincided with the morning's high tides.
Artie Baxley, who lives in a community off West State Park Street — one of the roadways authorities had to later close due to flooding — made sure his boat and other valuables were up and dry.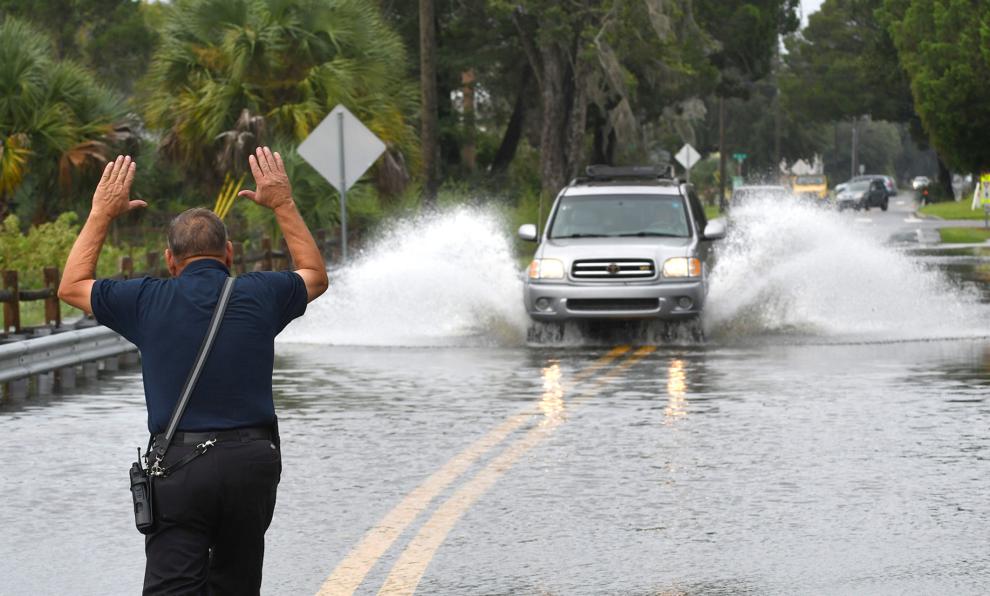 "We just raised everything up," Baxley said Wednesday morning.
Baxley thought forecasters' storm surge estimates were a bit high, and said effects won't compare to the 6 feet of storm surge Hermine brought over U.S. 19.
"We went through Hermine, we know what flooding is like," Baxley said. "I could be totally wrong, but I just don't see that happening."
Baxley predicted neighborhoods along Fort Island Trail and in Ozello would be hit the hardest later in the day as winds and tides increase.
"Tonight ... that's when we'll get into the worst of it," Baxley said. "Fort Island; they're the first line of defense, and I would have left out of there."
Gulf waters receded into the morning as tides lowered but rose again as Michael steered toward the northeast.
Throughout Wednesday afternoon, waters crept over boat ramps, docks, seawalls and low-lying parking lots.
Responders monitored the rising water levels, and occasionally spray painted lines demarcating the latest height.
Waters from the Homosassa River submerged the boat ramp next to MacRae's of Homosassa by mid-afternoon.
Homosassa father and son Scott and Matthew Spivey visited the boat ramp, along with many others, to gauge how bad things were getting.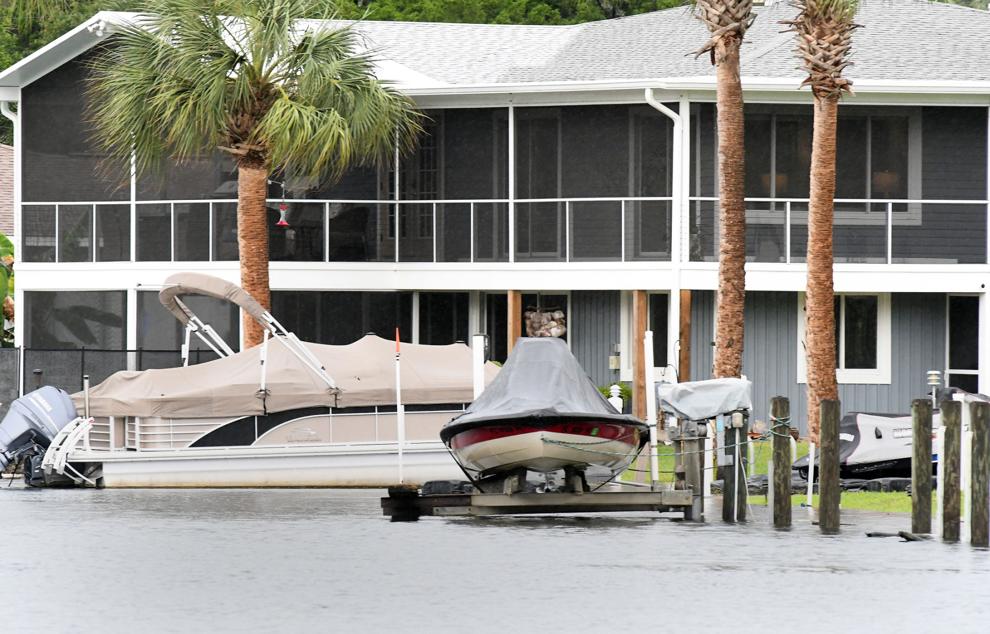 "We're not expecting that much," said Scott Spivey, who had to recover in 2016 after Hermine put a foot of water into his yard further up West Yulee Drive. "I don't think we'll get much out of it, but I'm sure we'll get a little bit up in here."
Sarah and Travis Harscher, who also stopped by the boat ramp, said they're keeping Sarah Harscher's grandparents company as the family weathers the storm in Homosassa.
Sarah Harscher said 6 inches of water burst into her grandfather's convenience store off Yulee Drive during Hermine, and her family boarded up the store's windows to brace against Hurricane Irma's high winds last September.
This hurricane season, Harscher's family is pretty confident Michael won't do too much damage.
"We haven't done any preparations this year," Sarah Harscher said about safeguarding their store.
"There's still worries that it might," Travis Harscher added. "We're going to keep an eye on everything."