Molly Redrick, her mom and two daughters were enjoying last Sunday afternoon on their dock on King's Bay when they spotted something unusual breaking the water's surface.
They couldn't put their fingers on what the creature, swimming with a manatee near one of the sailboats anchored in Cedar Cove, was.
"It was something black and shiny, almost like a dive suit," Redrick said, adding her family ruled out gars, sharks and dolphins. "We've never seen a black dolphin, and it looked fatter than a dolphin."
She said the family also ruled out the possibility of two manatees making more manatees.
"That wasn't what we saw," Redrick said, saying the animal had a rounded head and a blowhole.
Redrick's mom even got into a kayak to paddle out for a closer look, but the water was churned and muddied, and the animal was too evasive.
"It would surface behind her," Redrick said.
Redrick and others photographed and recorded what they could of the mystery guest before it disappeared.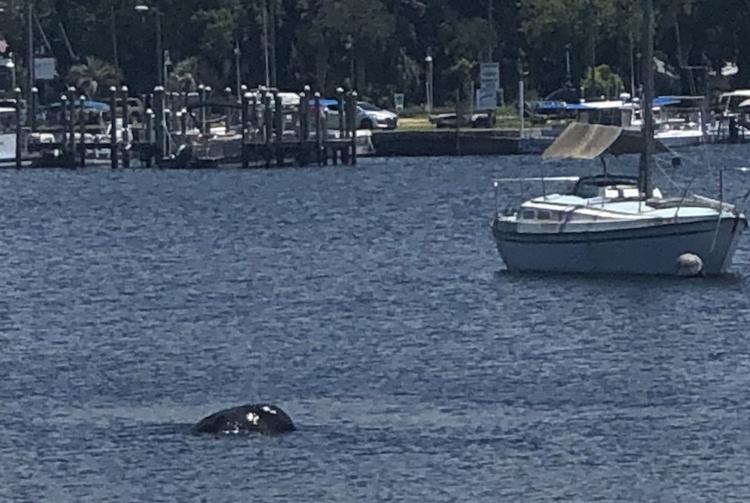 Afterward, Redrick said her family concluded what they saw was a small whale.
"And everybody said, 'You're crazy, you're crazy,'" she said.
Redrick said she grew more confident in her deduction on Monday, when news broke of five pilot whales being rescued after being stranded on Redington Beach in Pinellas County.
"That's exactly what we saw," she said.
According to the National Oceanic and Atmospheric Administration, short-finned pilot whales can grow up to 24 feet long, and — unlike their long-finned relative — can be found globally and prefer warmer waters at various depths, but prefer to dive over a 1,000 feet deep to hunt for squid.
To make a comparison, Redrick posted her photos on Facebook alongside images of Monday's rescue from the Clearwater Marine Aquarium.
Michelle Kerr, a spokeswoman with the Florida Fish and Wildlife Conservation Commission's (FWC's) Fish and Wildlife Research Institute, said agency biologists verified the animal "looks like an offshore species of whale but cannot confirm it as a pilot whale at this time."
"Our biologists need additional reports of the animal," Kerr said. "We encourage any sightings to be reported to FWC's Wildlife Alert hotline: 888-404-3922."
Kerr said that an FWC "marine mammal stranding team" was notified of the sighting Wednesday morning, and is monitoring the area.
"Whales, manatees, dolphins, and other marine mammals usually strand for a reason," she said. "Never push back a stranded marine mammal – first call FWC so trained professionals can respond and potentially give the animal the care it may need."
Many commenters online agreed with Redrick, including Earnie Olsen, supervisor of the Marine Science Station at the junction of West Fort Island Trail and the Salt River.
"It could very well be a pilot whale ... it's pretty interesting," he said, referring to the animal's head, ridged back and tail fluke. "I can't say 100% for sure ... I don't think it's completely out of the question."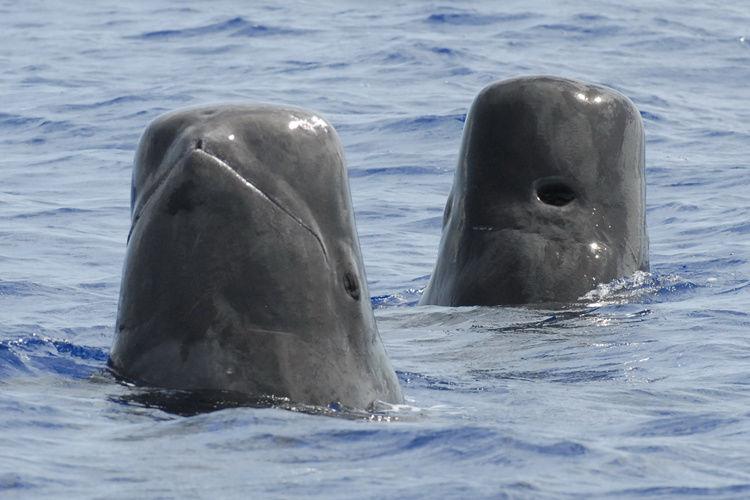 Olsen said this is the second time he's heard about a pilot whale sighting. Last year, students with the Academy of Environmental Sciences told him they spotted one in the Salt River in, between their school and the Twin Rivers Marina.
"They swore up and down it wasn't a manatee, and of course at the time I scoffed," he said. "Then I see Molly's post, so I guess it's not unheard of."
Redrick said she's been keeping a weather eye out for her family's new aquatic friend.
"We keep looking," she said, "but we haven't seen it again."