As the flood waters rise, so do Heidi Reynolds' frustrations.
That's because as Reynolds has sought help from the county, she was told there's nothing it can do for her or the dozens of other residents who live in Westwood Acres off of County Road 488 (West Dunnellon Road).
"Basically, they cannot help us," said an exacerbated Reynolds as she viewed the water inundating her neighborhood.
The county is doing what it can to assist, said Veronica Kampschroer, county spokeswoman, noting problem areas throughout the county have been surveyed. If staff believes that SWFWMD can assist the residents, she added, they will be referred to the agency.
"Unfortunately, many of the current drainage issues are out of our control in regard to assistance or referral to outside organizations," Kampschroer said.
Reynolds doesn't understand why, as property owners, the county cannot point residents in the right direction or get assistance.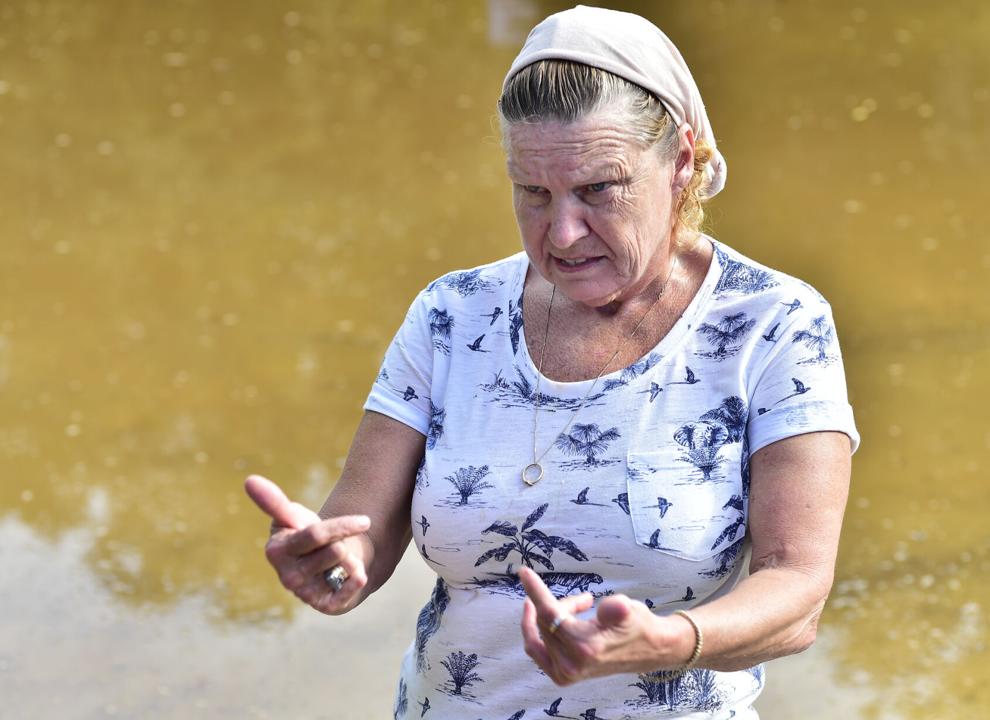 The problem is multi-faceted, according to Susanna Martinez Tarokh, spokeswoman for the Southwest Florida Water Management District, who noted there are flooding issues throughout the district. The No. 1 problem: The amount of rainfall Citrus County has received this summer is the highest level since 1960, Tarokh said.
"This is the third wettest summer in over a century," she said, noting if Citrus receives another 2.5 inches of rain this month, "we'll break the all-time record for rainfall from June through September."
Overall, Citrus County is on pace to receive 66 inches of rain for the year, well above the historical average of 54 inches, Tarokh said. The District isn't ignoring the issue in the Westwood Acres area, Tarokh said, noting it is aware of the flooding issues.
What is compounding the flooding issues there is it is "is a closed basin," which means that there is no path for water to drain out of the area. The area has private roadways and, with the surplus rainfall this summer, the water has filled low-lying areas and raised aquifer levels, which is further preventing water from draining.
"District regulation staff have attempted to access the subdivision but have not been able to get through because of the standing water on the private access roads," Tarokh said.
Reynolds, however, feels she is blessed because she's been able to escape with the assistance of the American Red Cross. The agency covered the cost of a short-term stay at a Crystal River hotel. In addition, Reynolds said, her church family at First Baptist Church of Crystal River are helping. Congregation members are taking up a collection through Sunday School classes, so she can continue to stay at the hotel until the flood waters recede and she can return home.
"There's no place like home, it doesn't matter where you're at," Reynolds said, noting she's lived in Westwood Acres for the past seven years. Reynolds, who is 100% disabled, helps raise her 6-year-old granddaughter, Gabriella Gunter, who is deaf in her left ear and is scheduled to have surgery Sept. 28, which needs to be rescheduled, Reynolds said.
Neighbors are getting agitated, Reynolds said, noting one of her neighbors had to cut his own fence to create a new path to get his vehicle out of his yard. Reynolds empathizes for her neighbors who are stuck, with no way out and reports of alligators and snakes wandering through the floodwater were what pushed her to the brink. In addition, because of the flood waters, people's septic systems are failing, Reynolds said, contaminating the floodwaters.
"They cannot get out, they can't get food, they can't get their kids or grandkids to school," Reynolds said. "Basically, there are a lot of folks who live here who retired and are on a strict income."
But with six weeks remaining in the rainy season, even Reynolds is unsure of when that will be.
"When we hear thunder, we raise the umbrella and pray," she said. "From now on, that's the way we'll have to live."
What the future holds for her and the other residents is uncertain.
"It's not like we have the funds to do the cleanup that we will face," Reynolds said. "That's exactly what I am concerned about is not just the now but, but the future … what's it going to take to clean it up. What's the road going to look like; we're going to have to get pumps to get the water out of the houses, we're going to have to dry them out. There are (air conditioner) units underwater."
It could be years before flooding issues are addressed in Westwood Acres. The District and Citrus County' are conducting watershed studies in several areas throughout the county, including a portion of Westwood Acres, which should be completed within the next year, Tarokh said. Another part of the neighborhood is included in a study that is beginning in 2022 and will take several years to complete, Tarokh said.
"If a viable solution comes from these studies, the county could apply the District's Cooperative Funding Initiative program for potential funding," Tarokh said.
Reynold is keeping a positive mindset.
"I'm just in the midst, taking it minute by minute, hour by hour, knowing that we have a good God," she said.