An Inverness man sits behind bars after an attempted traffic stop led to a high-speed chase and drug charges.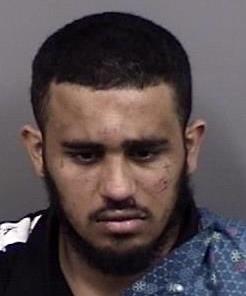 The arrest of Jose David Mayol, 27, on Tuesday, Nov. 24, 2020, began after a Citrus County Sheriff's deputy spotted the Inverness man driving a white Toyota Corolla car and failing to stop at a stop sign as he pulled onto State Road 200 from East Buffalo Lane in Hernando, according to the report.
The arresting deputy turned onto State Road 200 and activated his emergency lights to signal Mayol to pull over. The deputy reported Mayol pulled over onto the side of the road, but then sped up again and headed south on State Road 200.
The arresting deputy turned on his sirens and gave chase, notifying dispatch he was in pursuit of the car, the report stated.
The deputy reported Mayol continued south on State Road 200 reaching speeds of 85 mph. Mayol then turned onto North Florida Avenue and continued south. It was on North Florida Avenue that other deputies laid down a spike strip near East Tangelo Lane to puncture his car tires and force him to stop, according to the report.
The strip tore a hole in his left front tire, but Mayol managed to turn left onto East Jasmine Lane in Inverness and sped up again until losing control at Twin Lake Drive because of the puncture, the report stated.
Mayol crashed into a wooded area and immediately jumped out of the car and ran into the trees, according to the report. That's when the arresting deputy released his K-9 partner, Odie, which chased down Mayol and allowed the deputy to arrest the man. The deputy reported Mayol was resisting arrest.
After a tow truck removed the car from the woods, a second deputy searched the car and found on the passenger floor board an L&M cigarette pack. Inside the pack the second deputy found 3.75 grams of fentanyl, 0.38 grams of heroin, and eight oxycodone-hydrochloride pills.
Deputies charged Mayol with fleeing and eluding a law enforcement officer with disregard to lights and sirens, three counts possession of a controlled substance, driving while his license was suspended or revoked, resisting arrest without violence and possession of drug paraphernalia. His bond was $11,000.