If you haven't been to Three Sisters Springs lately, you might be surprised the next time you see it.
A paved main road, a new parking lot, a refurbished entrance, ADA-compliant trails and restrooms, a pair of manatee-viewing platforms and more native plants are among the improvements and upgrades made to the park recently.
While work progresses into the fall, guests can still visit Three Sisters Springs through its entrance off of Three Sisters Springs Trail, but some areas could be temporarily off limits.
Joyce Palmer, who manages the property as part of the U.S. Fish & Wildlife Service's (USFWS') Crystal River National Wildlife Refuge Complex, said the goal is to finish work by mid-November, before manatees begin their annual migrations inshore.
"We're trying to get as much done as possible," she said, adding summer rains have stalled concrete pouring.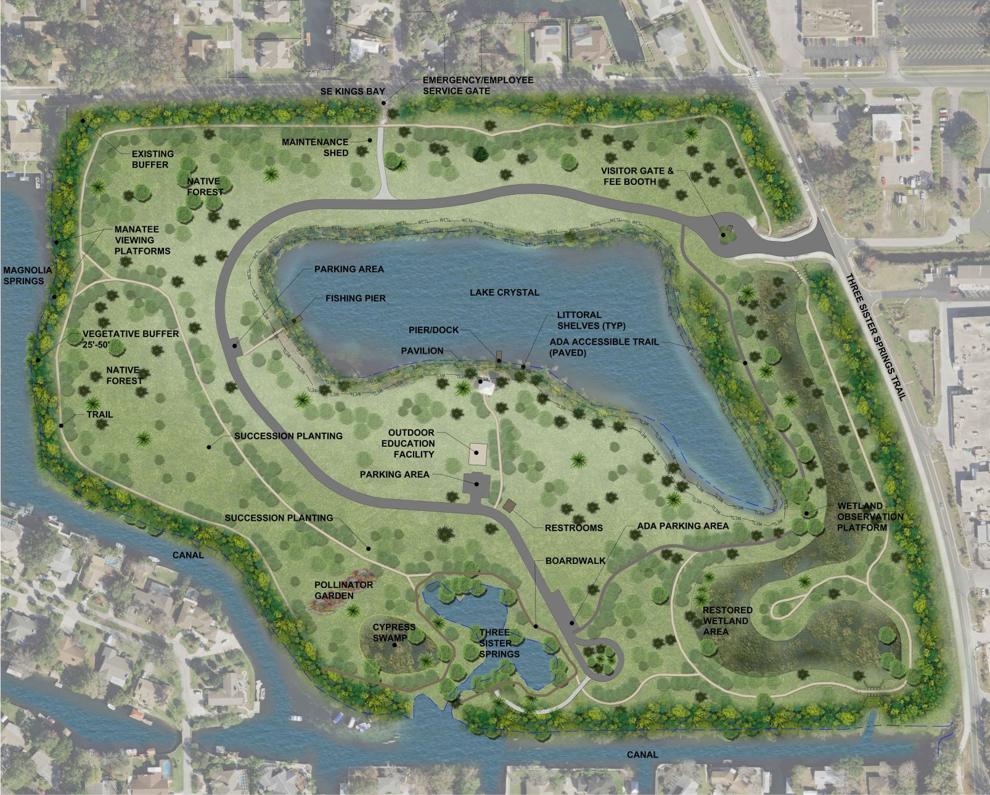 Crews began in early July digging out the foundation for a new city-run fee booth at the center of a roundabout at the property entrance, and the structure is being built, Palmer said.
Most of entrance's current fencing is still being replaced with new gating and fences behind the roundabout, making it easier for motorists and the city-run trolley to turn around.
Landscaping with native plants is also planned near the entrance, but don't expect topiary.
"We're trying to match what's there," she said. "We're not making it look like Disney World."
Workers are paving a gravel path from the entrance, in between the wetlands and Lake Crystal, to the boardwalk, allowing quick access for employees' golf carts, cyclists and pedestrians.
Resurfaced trails will split from the pathway and wind around the wetlands, which the Southwest Florida Water Management District (SWFWMD) restored in February 2015 to help sustain habitats for the more than 100 bird species that visit the refuge.
A total of roughly 2 miles of trails will be improved on the land, including an additional quarter-mile of walkway.
Palmer said current trails to the west will be shifted to free space for up to 50 feet of native vegetation along the shoreline. This, Palmer said, will help deter people from getting close to the water on their own to see manatees.
There will be pair of viewing platforms built along the shore so people can spot passing sea cows from land.
Palmer said the existing parking lot near the boardwalk will be transformed into a roundabout for the trolley to turn in after unloading and loading passengers.
A main parking lot for visitors with mobility impairments and refuge staff will be paved by city contractors further up the main road, where USFWS is coordinating the construction of a restroom this year and an education center in the years ahead.
Palmer said she's still waiting for permits to approve the restroom and road paving.
Other capital ventures planned for the future include a fishing pier on Lake Crystal, an observational platform on the wetlands, littoral shelves — essential submerged planters — on the lake shore and a pollinator garden.
SWFWMD also wants to stabilize the refuge's eroding embankments near the entrance to the spring run, where hundreds of manatees and swimmers congregate.
Palmer said USFWS is chipping in roughly $1 million to the help pay for the projects.
Crystal River, which owns Three Sisters Springs with SWFWMD, entered into a $600,000 grant agreement in May with the Florida Department of Transportation to help pay for paving the main road, two parking lots and extending utilities to the restroom.
City officials believe FDOT's $400,000 share of the grant will be enough to cover what Crystal River agreed to oversee on the refuge property, meaning the city won't have to foot the bill.
Respective legal teams for Crystal River, SWFWMD and USFWS are still ironing out details of an updated management agreement and plan for how to oversee and improve Three Sisters Springs.
There were original contracts put in place in 2010 and 2012 following refuge's public buyout, but those conditions were not being met, causing stakeholders to make revisions.
For most of 2016, the Three Sisters Springs Community Working Group, made up of around a dozen citizens and agency members, met to reach a consensus on how the property should be improved.
Another working group made up of a Crystal River City Council member, the city manager and USFWS' refuge complex manager was formed afterwards as a result of a council vote in April 2018 to keep Three Sisters Springs under USFWS oversight.
City officials in that vote also adopted the pair of new agreements that are currently being revised and outline the city's and USFWS' roles over Three Sisters Springs, including how to finish planned projects.
It's the latest working group's intention to keep lines of discussion open between the city and USFWS so goals are met.
Pat Fitzpatrick, the appointed city councilman on the group, said communication over the past several months has been great in getting long-awaited projects on the refuge.
"It's very exciting to see that we're finally getting some movement on it," Fitzpatrick said. "There's a lot of people who wanted the city to take over, and now there's progress being made."
Palmer said she's looking forward to these improvements creating more immersive educational opportunities.
"Now that we're getting the infrastructure in place," she said, "we can start developing more public programs."