While her science project was successful and earned national recognition, Lorelei Mohammadbhoy was upset to discover she'd proven her hypothesis.
Microscopic particles of plastics, the 14-year-old's research found, are crippling future generations of sea turtles as they wait to hatch from eggs underneath beach sand.
"Of course I wanted to be right, prove my hypothesis right and say, 'I told you so,' but this is happening, they're going to die and nobody really knows," Lorelei said inside her family's Pine Ridge home in front of a tri-fold presentation board showcasing graphics, charts, photos, data and seashells.
"That made my project all that more important to me because this is real and I need to tell people that," the Lecanto High School freshman added, fueled by a passion and commitment to be a voice for the speechless environment.
Lorelei's project, titled "Microplastics Do Not Promote Gender Equality," made its way through to the national science fair circuit, the 10th annual Broadcom MASTERS, as a top-300 contender with a $125 entry prize.
Its focus dealt with how an increase of plastics in sand can cause underground temperatures to rise and produce more female sea turtles than males, thus destroying population growth.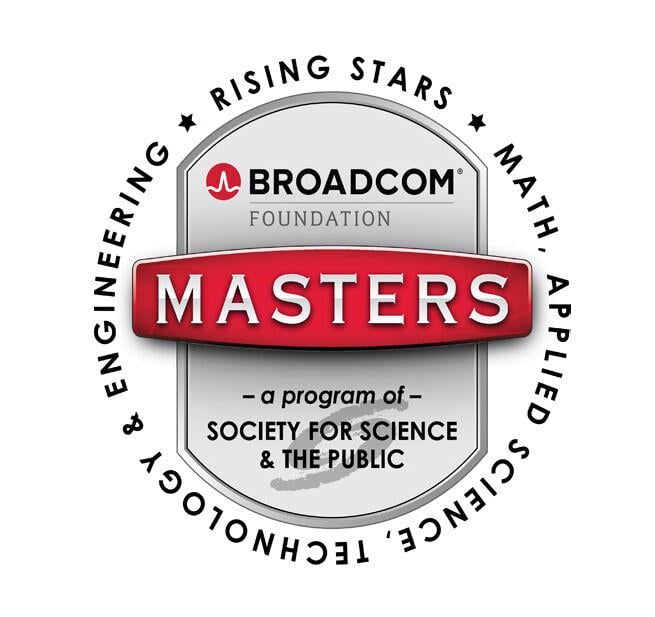 After submitting her work in June 2020 as a Lecanto Middle School eighth-grader, Lorelei was selected by the Broadcom Foundation and Society for Science and the Public out of 3,476 middle schoolers from 42 states to participate.
Unfortunately, Lorelei wasn't chosen on Wednesday, Sept. 16, 2020, to progress into the competition's next round of 30 finalists.
"It's amazing that she got as far as she did," Lorelei's mother, Sunni Mohammadbhoy said, "and we are proud of all she's done so far."
Lorelei said she's happy her time in the Broadcom MASTERS helped spread her project's message of environmental activism across the country and local classrooms.
"It took me a long time but it was worth it," she said. "I know if they saw my name in there, they heard about my project, they heard about my cause."
Lorelei's even heard of teachers in the county asking students to write an essay about her findings.
"I have this new generation that's being educated on this," she said, "and that's better than what I could have ever hoped for."
At 13, Lorelei began her project after attending the summer 2019 Ocean Heroes Bootcamp in Vancouver, Canada, and learning about the impacts of non-biodegradable plastic on marine life.
"All of plastic ever created, 100% of it, is still on the Earth today," Lorelei said, explaining how weathering and erosion turn larger plastics into smaller, unseen microplastics. 
Lorelei also read about the green sea turtle rookery at Raine Island near the Great Barrier Reef, where female turtles outnumber males 116:1, she said.
While the article attributed climate change to the increased temperatures and female hatchlings, Lorelei asked herself if plastics — a known insulator of heat — could also play a role.
From there, her science project was born.
"The effects (plastic) has on the sand a lot of people don't know about," she said. "I had to prove the effect."
To do so, Lorelei separated four work buckets into trial groups of three to simultaneously test three different yet common plastics from everyday items, like styrofoam and bean-bag filler.
Each bucket represented a different ratio of mixed sand and plastic, ranging from pure sand (the control) to half-and-half.
Lorelei installed heat lamps above the buckets and put them on a 12-hour timer to simulate day and night cycles.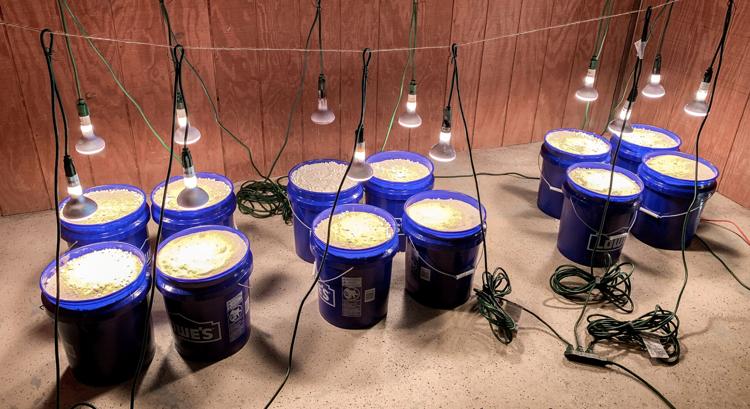 She took temperature readings twice a day — in the morning before the lights went on, and two hours before they went off. 
Her thermometers measured data at depths similar to how deep smaller and larger sea turtles nest: 15.25 cm and 30.50 cm.
Lorelei recorded data for 10 days, leading her to proving her solemn hypothesis: more plastics will heat sand closer to and above the 29.5 Celsius threshold, birthing more female sea turtles.
Sand temperatures should be in between 20 and 29.5 Celsius for a healthy mix of turtle genders, Lorelei said.
Without adequate amounts of sea turtles, Lorelei said, jellyfish will float amok, sting more swimmers and eat up commercialized fishing species when they're free.
A loggerhead turtle can eat up to 440 pounds of jellyfish a day. 
"Turtles aren't just there for a pretty picture," Lorelei said.
Lorelei said plastics don't just impact sea turtles. 
They can affect any animal that lays eggs in sand, like snakes and alligators.
Plastics can also suffocate scallops, a prized commodity in Citrus County.
At this current rate of plastic use, the material will outnumber fish by 2050, Lorelei found in her studies.
"It's not stopping," she said.
Limiting plastic waste by not using disposal products and buying from environmentally-conscious producers is a good start, Lorelei said.
Lorelei is already starting on her next science endeavor by testing how plastic-infused sands can retain heat during the night. 
"I plan to build off this project because I just can't stop here," she said. "I have to continue to spread the message."
Even though she can't bring her message to world leaders, like the young environmental crusader Greta Thunberg, Lorelei will be loud where and when she can.
"This is what I can do," she said, "this is how I can take part in the activism because this is what I'm good at: science fairs and boards."