For roughly a week now, armadas of Floridian crabbing fleets and their deckhands have boated miles offshore into the Gulf of Mexico and the Atlantic Ocean to lay their traps on the depths.
Come Thursday, Oct. 15, 2020, these crabbers will venture out again to launch Florida's stone crab season, hauling in anticipated bounties of Menippe mercenaria and their treasured claws.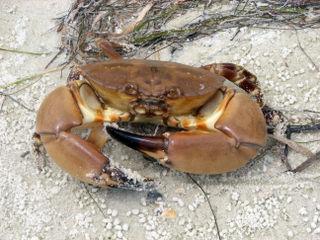 "We're putting them out right now," Richard Stiglitz, owner of the Homosassa-based Salty Bones Fisheries, said about 650 of his 10,000 traps.
It'll take some time before crabbing crews know what kind of season they'll have.
"At this point, it's hard to say," said Kelly Kofmehl, co-owner of The Crab Plant restaurant and seafood market in Crystal River. "We're just getting our traps overboard."
This stone crab season, however, will be a little different for the recreational and commercial fishermen looking for a meal or profit.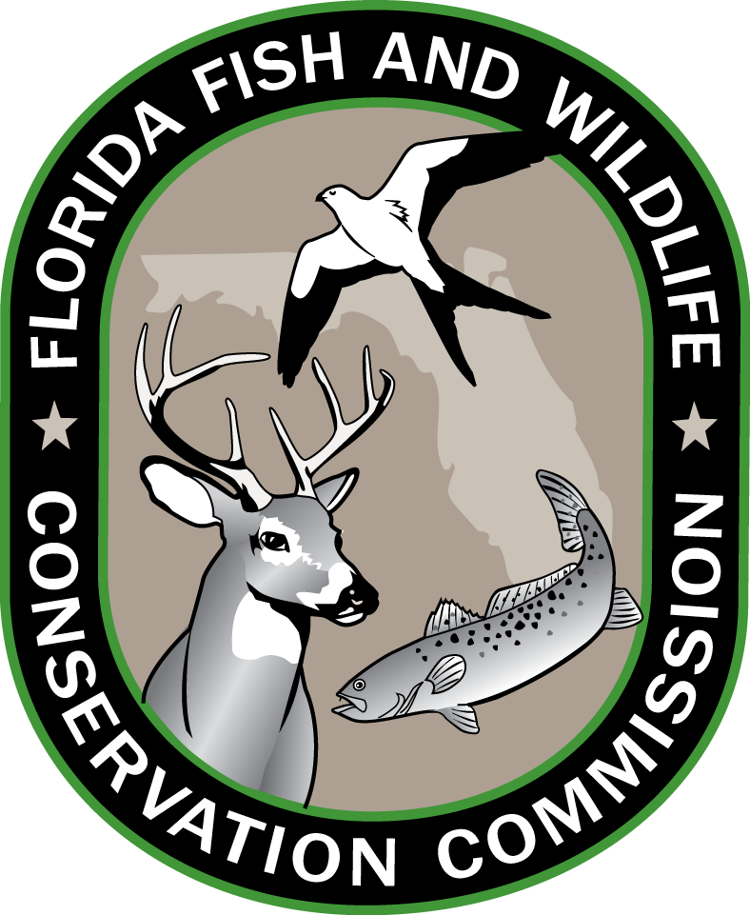 A claw-full of new and updated rules approved by the Florida Fish and Wildlife Commission (FWC) start going into effect for the 2020-21 stone crab fisheries in the Gulf and Atlantic.
FWC commissioners OK'd these measures at their July 2020 meeting to help ease fishing impacts on a 22%, 712,000-pound decline in stone crab harvests since the late 1990s.
"We want to make sure participants in this fishery are aware of the new regulations as the season begins," agency spokeswoman Amanda Nalley said.
Two big stone-crabbing regs to be aware of: a shorter season by two weeks, from May 15 to May 2; and an eighth-of-an-inch increase to the minimum claw-harvesting size, to two and seventh-eighths inches.
Stone crab claws are removed before the crabs are returned to the water.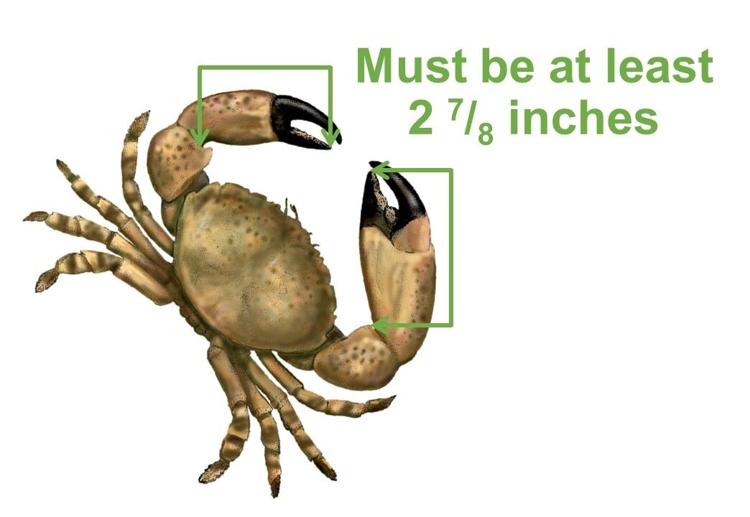 "We also encourage anyone new to the fishery to learn about the best ways to remove stone crab claws," Nalley said, "so that the stone crab has the best chance of survival after being released."
Other rules FWC approved: a limit of whole-crab possession to two checkered boxes, or a volume of 24 cubic feet; and requiring escape rings on all traps by the 2023-24 season.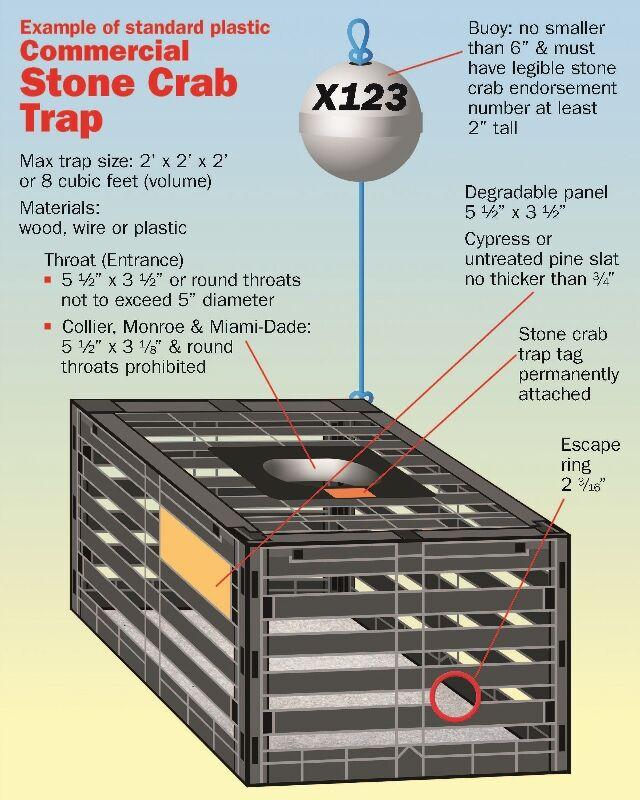 Violating these second-degree misdemeanors for the first time could lead to a fine of up to $500 and/or up to 60 days in jail.
These modifications, FWC fishery experts claim, will help reduce harvesting rates, increase survival of undersized crabs and protecting egg-bearing females.
FWC marine biologists will reassess stone crab populations three years from now.
Kofmehl, whose family has crabbed out of King's Bay since 1968, said he and other local crabbers asked FWC in its public workshops to hold off on enacting new rules until after COVID-19 dies down.
If new laws did have to be enforced, Kofmehl added, don't make them uniform statewide.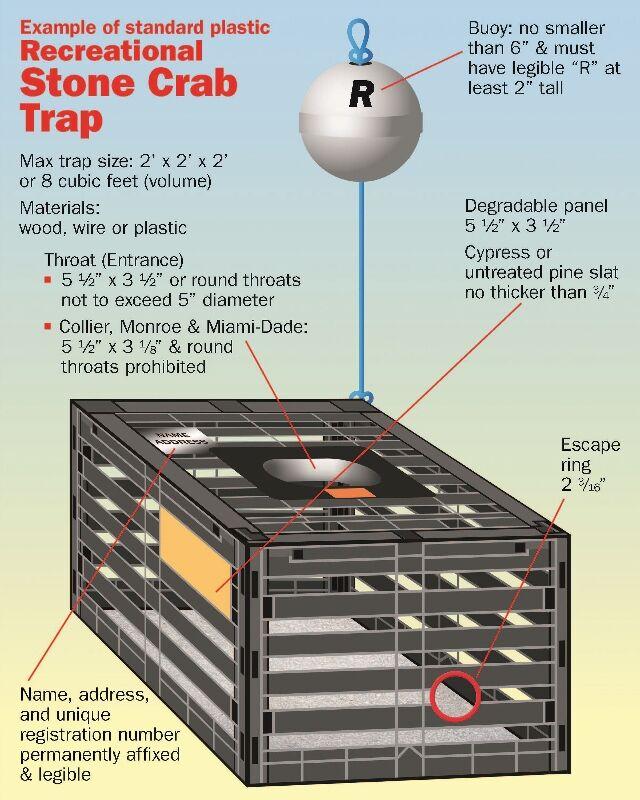 For example, as FWC does with scallop seasons, create regulations specific to areas facing different issues and crab populations.
Kofmehl said FWC's new rules would work saving crab populations near South Florida — where pollutants, Red Tide and overfishing are abundant — but not in waters off Citrus County.
"If they're having troubles," he said, "then let them deal with their problems."
Stiglitz, who was a commercial lobsterman in Key West for 23 years before starting his crabbing operations a year ago in local waters, said the 2019-20 season wasn't good.
"Fishermen are gamblers," he said about trying crabbers trying to capitalize on an up-and-down product. 
Stiglitz said he's hopeful of the upcoming stone crab season.
"We'll see how it ends up; I'm always optimistic," he said. "If I'd have thought it was going to bad one, I wouldn't even put traps out."
Stiglitz said he's OK with a shorter season so future crab generations can flourish, but losing more product because of a longer claw-size minimum is going be hard on his bottom line.
"We're definitely going to be down with some money, but we're going to stay positive, " he said. "When you fish, it's just what you do."
If there were fewer traps in the water, Stiglitz said, there wouldn't be a need for more fishing laws.
Due to the higher claw size limits, Kofmehl said he expects to lose between 15-20% of his traditional springtime crab catch since smaller stone crabs venture out more in warmer waters.
Josh Smith, owner of the Wild Fish Company out of Homosassa, said "nobody seems happy with the rules."
"I don't think they're anything to put you out of business, necessarily," he added.
Smith said the bigger question is: how is COVID-19 going to hit the crabbing industry with its crippling impacts to seafood eateries?
"Most of our product goes to restaurants so that's a big worry," said Smith, who's been crabbing locally for eight years. "We're kind of fortunate Florida has opened up their restaurants more."
"That could change," Kofmehl noted.
Smith supplies Shelly's Seafood & Fish Market, his family's business in Homosassa.
Co-owner Shelly Smith, Josh Smith's mother, said it's unclear how the new rules will affect her family's stone crabbing ventures of 37 years, but added the claw limits will keep common, medium-sized crabs from being harvested.
She said last year's season was scarce of crabs, and credits that to a horrendous Red Tide event from the year before in southern Florida.
"This is how they want to try and make a difference before we have a real problem," Shelly Smith about FWC's precautionary regulations. "It remains to be seen, but we're definitely going to feel it."
In the meantime, Shelly Smith said, communities can support their area's seafood industry by buying local.
"It would really help," she said. "It's good for everyone."