Local business owners whose livelihoods depend on tourists made their case Tuesday to Visit Florida president and CEO Dana Young, who pledged that her beleaguered state agency is on their side.
Young, who spent an hour at the Discover Crystal River Visitor Information Center, said Visit Florida may be shorter on funding these days, but that will not affect the agency's commitment to help promote tourism in Citrus County.
She also said the county is doing a great marketing job on its own, especially in drawing international visitors. It's "amazing," she said, that 20% of the tourists who come to Citrus are from Europe and other parts of the globe.
But Young said local and state tourism officials cannot stand pat and assume the good times will continue.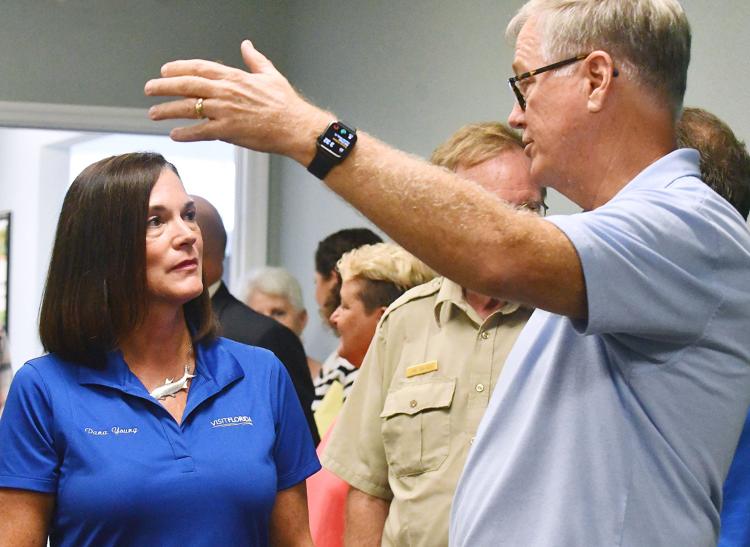 "We can't assume that people will come (here)," she said. "We have to market. (If not), people will completely forget about Citrus County."
For example, after recent red tide scares and hurricanes, Visit Florida got the word out to travelers that Florida was still open for business, she said.
Given the financial straits Visit Florida is in, marketing will have to be more creative, she said. Already, expensive television ads have been cut from the agency's budget. Instead, Visit Florida will focus more on cheaper digital promotion, she said.
Young also got the message loud and clear from locals: They need Visit Florida's big money pockets and influence to help them.
To stress the point, they showed her a five-minute video produced by the Citrus County Visitors Bureau that showed how dependent local charter boat captains, restaurants, stores and other businesses are on Visit Florida and what it means to the Citrus County economy.
Young praised the video and stressed to the 30 people present to let their state legislators know how vital it is to keep Visit Florida afloat.
Attractions like Disney World and Universal Studios in Orlando don't need Visit Florida because they already have the money to promote themselves, she said; it's smaller, rural counties like Citrus that need all the help they can get from the state agency.
Visit Florida in recent years received $76 million from the Legislature for tourism-promotion efforts, but the budget Gov. Ron DeSantis signed for the 2019-2020 fiscal year slashed that amount to $50 million. The fiscal year started July 1.
As a result, the Visit Florida board of directors in May cut payroll by $3.65 million, or 30%, and reduced strategic marketing by $17.8 million.
Bolstered by U.S. and Canadian tourists, Florida's visitor count continued at a record pace through the second quarter of 2019, DeSantis' office said last week.
In 2017, tourists spent $234 million in Citrus County, accounting for $42 million in local state taxes, according to Visit Florida data.
"That is huge," Young said.
Visit Florida, she said, will continue to market with a limited budget.
"We'll bring them here," she said. "You guys fight with everybody else as to where they go."
County Commission Chairman Jeff Kinnard said after the meeting the economic impact from Visit Florida cannot be overstated.
"If (the agency) goes away, our tourism will be affected," Kinnard said. "There's no question in my mind."