As the deadline nears to finalize the next contract for school resource officers (SROs) in Citrus County's schools, sheriff's office officials are criticizing the school district's choice of top cop and telling them he'll be limited in his interactions with the sheriff's office.
In a letter to Assistant School District Superintendent Jonny Bishop, Citrus County Sheriff's Office (CCSO) Maj. Justin Ferrara said it was "disconcerting" the school board didn't ask for CCSO's opinion when it came to appointing former CCSO Undersheriff Larry "Buddy" Grant as its school safety specialist.
Ferrara was responding to a May 29 letter from Bishop informing CCSO that Grant would become the district's liaison with local public safety agencies given the pending retirement of Cheri Cernich, who had previously had that role.
"Advice was never sought out for such a highly critical appointment," Ferrara wrote in the June 6 letter, which was shared with school board members during their meeting late Tuesday. "Further, no one reached out to the previous employer or agency head to inquire of any details about their newly appointed 'School Safety Specialist'/'Chief of Police.'"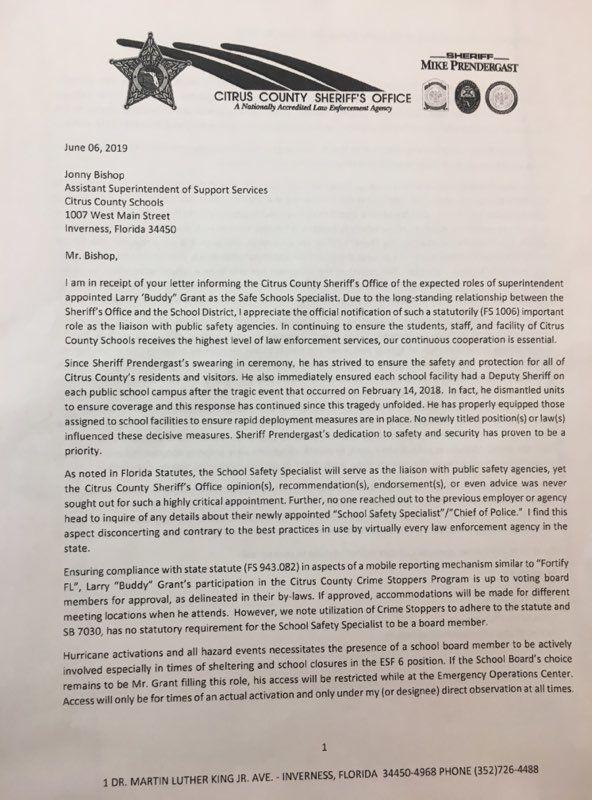 Ferrara added that Grant would not be allowed to attend interviews of deputies applying to become SROs, and that any of his concerns regarding SROs must be addressed in writing to the sheriff's office.
School board attorney Wes Bradshaw told members on Tuesday he's still negotiating with the sheriff's office's lawyer over the next SRO contract, which must be finalized before the current agreement expires in July.
Bradshaw said Sheriff Mike Prendergast is still obligated by state law to train the armed guardians that make up the school district's police force, of which Grant is chief.
Grant was not present at Tuesday's school board meeting, but was briefed on the letter.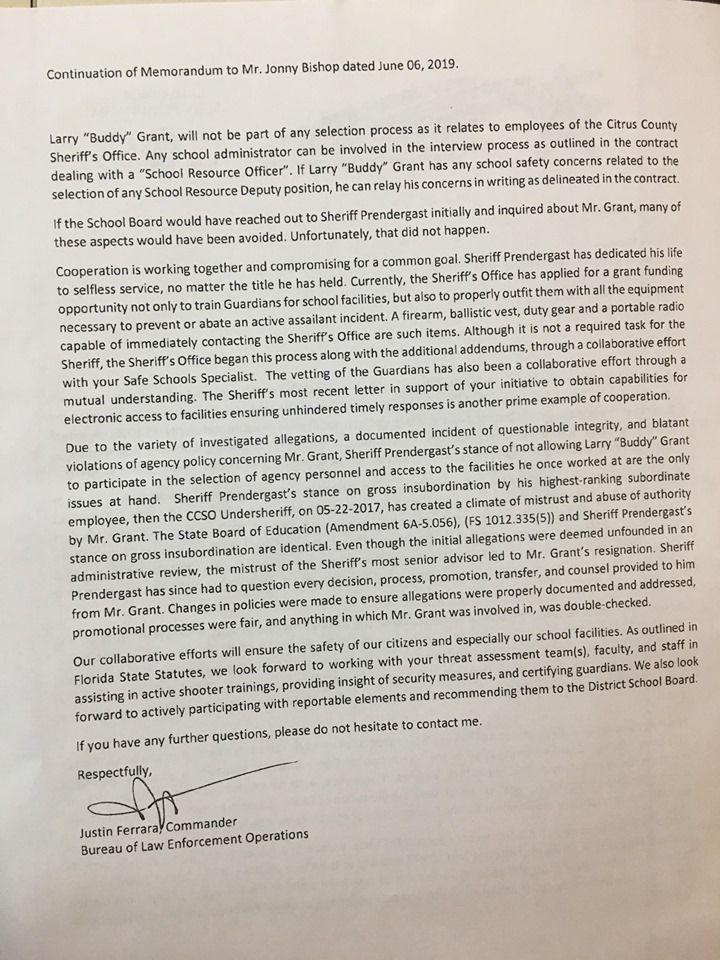 Grant would also have limited or no access to CCSO-managed buildings, Ferrara wrote.
Specifically, Grant is not allowed to enter the county's Emergency Operations Center (EOC) to coordinate storm response or shelter needs with the sheriff's office unless it's activated, and then only under the direct supervision of Ferrara or an appointed designee, Ferrara wrote.
Citrus County Crime Stoppers meetings, which Grant attends as a school district representative, will also be relocated outside the EOC to accommodate Grant's presence.
"If the School Board would have reached out to Sheriff (Mike) Prendergast initially and inquired about Mr. Grant, many of these aspects would have been avoided," Ferrara wrote. "Unfortunately, that did not happen."
As rationale, the letter cites a 2017 internal investigation into then-Undersheriff Grant conducted by the Pasco County Sheriff's Office.
Grant, who had worked for CCSO since 1997, was forced in June 2017 to resign from the agency in lieu of being fired two weeks after Prendergast suspended him.
Grant's suspension came after the sheriff's office received anonymous allegations that Grant and a sheriff's fleet maintenance supervisor conspired to render a golf cart inoperable so that Grant could buy it following an auction.
A Pasco County Sheriff's Office captain cleared Grant of the charge in January 2018, finding there was "no evidence" to support the allegations. Prendergast also issued a memorandum stating he agreed with the findings.
"Even though the initial allegations were deemed unfounded in an administrative review," Ferrara wrote, "the mistrust of the sheriff's most senior advisor led to Mr. Grant's resignation."
After reading Ferrara's letter, board members characterized it as another example of the sheriff's office obstructing their and Grant's duties to facilitate school-safety requirements mandated by state law.
"There is no cooperation with the sheriff and with the school board," board member Sandra Counts said. "I'm personally insulted by this letter; it's juvenile, it's petty."
"I read this and I'm still trying to see where a man who appears cleared of these ... allegations is being refused access to public buildings ... and I'm not sure for what reason," board Chairman Thomas Kennedy said.
Superintendent of Schools Sandra "Sam" Himmel noted there was never an occasion in the past when the sheriff's office offered its recommendations on who she appoints for the district's lead safety job.
In an unanimous vote, the school board gave Bradshaw its blessing to research the legality of the sheriff's argument, and return for a June 25 meeting to go over possible legal actions.
"Mistrust is not a legal reason for someone to (be barred from entering) a public building," Bradshaw said. "Not allowing our chief of police or school safety specialist to act in a school-safety capacity is kind of contradictory."