School bells and bustling hallways won't be greeting Citrus County's students Monday as they return from spring break.
Instead, classrooms will be at home. 
This will be the new norm of education until April 15 — at least — for around 15,000 Citrus County School District students, and those studying at private or technical campuses.
Gov. Ron DeSantis and Florida's education officials directed schools statewide to shutter their grounds to students amid COVID-19's spread. 
Virtual education, they said, will take over for the time being.
"We're asking parents to do something they haven't signed up for, and that's to teach their kids at home," Superintendent of Schools Sandra "Sam" Himmel said. "We're asking our teachers to do something they've never done before.
"The first week will have some hiccups."
School district officials gave Chronicle staff a sneak peek Tuesday into their in-progress plan "Citrus Cares," an acronym for Citrus Continues Academics Remotely to Every Student.
It's the district's blueprint and strategy, created almost from scratch in a matter of days, to educate, feed and care for its K-12 pupils at a distance.
"This was a collaborative effort we've been working on," district Chief Academic Officer Dr. Scott Hebert said, noting the partnership with the Citrus County Education Association, a union of teachers, for ideas.
District teachers and school board members will review the plan this week before it's rolled out Monday for school administrators, educators, staff and families to execute.
Step one of Citrus Cares is to get teachers and families familiar with the best way communication channels during homeschooling.
Himmel said teachers will be allowed to either work from home or out of their classrooms under the advice from the Centers for Disease Control and Prevention.
Teachers are expected to contact each student household to log how they can be reached, whether through email or by phone, but parents also have to be accessible when needed.
"You will have a lot of contact through that individual teacher," Himmel said, "but it's going to have to be equal parent-teacher communication."
Teachers must determine the preferred instructional delivery for students, depending on if families can go online or if they need to take home hard copy lesson packets every two weeks.
"We're trying to be proactive, as proactive as we can," Himmel said. "We're going about this with compassion and flexibility."
Hebert said Citrus Cares has guidelines on providing at-home instructional materials to students who either use English as a second language or have special needs.
"Teachers are providing lesson plans to those families," he said. "We've tried to hit every single student we can."
Schools are also working on creating hotlines for families to call, Himmel said.
Low-cost internet options are available through Spectrum and CenturyLink.
For more about Spectrum's Internet Assist program, call 833-267-6094 or visit SpectrumInternetAssist.com. For more about CenturyLink's Lifeline subscription, call 855-954-6546.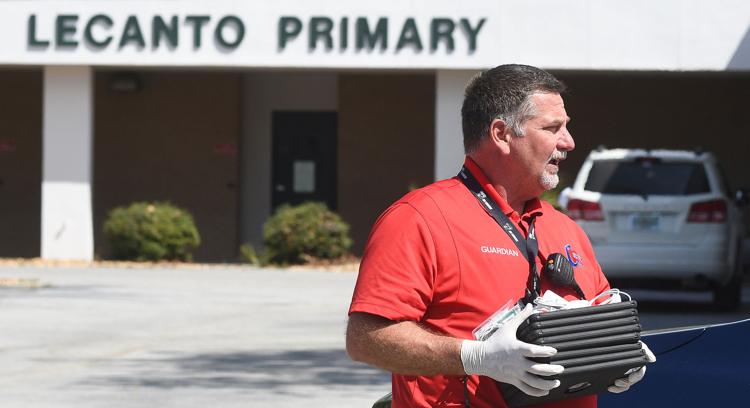 District schools also started loaning out iPads the week of March 23 through Thursday via campus drive-thrus. Himmel said a districtwide message went out to parents about the distribution.
Hernando Elementary, Forest Ridge Elementary, Citrus Springs Elementary and Central Ridge Elementary distribute iPads between noon and 6 p.m. Wednesday; middle schools, high schools and the CREST School give out iPads Thursday.
Parents can contact schools to make other arrangements to check out an iPad.
Elementary students are expected to receive the most iPads, as middle and high schools have used them since the school year began, Director of Elementary Education Dr. Trish Kahler said.
Kahler said elementary schoolers are checking out between 150 and 200 iPads from each school daily, a demand the district can meet.
Students can use personal devices from home, but they need to be able to download the programs teachers will require them to use, according to Amy Crowell, director of the district's research and accountability department. 
Many teachers, especially for grades 6-12, have used different online applications to get their lessons across to students at school, and district officials don't want to change that.
"We're telling teachers to use whichever apps them and their their classrooms are comfortable with," Hebert said. "Now, it's getting the parents on board."
"Stay in close contact with teachers," Himmel added, giving advice to parents. "Our teachers are going to drive that instruction for our kids."
Elementary students in grades K-5 will be using iReady to continue their education at home, with 45 minutes of math and 45 minutes of English and reading a day, Kahler said. 
iReady changes a student's lessons based on their progress, provides parents with a host of resources and informs teachers of grades so they can monitor participation from afar.
Middle school students will be taught through Skyward, a digital platform teachers have used to post and upload lesson plans, presentations, assignments and grades — a similar process high school classes will utilize, Crowell said.
There are some courses, like physical education and hands-on education at the Withlacoochee Technical College, which might require students to show video proof they did their work, Himmel said.
District staff will also start feeding its students Monday via school drive-throughs and bus-delivered food sites, Assistant Superintendent of Schools Jonny Bishop said.
A similar project began and ended the week of March 16, with an average of 750 meals being handed out daily, Bishop said.
Local businesses and nonprofits — including the Citrus County Education Foundation, Kiwanis Club of Inverness, Duke Energy and Lowe's — have supplied the district with coolers to transport food in on buses.
"This is a huge team effort," Bishop said.
Bishop said parents will get a call informing them where to get meals between 10 a.m. and 1 p.m. on weekdays. Citrus County Blessings is giving kids food on Fridays for the weekend.
For more about the schools district's response to the coronavirus, visit tinyurl.com/t4bcv9u.