Searching for scallops off the coast of Citrus County can be an unforgettable experience.
To make sure those memories are safe and happy ones, there are a few things to remember about the 85-day season that starts Monday and ends Sept. 24:
That's unless they're exempt from needing a license or already have a free shoreline fishing license to wade from shore to collect scallops, meaning their feet won't leave the bottom.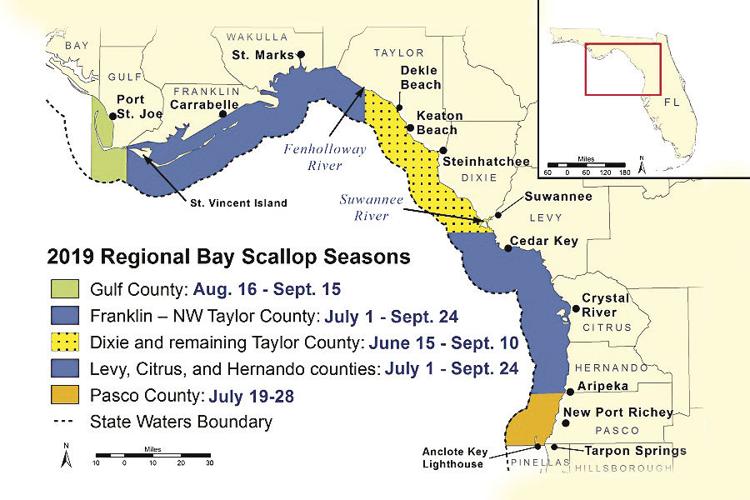 It's required by law to have a life jacket or personal floatation device for each person onboard a vessel, and make sure they're the right sizes.
Children under the age of 6 must wear a life jacket at all times.
Not only do the floaters save lives, they make it easier for swimmers to take a break during their underwater hunts.
Temperatures and precipitation are expected to fluctuate during opening week. Be sure to check weather forecasts before venturing out, keep a weather radio onboard and head back to shore before any storms come through.
While it's not required to have onboard, it's recommended boats have VHF emergency radios, and that operators wear an engine cutoff device that turns off the boat if its driver goes overboard.
For an extra layer of safety, leave a float plan with someone ashore detailing when the boating party will launch, where it will go and when it plans to return.
Alcohol is permitted in open containers on boats, but drinking and boating is still against the law and dangerous; have a designated captain.
FWC will be targeting BUIs from July 5 to 7 during its Operation Dry Water patrols.
"We want everybody to have a good time," FWC spokeswoman Karen Parker said, "but we want everybody to get home safe."
Getting to the most bountiful scallop grounds means going underwater.
In order to do that without being ticketed or possibly harmed by passing boats, it's important to get a lawful divers-down marker.
Whether that's a flag or buoy, there are certain requirements boaters and divers need to follow.
If using a divers-down flag on a vessel, the symbol must be at least 20 inches by 24 inches in size, and displayed on a wire stiffener on the vessel's highest point so it's always unfurled and visible.
If using a floatable divers-down buoy, the symbol must be a size of at least 12 inches by 12 inches, and shown on each of the buoy's three to four sides.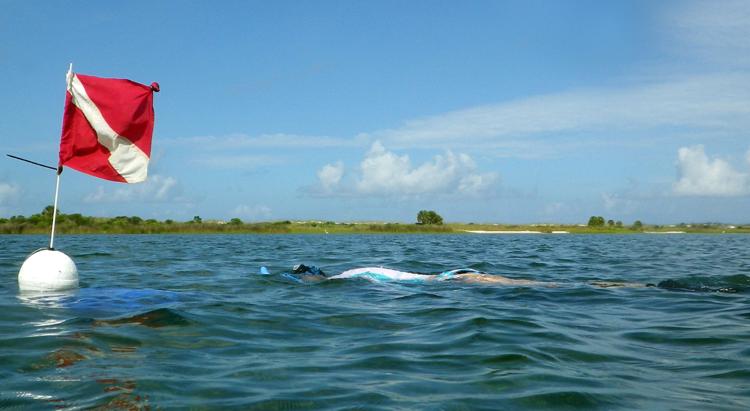 Parker said FWC officers will be vigilant in making sure boats and divers are in safe proximity to one another.
Divers in open waters have to stay within 300 feet of the divers-down marker; in rivers and channels, it's within 100 feet. Boaters traveling inside those areas must slow to idle speed.
It's also a good idea for divers to wear fluorescent clothing to make sure they're visible to boaters, who should have somebody still aboard the vessel to make sure it doesn't go astray.
The first weeks of scallop season bring an almost endless parade of boats, vehicles and trailers to Citrus County's boat ramps, parking lots and gas stations.
Traffic and waterway congestion can test peoples' patience, so be courteous. 
"You may have to wait a while at the ramp," Parker said. "Be aware that tempers can flare. ... Avoid the ramp rage."
Also, be cautious of pedestrians walking from their parked trailer back to the boat ramp.
SAVE SOME FOR THE REST OF US
If you want to be able to scallop in the future, don't get greedy.
It's permitted to have 2 gallons of whole, shelled scallops or a pint of scallop meat per person, with a maximum of 10 gallons of whole scallops or a half gallon of scallop meat per vessel.
Scallops can be caught by hand or with a landing/dip net.
Commercial harvesting of bay scallops in Florida is not allowed.
Want to step on a sharp shell while swimming in Crystal River or Homosassa?
Then don't toss out shucked scallop shells in inshore waters or right off the shores.
Not only can they injure swimmers, shells can also damage habitat.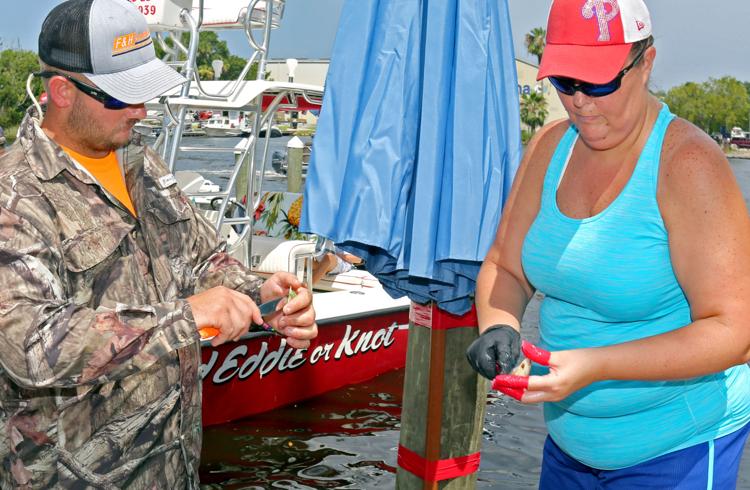 Instead, throw out shells in trash cans or in larger water bodies where they can disperse.
Some local boat ramps have stations nearby where people clean scallops for a fee, and some guides offer that services as a part of their scalloping tour.
Make sure regular trash is secured on boats so it doesn't blow away into the water.
FWC researchers are interested in how the season is going.
After a day of scalloping, visit tinyurl.com/y2pj6xod to fill out a survey asking where the scallops were caught, how many were harvested and how long it took.