An RV resort with the parking and utility hookups to accommodate just under 600 recreational vehicles is ready to sprout in northern Crystal River.
City staff, as of Friday, April 9, was still reviewing the Hidden Lakes Preserve RV Resort project submitted to city hall by developers in late March.
Property owner Charlie Dean Jr. said work can start as soon as city staffers give their OK on the 85-acre resort north of the Crystal River Mall.
"We're really excited about this project," he said. "I think it's going to be a positive, economic impact to the city of Crystal River with tourists coming in, spending multiple nights there —  maybe even months — and being a part of the community."
Brian Herrmann, director of Crystal River's planning and community development department, said staff has been reviewing the project to ensure it matches with a similar planned-unit-development master plan City Council approved in September with a 5-0 vote.
"Assuming they do meet the standards, they can proceed with development based on staff review," Herrmann said. "They need not go back to city council."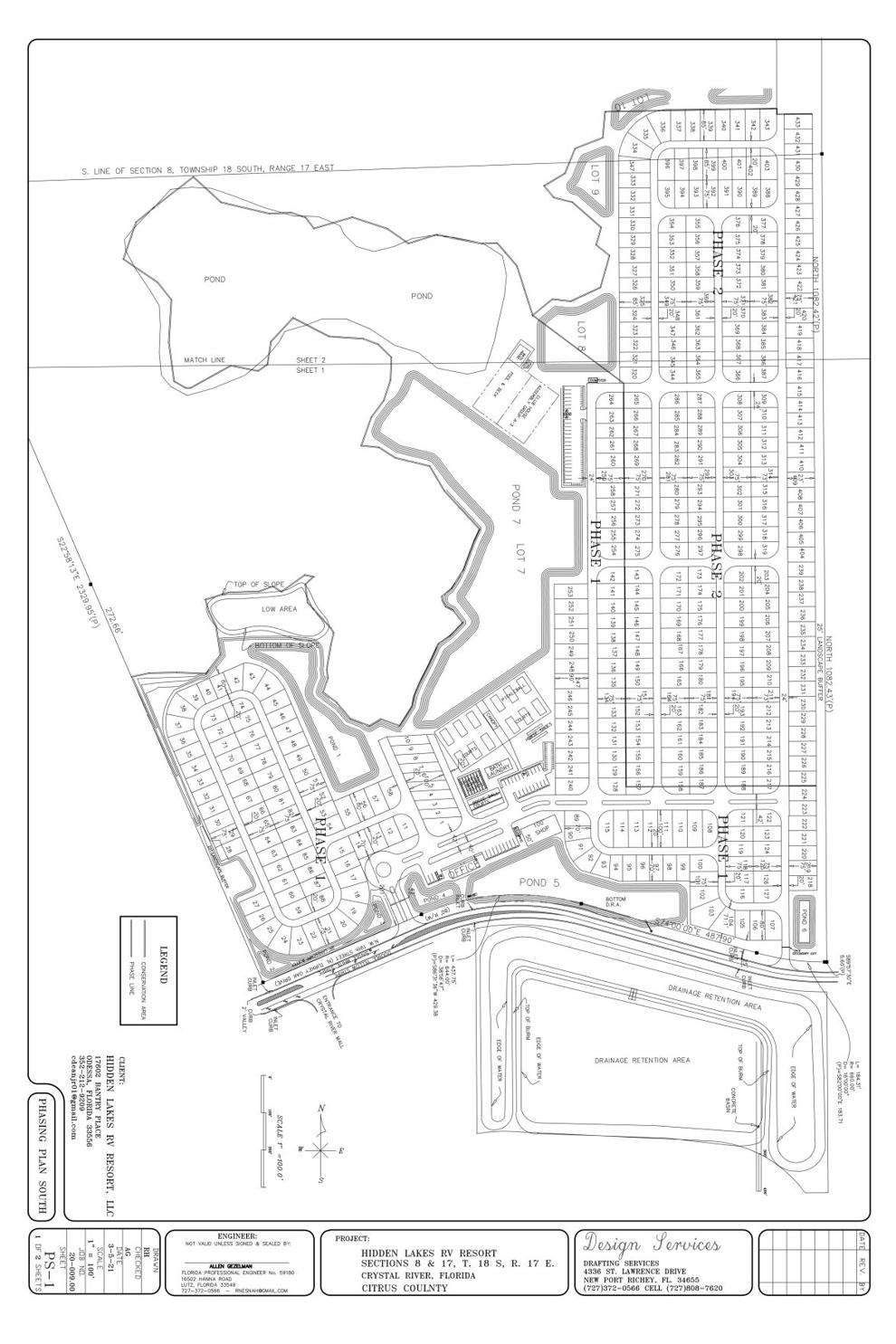 Dean, who, according to him and the Citrus County Property Appraiser's Office, bought the two parcels of Hidden Lakes in November for $3.4 million, said the resort will be a 55-and-older community promoting affordable housing for active people.
"We'd like to have something that sets us apart," said Dean, who's the son of former county sheriff and state senator Charlie Dean Sr. "We're like a lifestyle, and the lifestyle we're trying to sell is outdoor activities."
Not only will Hidden Lakes offer its own recreational amenities, Dean said, but its closeness to Crystal River gives its tenants access to shops and restaurants within the city.
"This property gives people best of both worlds," Dean said. "I know our group will be active within the community, within the city."
Crystal River Mayor Joe Meek said he appreciates Dean's investment, which, he said, will encourage a bounty of travelers to stay and enjoy the city's natural treasures.
"We are very excited about this project," he said. "We think it's going to be another great amenity to have in Crystal River."
Plans for Hidden Lakes show 586 RV lots surrounding a fitness center, woodshop, laundry room, nature trails, courts for bocci and pickleball and a clubhouse and pool overlooking a fishable lake. Dean said the resort will have an activities director scheduling regular events.
Dean said RV tenants will have the option of either staying overnight or they can sign a lease for either three, six or 12 months.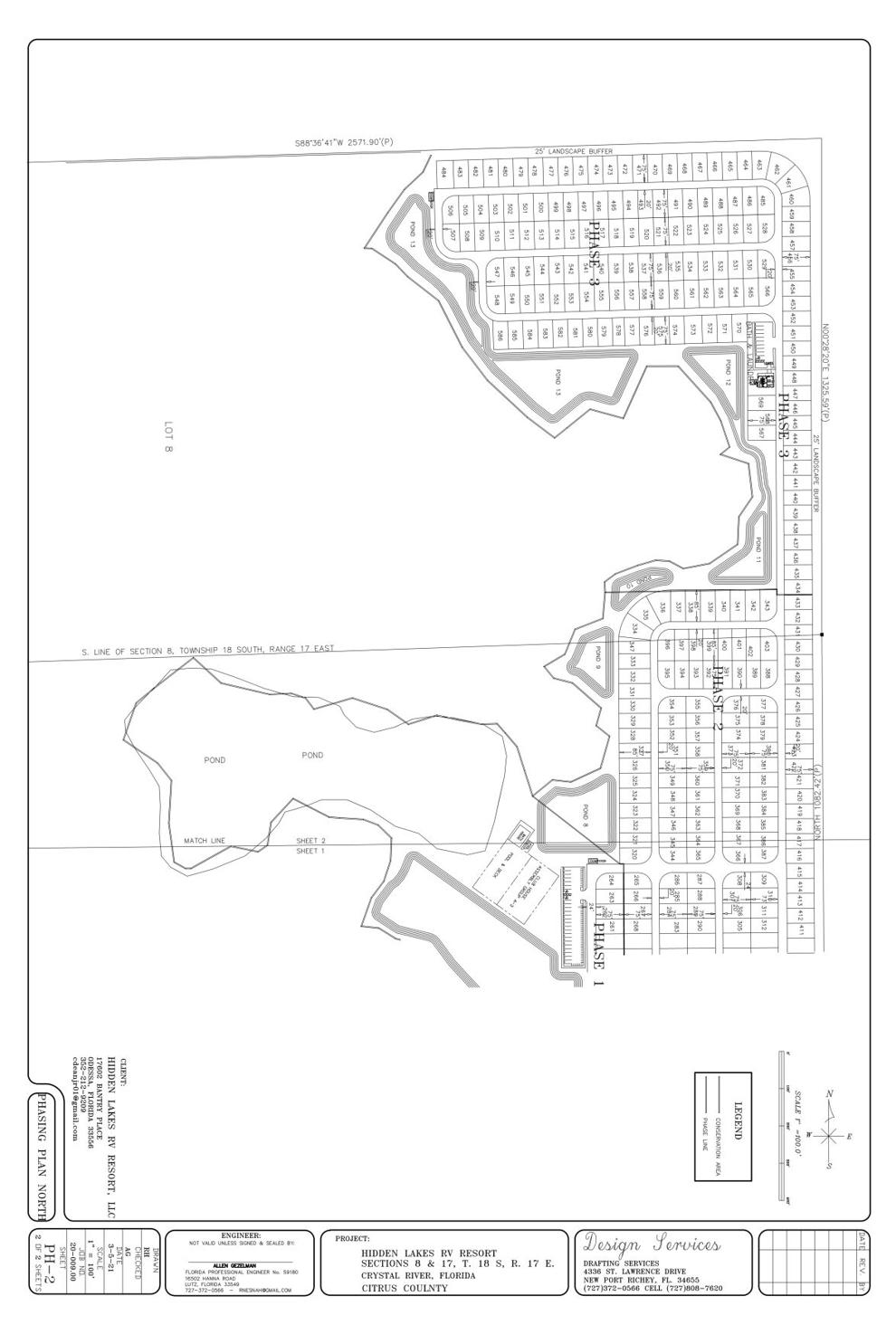 Once city staff gives Hidden Lakes the green light, workers will start clearing the resort's 85 acres of longleaf pine, water oak and sweetgums to sell as timber.
"Ideally, I'd like to keep all the trees, if I could, but it's not feasible," Dean said, noting his property had already been classified to grow and farm timber.
Dean also owns and maintains 80 acres of protected natural lands on the northwest border of the uplands Hidden Lakes will be built on.
"It's got to be kept in its natural state," he said.
As trees get felled to make way for Hidden Lakes, Dean said, work crews will layer loads of excavated and imported sand across the resort to grade it.
More fill and foundation will be added to the bottoms of the resort's more-permanent structures, raising them above the 12-foot base flood levels recently set by the Federal Emergency Management Agency. 
Depending on how fast it fills with lessees, the resort's 586 RV lots will be paved throughout three construction phases, starting with 200 within the first 18 months of ground breaking.
When city council was reviewing the Hidden Lakes plan, concerns were raised about the development's proximity to residents.
Dean said a 25-foot buffer of dense vegetation and a 6-foot-tall privacy fence will keep the resort's neighbors visually separated. 
"They're not going to be able to see the back of an RV," he said. "We care about the environment, and we're going to be very conscientious of our neighbors; I don't want them to think we're going to come in, and they're going to be look at whatever's going to be there."