They were called "Tin Can Tourists," and by 1919, they had founded a national organization in Tampa to promote camping and motoring.
Each winter, they met at a campground in Florida and each summer, at a campground in Michigan, according to the Memory Project of the State Library and Archives of Florida.
Today, "Tin Can Tourists" have transformed into RVers. And many RV parks have transformed into luxury hotels without walls, offering outdoor adventures, indoor socializing, and amenities ranging from dog-washing facilities to bands on Saturday nights.
But if you poke around just a little bit, you still can find area RV parks that are a blend of the tranquil Old Florida fish and camper parks of yore, and the teeming tourist destinations of today. RV parks still let you get back to nature — in conditions as primitive or as modern as you choose.
Moreover, in this time of the coronavirus, people who are yearning for a getaway are turning to RVing as a safer alternative than staying in a hotel, said Mike Shoemaker, general manager of Nature's Resort RV Park in Homosassa.
Furthermore, Shoemaker said, since the virus, RV sales are skyrocketing, and manufacturers can't build RVs fast enough.
Big Bass Village RV Park, 10530 SE 20st St., Inglis, (352) 447-3474.Buddy's Lakeside Park, 1…
But for those RVers who don't want to commune with hundreds of other campers, one of the more laidback area RV parks is Eleanor Oaks RV Park in Yankeetown, just a golf-cart ride away from the Gulf of Mexico.
"It's so easy to be here, just to be present," said park manager Carrie Thomas.
"There's no stress and there's always a laugh," she said.
Maida Swenson Fortune of La Crosse, Wis., owns Eleanor Oaks, as well as Lake Hernando Resort & Fish Camp (formerly Watson's) in Hernando. She also owns Leeson's Lakeshore Mobile Home Community in Inverness and Baja Mobile Home Community in Crystal River.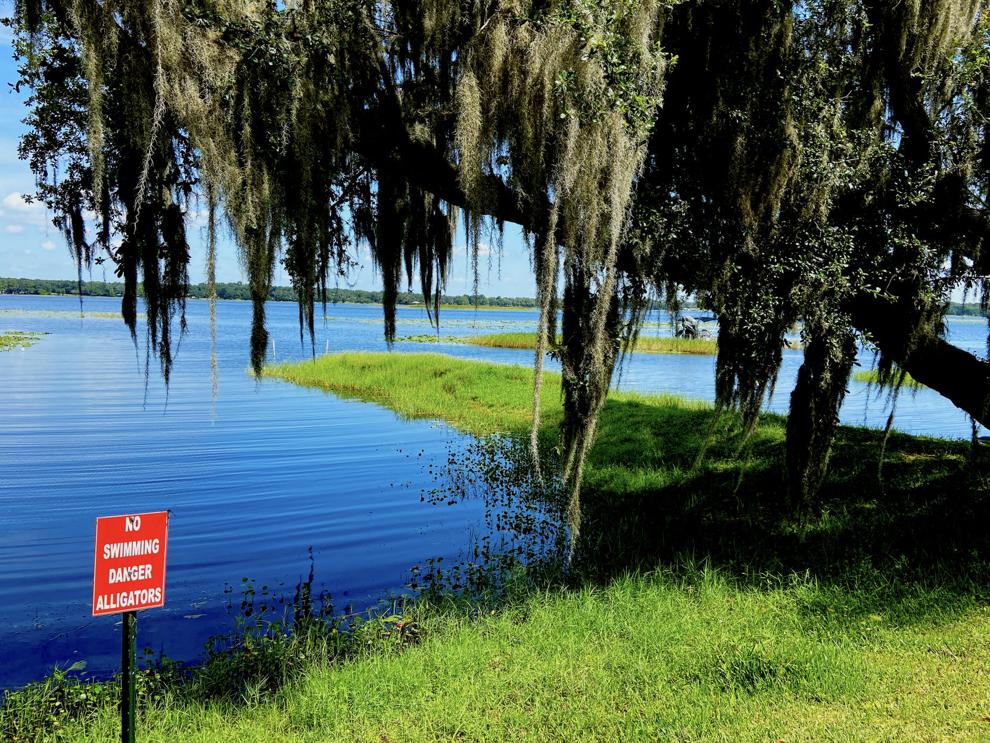 Swenson Fortune took over both the Eleanor Oaks and Lake Hernando RV parks two years ago and has been busily upgrading the properties ever since.
Swenson Fortune described the Lake Hernando camp, which is on Lake Hernando, and has 10 RV spots, 20 mobile home sites, and 10 cabins, as "quirky," and a "much-loved place … a special place."
Eleanor Oaks, which offers 66 RV and five tent sites, has a clubhouse that formerly served as the Yankeetown town hall. Inside, there is a stone fireplace, as well as old photos of Yankeetown.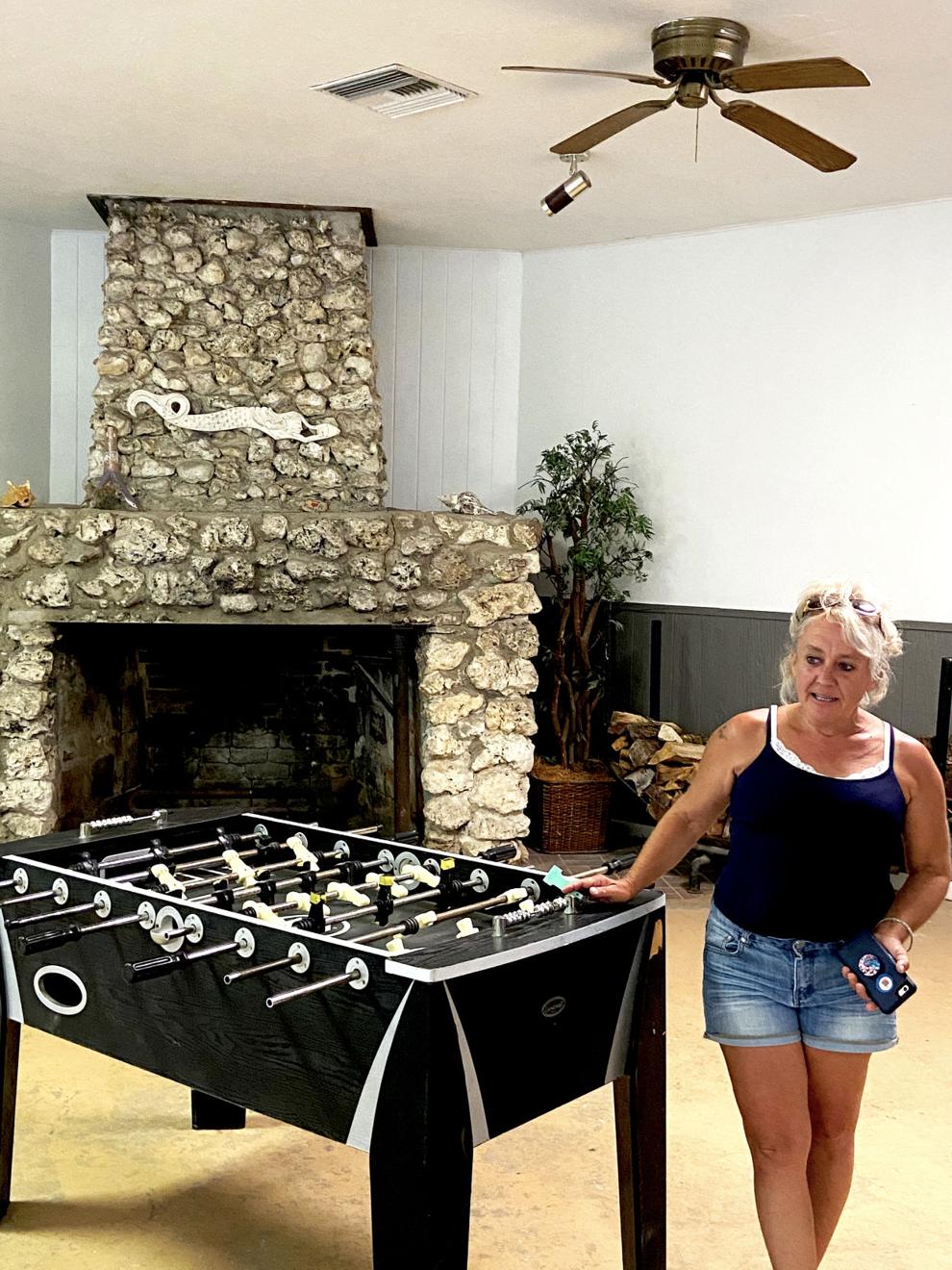 Swenson Fortune said Yankeetown is a good example of "Old Florida," which she defined as "very organic, quirky, creative. It's the concept of working with what you have. Everything is a little different."
During a golf-cart tour of some of the streets surrounding Eleanor Oaks, the park's manager Thomas pointed out a log-cabin-type house made from palm trunks and a stone house made from local rocks.
Mel Harcourt, who manages Swenson Fortune's four area properties, said she likes meeting "all the different kinds of people" who visit the parks. "They talk about camping and about how they live. I like hearing their stories. They get excited when they get a big fish."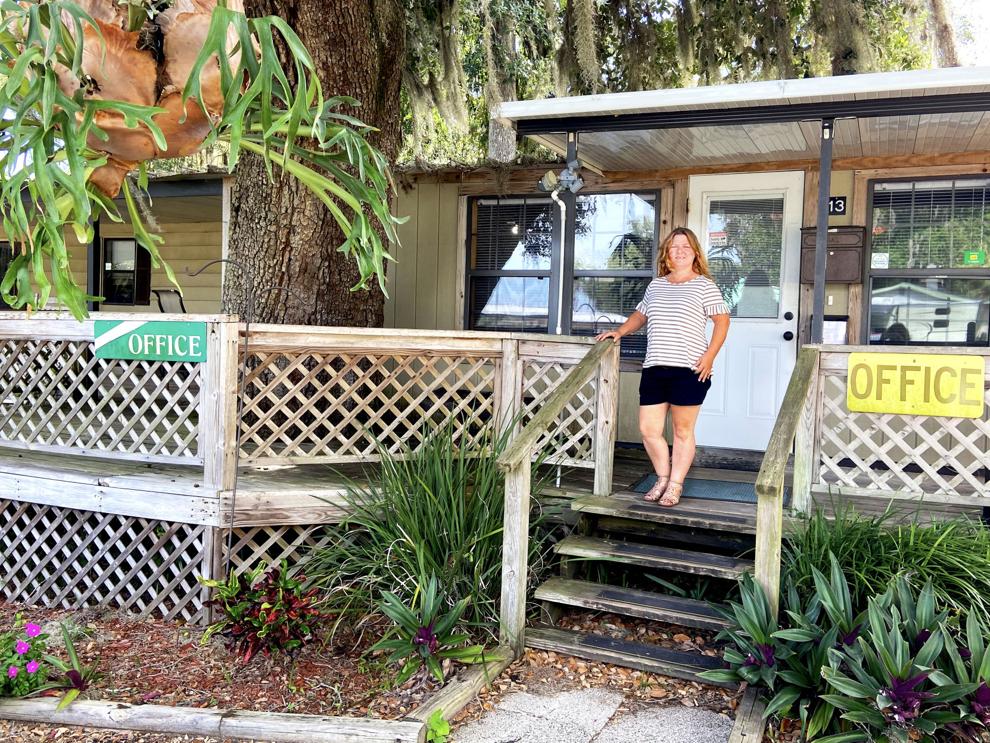 Said Thomas about Eleanor Oaks, "This is a beautiful piece of property. It's off the beaten path. It's charming to people. It's getting harder to find rustic, but this is the way we like it."
Over at Buddy's Lakeside Park on Lake Rousseau, Michael Abernathy is helping fix up that RV park, which his family purchased when the park, as well as the nearby Big Bass Village RV Park, was in foreclosure about seven years ago. Buddy's has 67 sites, and Big Bass has 14 RV sites, six cabins, and room for tents.
The cabins are simple concrete block buildings, possibly built around the time the Inglis Lock was constructed in the 1960s, or a little later. Perhaps crews who operated the hydroelectric plant on the west end of the lake from 1909 to 1965 stayed in the cabins, although the cabins seem of a later vintage. The lock was part of the ill-fated Cross Florida Barge Canal Project, which the State of Florida, following Congress' lead, deauthorized in 1991.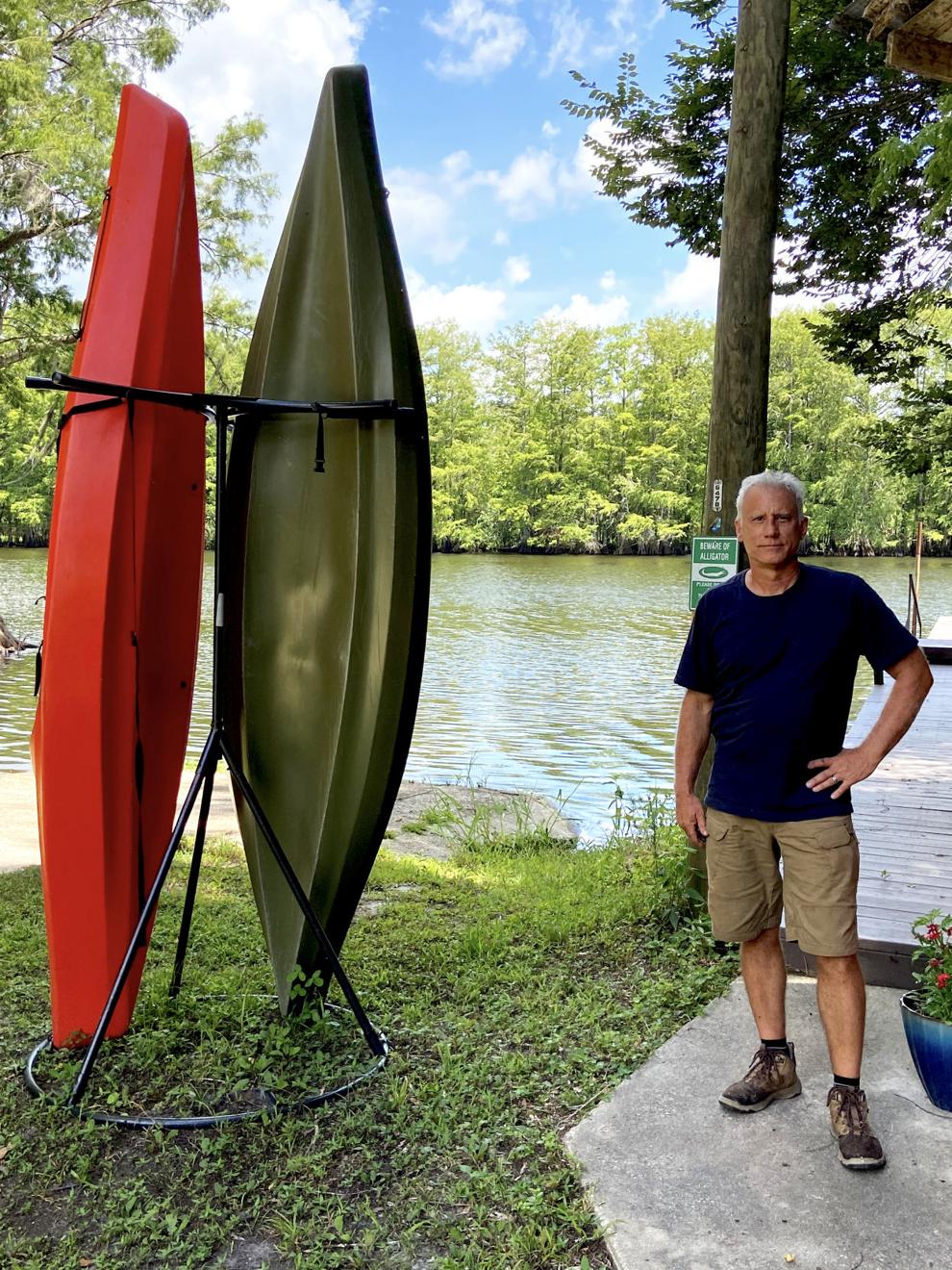 The Withlacoochee River was dammed in the early 1900s, forming Lake Rousseau. The trees on the land that was flooded were not chopped down, which makes for tricky boating. But the trees provide cover for all manner of fish, Abernathy said.
"You can see why this became a fish camp," he said, adding it's his family's goal to keep his family's parks as fish camps.
Abernathy, who lived in Orlando before moving to the area, said at first, he was "a little shell-shocked" at the slower pace, but now he finds "It's nice to get in my car and not have to brake."
William Hudnall, Abernathy's uncle, who is finishing repairing the roofs of the Big Bass cabins, said he feels their camps represent some of the "last of Old Florida." Their visitors "like the fishing, being close to the ocean. Most everybody's friends."
Sandy Oaks RV Resort of Beverly Hills is a camp that's not on the water. But what it lacks in aquatic amenities (it does have a nice pool), it makes up for in camaraderie. General Manager Robert Goethals said the park, on North Lecanto Boulevard in Beverly Hills, "gives people the chance to get away from the normal, everyday chaos and have a little peace and quiet."
He said the park is about 20 years old, used to be solely a mobile home park, but now attracts people from all walks of life.
"They're from all cultures, all races, and they all have the same focus: 'Let's relax and have fun,'" Goethals said.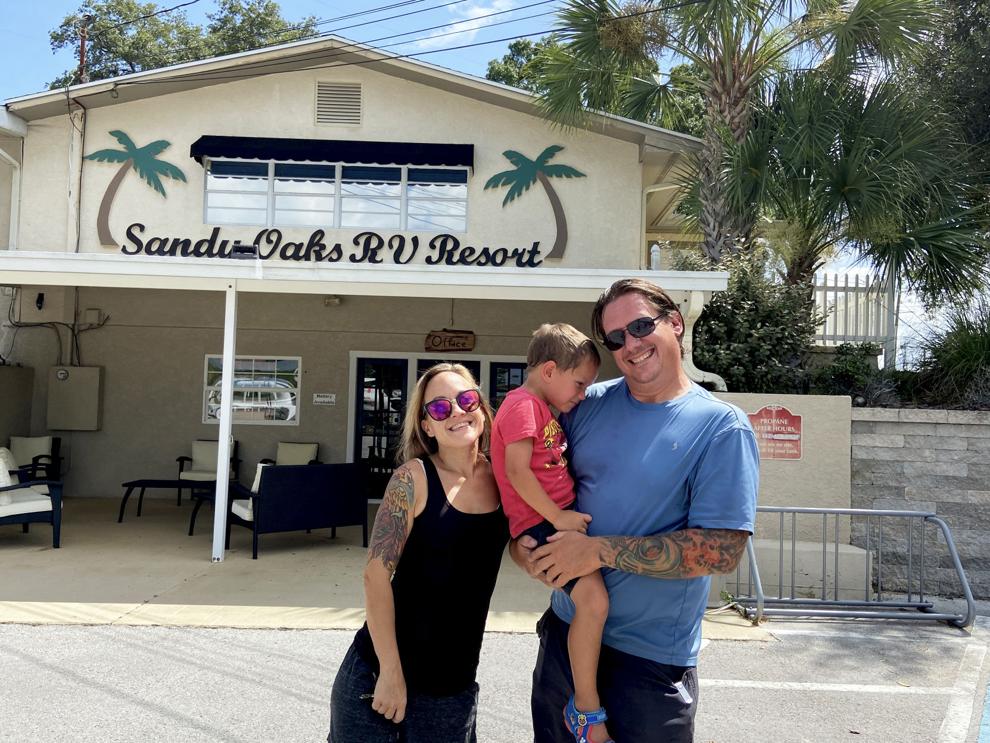 Thus, this park, with its 185 full RV hookup sites, as well as accommodations for people with different kinds of rigs — or no rigs — is not so much about "Old Florida" RVing as it is about what Old Florida camping has evolved to. There's a clubhouse where, during snowbird season, there are dinners, bands and dances. Residents have their own kayaking, bowling, biking and other groups. There's always something going on.
Goethals, his staff, and residents agree that one key ingredient of old-time Florida camping remains — the companionship that abounds.
Barb McClarren, who was overseeing the phones and front desk one recent sunny morning, said, "'Family' is a key word. There's a big sense of community and family. We take care of each other's needs."
Camper Debbie Reitenauer-Miesen of Bethlehem, Pa., said, "You get to know your neighbors. In an RV camp, you get closer to your friends than back up North, where you see your family, but not your friends and neighbors as often. It's probably because you're away from your own family here that it becomes such a close-knit family."
If Sandy Oaks is an example of a "happening" RV park, then Nature's Resort RV Park on the Halls River in Homosassa is a model of an up-to-date park with a bounty of amenities. The 400-site park, built in 1969, is constantly being updated, said General Manager Mike Shoemaker, who also is on the board of directors' executive committee of the Florida and Alabama Association of RV Parks and Campgrounds. He said Nature's Resort is the biggest RV camp in Citrus County.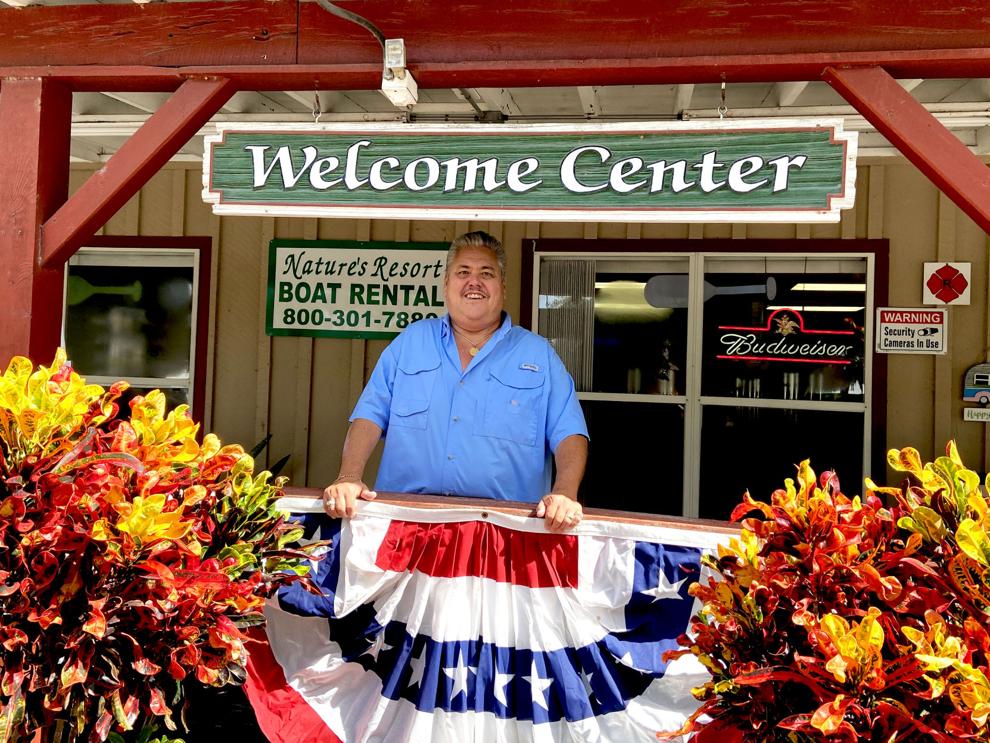 There's a pool, a Big Bounce for kids, a country store with souvenirs and camping gear, a marina, a tiki bar, and all types of watercraft for rent. There's a continental breakfast, bands on Saturday nights, and A-frame cabins for rent. Manatees and alligators sometimes visit a pond in the center of the park, Shoemaker said.
The Seagrass Waterfront restaurant is across the street and Publix, Winn-Dixie and other stores are just up the street and around the corner.
Yet there's a sense, especially by the river, of being in a more easygoing and exotic place than built-up Florida.
What's more, as Shoemaker sees it, "RVing is the safest method of travel. You have your own bed. … For safety, RVing is the place to be," he said.
RVers seeking an additional layer of safety and tranquility might check out one of the more remote camps in the area, Trails End RV Park, at the end of a gravel road outside Floral City.
When Jewel Pontius, 75, of Dunnellon, was growing up in Tampa, her family spent much of thei…
Offering 33 RV sites in a pristine setting on the Withlacoochee River, Tails End became a fish camp in 1931, according to a photo collage in the office. The park reportedly has the oldest and tallest cypress tree in Florida, said owner Michael Kennell.
Kennell bought the park in 2016 and spent 2½ years readying the site before opening, he said.
From a covered wooden platform with seating overlooking the river, Kennell said, "Listen."
A few bugs, a bit of wind. Near silence was all that could be heard.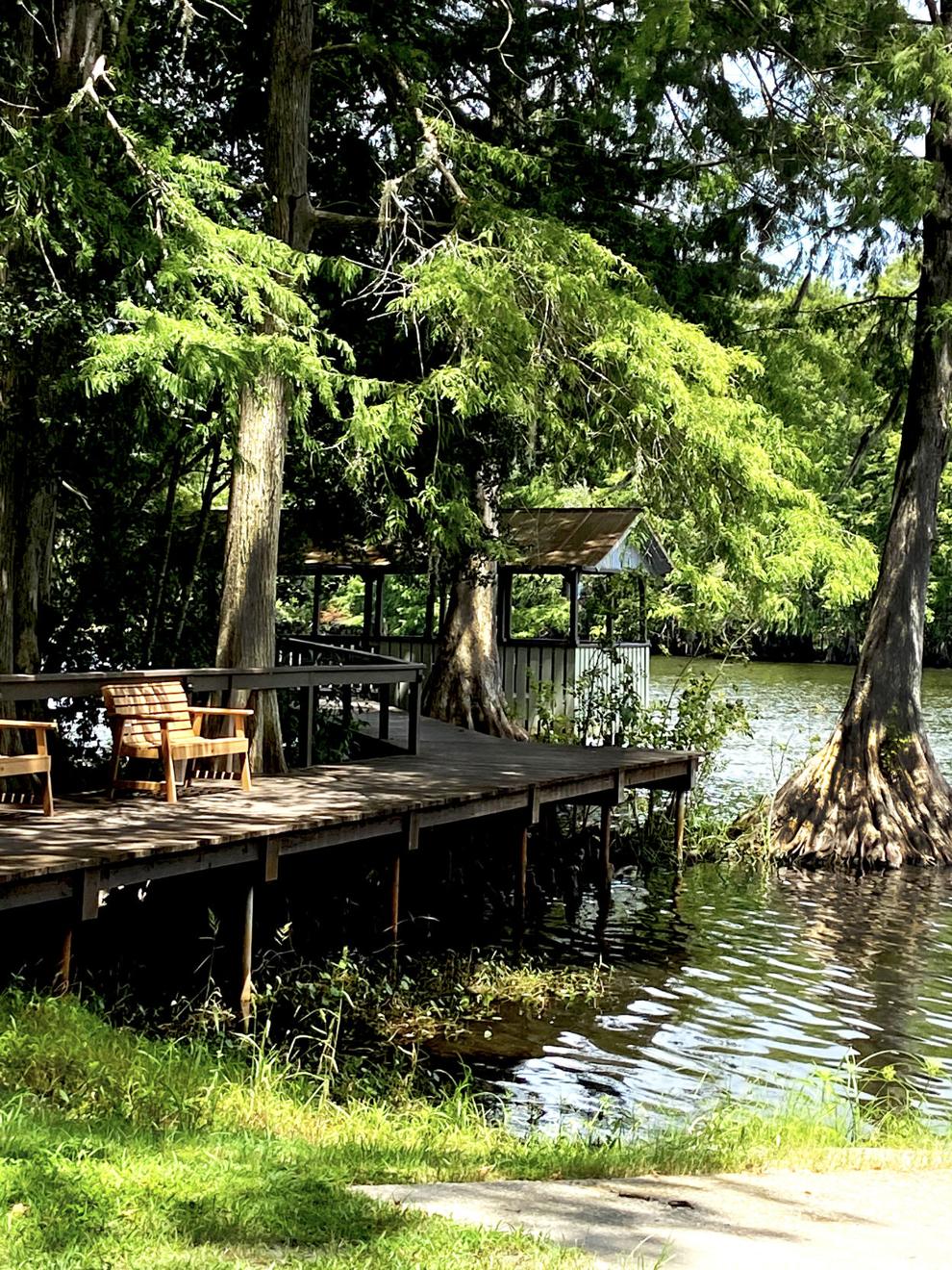 "This is as noisy as it gets," he said.
Donna Condry, 45, of Orlando, who grew up near Brooksville, spent many weekends and summer days at the park that her grandparents, Roy and Meda Smith, first camped at and then later purchased from Charlie and Gladys West in 1968. They sold it to William and Cornelia Thompson in 1986. David Vincent later took over the Thompsons' mortgage and paid it off.
Condry recalled the old cypress tree. She remembered her grandmother taking her out for sunrise or high-noon fishing. Her grandfather had a fish-cleaning building and would collect the fish parts, take them across the river, and feed the alligators.
"Then he'd hightail it back to camp," Condry said.
Staying at the camp "was fun," Condry said. "We kind of had free rein. We had bicycles to entertain us."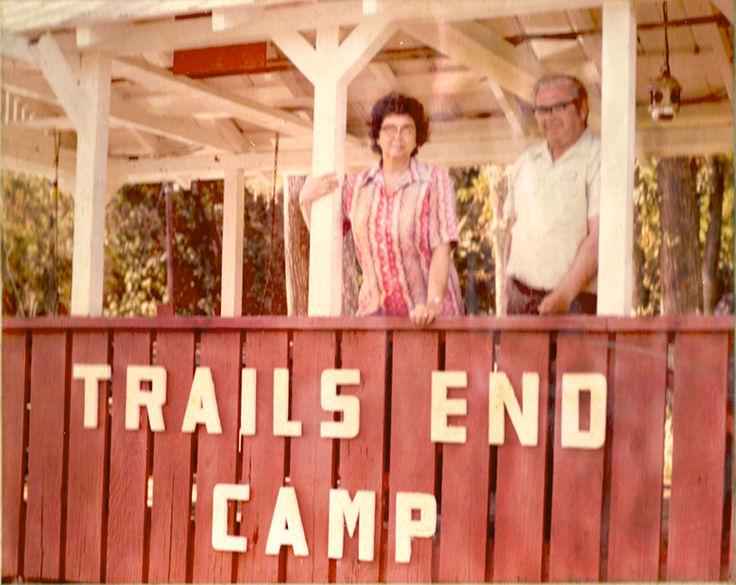 Condry's aunt, Jewel Pontius, 75, of Dunnellon, reported that Hiram W. Zelner of Hernando purchased the original plot in 1850. According to Pontius' records, Nellie Cosby Noyes and her husband, Donald, sold the camp in 1953 to the Wests of St. Petersburg.
Pontius said her family built a cabin at the camp and rented land from the Wests for many years before her parents purchased the camp.
Current owner Kennell pays tribute to the camp's history by posting old photos in the office, repurposing wood and buildings, and preserving an old gas pump.
Kennell said he thinks the camp is as important to guests now as it ever was because "People are way stressed out.
"I get a good group of people," he said. "They like a whole lot of nothing. They come back to the serenity.