In January 2017, it was reported that Citrus County commissioners would no longer "kick that can down the road" — that, instead, they'd recycle it.
Commissioners Ron Kitchen, Brian Coleman, Jeff Kinnard, Jimmie T. Smith, and then-Chairman Scott Carnahan had just agreed that the county's recycling options merited improvement. They talked about creating a universal garbage collection system, which would include curbside trash and recycling pickup.
In a July workshop, all five commissioners said they favored universal collection. By August, only one was on board.
In that August meeting, all five commissioners said they were visited after the July workshop by representatives of garbage-hauling companies, who said the companies didn't support a franchised program — which universal collection service would require — that, they contended, could drive one or more out of business.
In March, between the board's initial July support for universal collection and the whimper with which it died in August, commissioners voted unanimously to close recycling centers throughout the county because they were becoming unsightly receptacles for illegally-dumped furniture, tires, and other junk.
Aside from the 10 remaining recycling collection points, the county's current investment in roadside cleanup stretches to a crew, made up of four employees and a supervisor, working four 10-hour days each week. They're responsible for cleaning up the collection points, picking up bags of litter collected by Adopt-A-Highway volunteer groups, and collecting litter from alongside roadways.
"We pick up recycling centers, county roads, and we try to run ahead of the road maintenance crews so they're not mowing garbage that makes a bigger mess," said Dan Sherlock, operations manager at the county landfill. "In the summer the grass is growing, so it's harder to see the litter. This time of year, you can see everything."
Everything the crew picks up goes to the landfill, where any recyclables are processed accordingly. "If it can be recycled, it is," Sherlock said.
At an elected-leaders summit in January of this year, 16 members of the school board, the Board of County Commissioners (BOCC), the Inverness and Crystal River city councils, and several county and city staff members agreed: Litter is still a problem. They cited complaints from constituents, evidence of uncovered loads in pickup truck beds contributing to roadside refuse, and enforcement difficulties.
During that summit, Commissioner Coleman speculated that if he were to ask how many tickets had been written for littering in the last several months, there wouldn't be any. This week, both Coleman and the Chronicle saw the numbers: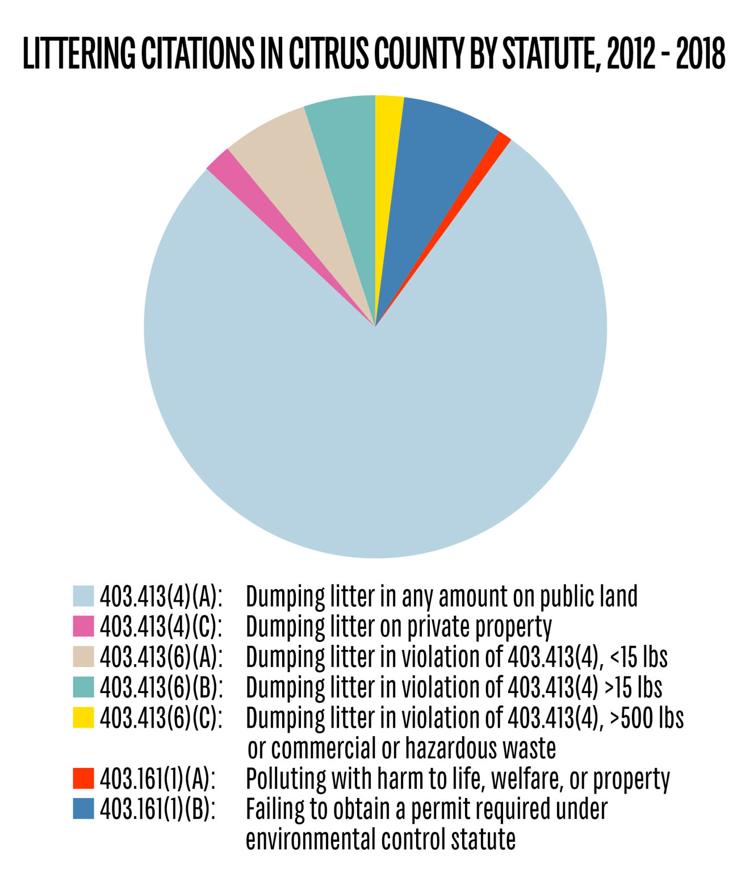 Between 2012 and 2017, the Citrus County Sheriff's Office wrote 37 citations under two sections of the state statute (chapter 403, known as the Florida Litter Law). The rate at which citations were written declined significantly over that period, from 16 in 2012 to just one in 2017.
Between 2012 and Jan. 29 of this year, all agencies capable of writing citations — the State Attorney's Office, the Florida Fish and Wildlife Conservation Commission, the Florida Department of Forestry, the Department of Environmental Protection, the Florida Highway Patrol, and the Citrus County Sheriff's Office (CCSO) — wrote a total of 98 citations in Citrus County under eight clauses of the litter law.
Asked whether Sheriff Mike Prendergast feels littering is an issue that merits increased CCSO resources, CCSO spokeswoman Lindsay Blair said littering is a "community issue."
"We want Citrus County to stay clean and beautiful," Blair said in an email, "so throw your garbage in the trash not our roadways."
"I've always said ... that with either citations or ordinances, if you don't enforce those, you don't get the cooperation from the citizens," said Coleman Tuesday, when asked about the declining number of littering citations. "To me, when people come into the county and see that, they get a bad impression of what the county is. I think it affects tourism and I think it affects people moving here. It plays a big part in economic issues."
Josh Wooten, president and CEO of the Citrus County Chamber of Commerce and former county commissioner, said that when potential residents and businesses come to the county they "notice things like litter and illegal dumping."
"People want to live and invest in a community that takes pride in its appearance," Wooten said. "Especially when we bill ourselves as the Nature Coast."
Wooten, who supported universal collection during his time as a commissioner, said the solution is multifaceted and includes education, enforcement of littering laws, covered loads, and "disposal of garbage where it's generated — meaning curbside. The most efficient way is the most politically perilous."
After a Tuesday meeting with CCSO Major Danny Linhart, who oversees patrol operations, Coleman said he was hopeful that the sheriff's office's increasing focus on traffic issues will include increased enforcement of the litter law.
"The results will speak for themselves," Coleman said. "But it was a very productive meeting."