A Citrus County Sheriff's deputy received a concussion and broken knuckle Saturday while trying to subdue a man who threatened to kill him during a scuffle outside a Crystal River church, records show.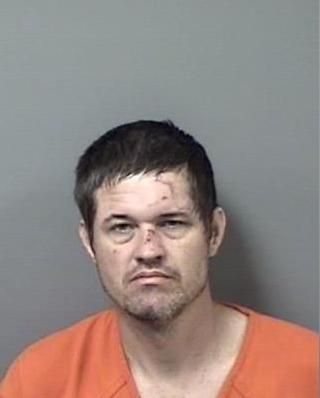 Vernon Wilson Roe, 38, of Crystal River, was jailed Sunday morning on numerous charges, including attempted murder of a law enforcement officer, his arrest report states.
Reports state Roe not only attacked Deputy Randy Robinson with his fists, but also tried to remove his service pistol, all the while threatening to kill him.
According to Roe's arrest report, this is what happened:
Robinson was dispatched around 6:30 p.m. Saturday to Gulf to Lake Baptist Church on State Road 44 in reference to a trespass. Robinson discovered Roe in the parking lot, where he was quoting Bible verses.
While Robinson was speaking with him, Roe started to walk onto the roadway into incoming traffic, saying, "I want to meet with God," the report states.
Robinson ordered Roe out of the road and, when Roe ignored him, the deputy grabbed him by the wrist to pull him from the traffic.
"At that time, the defendant turned, and with a closed right fist, struck Deputy Robinson on the left side of his face," the report states.
Robinson was able to remove Roe from the roadway while holding onto his left wrist, explaining that he was only trying to help, the report states.
Roe struck him twice again, the report states. Robinson then attempted to stun him with a Taser, but Roe pulled out the Taser darts and charged at the deputy and, with a closed fist, struck him six or seven times while threatening to kill him, the report states.
Robinson used his Taser a second time and Roe again pulled out the Taser darts, charging the deputy and grabbing the Taser. During the scuffle, Roe struck Robinson in the head with an unknown object, causing the deputy to lose consciousness.
When Robinson came to, Roe was on top of him striking the left side of his face with his fist.
Roe grabbed Robinson's agency pistol by the grip and tried to remove it from the holster, telling the deputy, "I'm gonna kill you," the report states.
Two bystanders arrived to assist the deputy, pulling Roe off him. Both corroborated Robinson's description of the attack, the report states.
Along with attempted murder, Roe's charges include aggravated battery on a law enforcement officer and resisting an officer with violence.
He was held without bond.