Citrus County School District officials released their strategies for how local public schools can educate students amid COVID-19.
Titled "Citrus Cares," the district's reopening plan was submitted Friday, July 31, 2020, to the Florida Department of Education for review.
School administrators will explain the plan to teachers and support staff before the 2020-21 school year starts on Aug. 20.
Along with describing the functions of Citrus Virtual, the school district's online campus and its more than 2,800 enrolled students, Citrus Cares also details new rules for students and staff to follow while attending brick-and-mortar schools.
Here are some questions and answers to help summarize the plan's protocols for traditional schooling:
Can I visit my child's school?
For the first nine weeks of school, the district is suspending all non-essential visitors from entering campuses.
This includes: parents, volunteers, vendors and student mentors. It excludes YMCA staff, who handle child daycare services before and after school.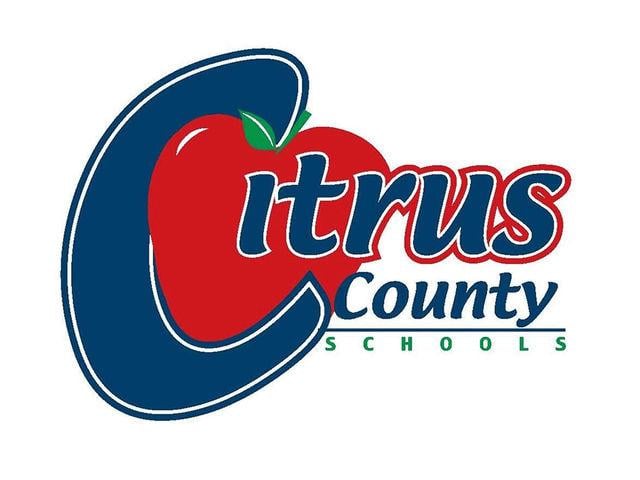 Citrus County Blessings will drop off donated meals at schools for students in need to take home for the weekend.
If a parent's visitation can't be held electronically, they can make an appointment to come to school, where they must wear a face covering. Meetings will be in designated rooms. 
District officials are trying to coordinate a way for parents to take young children into class for just their first school day, ever.
Elementary schools are going to host a virtual meet-the-teacher event via Zoom; middle and high schools will host orientations for sixth- and ninth-graders.
How can the school district know if COVID-19 is confirmed on campuses?
With HIPAA protecting patient IDs, the Florida Department of Health in Citrus County can only notify school officials about a certain employee or student testing positive if the staff member or child's parents consent to it.
Parents and employees can also notify school administrators themselves, knowing the school district will share the information with the health department and not to the public.
Afterward, health officials will trace back the person's contacts, and school officials will determine how to notify the public and decide which school areas must be disinfected or closed for 48 hours.
If a school closes down because of an outbreak, affected students and teachers will continue lessons through temporary distance learning, which is different than Citrus Virtual.
What's the protocol for students and school staff to follow if they have or might have COVID-19?
It's the school district's expectation for students and staff to monitor themselves for symptoms before coming to school.
It's up to parents to keep their child home if they or someone in their household is or may be sick with COVID-19.
District employees older than 65 or who have a serious underlying medical condition can work from home, provided their supervisor approves it and the job can be done via telework.
Students ill from COVID-19 will have their absences excused, and will be eligible to make up assignments later.
If a student comes to school with symptoms, they'll be taken to a designated area of the clinic to have their temperature checked with a contactless thermometer.
If a student's temperature is above 100 degrees, they'll be isolated and their parents will be asked to take them home.
Schools will still notify parents if a student isn't feverish to determine if the child should return to class or go home.
Employees showing symptoms of COVID-19 should not report to work. 
If employees are ill or are caring for someone who is, they can take advantage of the Families First Coronavirus Response Act, which guarantees paid sick leave for up to 80 hours.
Employees can benefit just once from the act's program, which expires Dec. 31, 2020.
Any areas the student or staff members was in will be disinfected.
If possible, those infected locations will be vacated for 24 hours before being cleaned, and, once they're disinfected, they'll remain empty for another 24 hours. 
Students and school employees must stay home for at least 14 days if they show symptoms or live with someone who tested positive for COVID-19. 
If they test positive, students and staff should remain home for 10 days from their onset of symptoms. 
They can return to school once their symptoms diminish, they've had no fever for 3 days without medication and health department officials have cleared them.
Buses will have hand-sanitizer dispensers for students to use when they enter or exit.
There will be assigned seating so students from either the same household or bus stop sit together.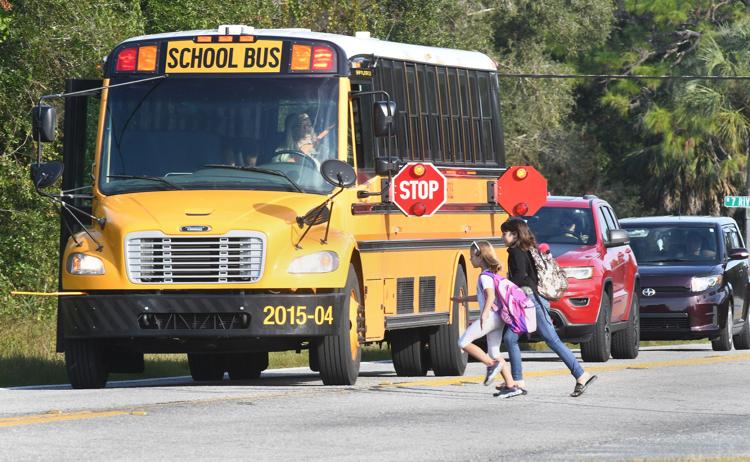 Unless they're in kindergarten through second grade, students must wear a face covering while on a bus. Bus windows will be left open when possible to increase ventilation. 
Areas of the bus where students touch or walk the most will be disinfected in between route runs. If needed, buses will be removed from service for a deeper cleaning.
How can I drop off and pick up my child from school?
School administrators will notify parents about the new procedures, which designate drop-off/pick-up areas and keep parents inside their vehicles.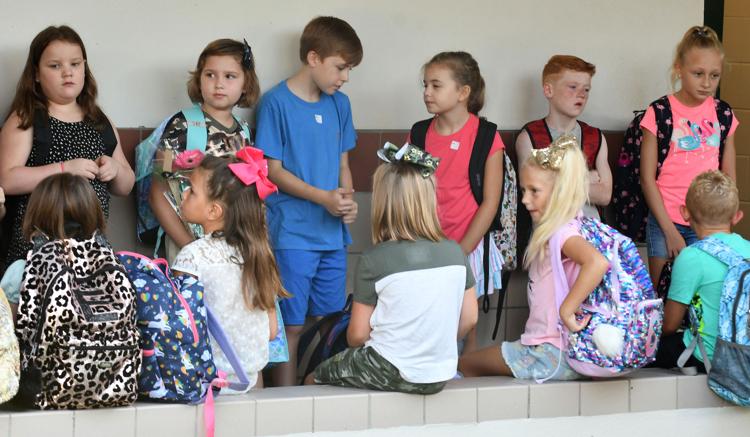 When picking up their children, parents will call the school's number shown on a curbside sign for their child to be released.
Parents can assist their children with unbuckling or securing younger children in car seats.
What is the school district doing to help prevent the spread of COVID-19 on campuses?
Along with rearranging classrooms and cafeterias, school staff are placing posters to remind students about the importance of face coverings and hand-hygiene. 
Hand sanitizer dispensers are also in more locations, and district-bought disinfectants, soaps and other cleaners will be stocked.
Along with continuous cleanings during the day and a deep cleanings at night, custodians will also sanitize high-touch areas, like handrails and keypads, multiple times a day.
Due to inadequate staff, it isn't possible to disinfect classrooms in between classes.
Teachers won't be required to clean their classroom on a time-certain basis, but schools will provide them with cleaning tools on request.
School personnel should not bring their own disinfectants as the cleaning agents might cause a harmful reaction for some students.
With water fountains off limits, students are encouraged to bring personal water bottles to fill up at water-fill stations or sinks.
School gatherings of 50 or more people, like assemblies and pep rallies, won't be allowed unless approved. With the exception of travels to the Marine Science Station, field trips are also canceled.
Elementary schools will stagger recesses to keep classes together.
Students won't need to wear masks if they're doing a strenuous activity on the playground, but they'll need to if they're socializing with others.
What are classrooms going to look like?
After removing non-essential and personal furniture, including rugs, school staff will rearrange desks to separate students as much as possible, and face their seating in one direction. 
Teachers will monitor seating charts throughout the day to keep students in order.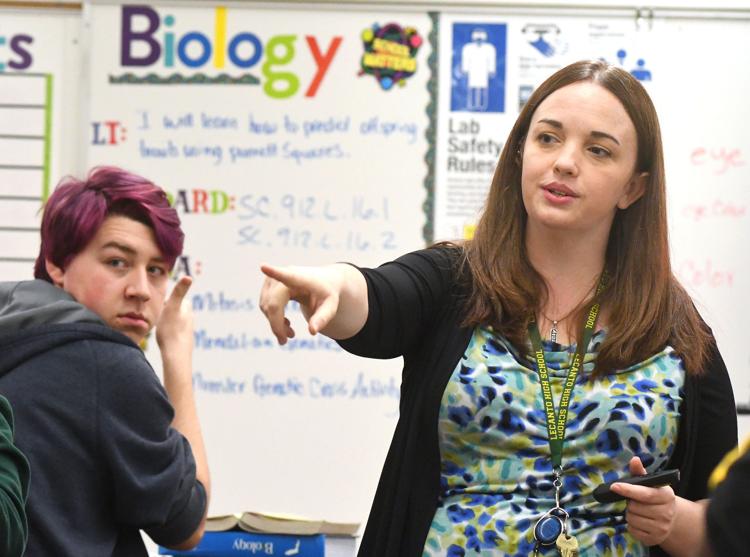 Students won't be able to share school supplies and textbooks, and contact with high-touch items in the classroom will be minimized. 
Mask-wearing is required for students and teachers in the classroom if they can't practice social-distancing as they move around.
To keep student visitation at school libraries at a minimum, media center specialists will work with teachers to supply their classrooms with an assortment of books.
Elementary schools will keep their student and teacher groups together as best they can. High schoolers must wear a mask if they can't be separate on campuses.
How are school cafeterias going to change?
As students line up for breakfast or lunch, they must be masked and spaced apart as a much as possible.
Masked and gloved cafeteria workers will serve each food item to students, keeping the youths from serving themselves and touching more surfaces.
Meal choices will also be reduced.
Students will check their meals out using a touch-less scanner.
They'll be seated apart at tables faced in one direction, and can remove masks while they eat.
How will student movements change in hallways and common areas?
Unless the hallway or stairwell is wide enough for two-way traffic. Schools will do their best to create one-way corridors for students to follow with arrows directing them.
It won't be possible to create a one-way pattern for every hallway or staircase.
School administrators and teachers posted outside classrooms will monitor students in hallways to make sure they're moving in between classes.
How will athletics return to play?
Florida High School Athletic Association (FHSAA) officials postponed start of play to Aug. 24, impacting football, volleyball, cross country, swimming and golf.
School district officials are working with neighboring counties to coordinate game-day schedules on a limited basis.
However, that depends on if the respective county's positive COVID-19 tests fall below 5% over 28 days; Citrus County's was at 8.6% on July 28.
Trainings will be limited to individualized workouts, with contact prohibited. Coaches and student athletes will be screened for symptoms before practices.
Locker rooms will be used as restrooms only; students must show up in their workout gear.
No more than 20 people, including the coach, will be permitted to train outside with social distancing enforced.
Gatherings inside gyms and weight rooms will also be greatly reduced, with equipment being cleaned after each use.