The first time Jillian Shade met Kirsten Tomlinson, it was not "friendship at first sight."
"We had moved in across the street from her...and my mom made me go to a birthday party at her house — I think it was for one of her brothers," Jillian said. "We were not fond of each other when we first met — we despised each other."
But once the girls warmed up to each other, and despite their age difference — Kirsten was nearly three years older — they became inseparable friends, until Kirsten was killed by a hit-and-run driver June 6, 2020 in Escondido, California as she was crossing the street.
Kirsten Rain Tomlinson was 17.
Kirsten was a bundle of energy, a whirlwind of fun.
"She was bounce-off-the-walls, stay-up-until-4 a.m. energetic," Jillian said.
Kirsten's energy and bubbly personality is what drew Lacie Horak to her.
"She was always happy and smiling," Lacie said. "We went to the same high school (Crystal River High School) and had some classes together. We automatically clicked."
The two girls had sleepovers that "lasted for weeks," Lacie, 17, said. "She was always at my house. "We'd blare the music and have dance parties. I lived on the water, and we'd sit on the dock and watch the sunset and take pictures."
Oh, did Kirsten take pictures! "Thousands and thousands and thousands," Jillian said.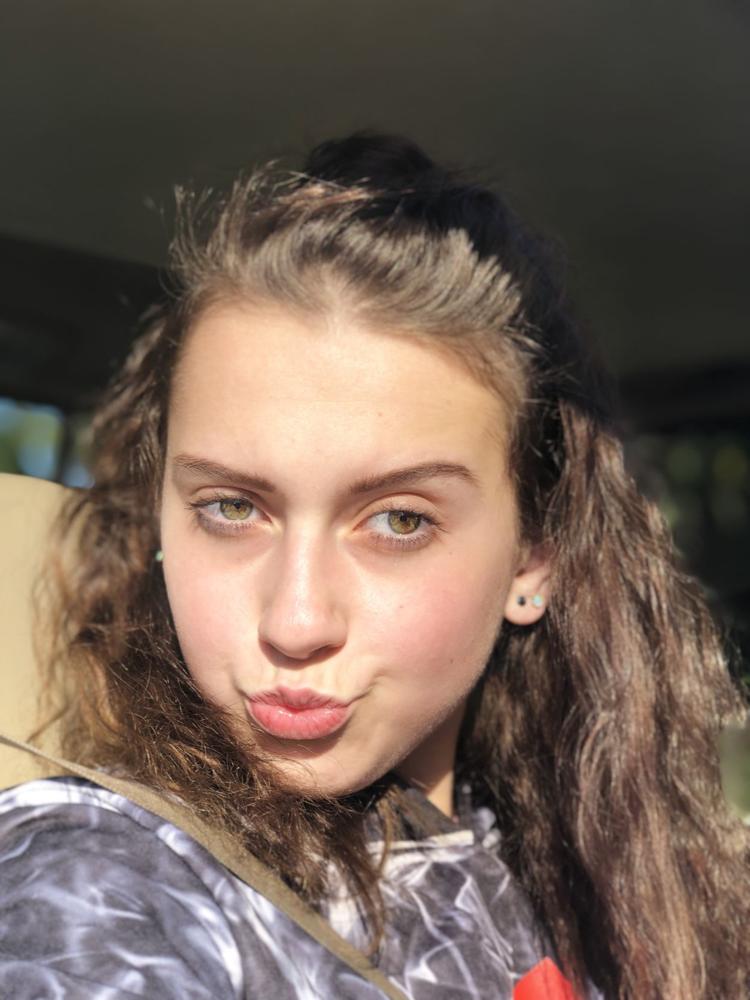 Kirsten wanted to be a model.
"We'd do a lot of photo shoots together," Lacie said.
Kirsten and Jillian also spent hours, often in the middle of the night, doing their makeup and hair and taking photos.
"She was really good at doing makeup," Jillian said. "She didn't even need foundation. She had a beautiful complexion naturally."
To Jillian's mom, Stephanie Scheibelhoffer, Kirsten was a second daughter.
"She was always at my house," she said, "and she taught me what it was like to have two daughters. She called me Mom and I called her my daughter...either for my birthday or Christmas, she got me a #1 Mom bracelet. I was her home away from home."
When Kirsten first started coming to Scheibelhoffer's house, it was to visit Jillian's older brother, Damien, whom she dated off and on.
"In the beginning, she would only talk to Damien and not to the rest of us," Scheibelhoffer said. "One day I said to her, 'You're over here all the time and you need to warm up to us.' After that, she never shut up! She would be so loud and giggly — I think it was Lacie's mom who said Kirsten was a 'breath of fresh air.'"
"She was the sweetest little girl," said Kirsten's mom, Erica Connery. "She was the oldest of her siblings and stepsiblings and she was a 'mommy' figure. She loved to mother people."
Connery said besides a model, at one time Kirsten wanted to be a veterinarian, because she loved animals, and then when they moved to Citrus County she fell in love with the manatees and dolphins and thought about being a marine biologist.
"She loved the water and swam all the time," Connery said. "She was a happy, and adventurous ball of light for everyone. Ten minutes is all it took for anyone to fall in love with her."
For much of her early childhood, Kirsten had health problems that kept her home from school a lot.
At age 12 she was diagnosed with Type 1 diabetes.
She struggled with keeping up at school and dropped out after the 10th grade.
However, recently, she was working toward getting her GED, which is one of the reasons she went to California.
Her father, who is in the Navy, is stationed in San Diego.
Kirsten went to visit him for two weeks over Christmas and then returned in January to live with him.
"The two weeks she was visiting out there, her dad was helping her with job applications and college applications, and she had a lot of offers," Jillian said.
"We cried when she said she was moving," Scheibelhoffer said, "but I told her we wanted nothing but the best for her."
Kirsten Tomlinson was goofy. She loved eating spicy food.
If you were her friend, you had an ally and a defender.
"If you messed with her friends, she would get mad, probably even angrier than you," Jillian said. "She was a loyal friend, and she tried to make people happy."
She loved the latest trends; her favorite outfit was ripped jeans, a statement T-shirt and white, slip-on Vans.
She loved bright colors and "secretly" loved pink, her mom said. "She taught me to let it go and be wild, be spontaneous."
Hailea Tomlinson, Kirsten's younger sister, said she learned to look at things differently, not just one side of a situation, but all sides.
"She was passionate about her friends," Hailea said. "She always had people's backs."
Kirsten loved being in front of the camera and the camera loved her.
"When she was in California, we had almost a 200-day streak on Snapchat, sending pictures back and forth," Jillian said.
"No matter what she was going through, she wanted to make sure you were OK and happy," Lacie said. "She was one of the sweetest people, always a big smile, always laughing. Her energy lit up the room."
A celebration of life is  from 4 to 8 p.m. Saturday, July 11 at Little Springs Park in Crystal River, next to city hall.