Jack Murphy had many lives.
Born Jack Roland Murphy in Los Angeles, California, he was the son of an electrical lineman, a tennis player, a violinist, an artist, a professional high-tower diver.
He became known as "Murph the Surf," one of the best surfers in the U.S.
Murphy was best known for his notorious crimes as a jewel thief and convicted murderer that sent him to prison for two consecutive life sentences plus 25 years, making him eligible for parole in 2244.
The judge told him, "You will never again walk the streets with law-abiding society. It's only because of the jury's recommendation that we don't put you in the electric chair," Murphy told the Chronicle in 2012.
But when the famous and infamous Jack Murphy died Sept. 12, 2020 at age 83, he was just Jack to his family and friends in Crystal River, a man of deep Christian faith after turning his life over to Christ while in prison and then being released in 1986.
Murphy spent the last decades of his life a free man, an evangelist, spreading the gospel of forgiveness, grace and pardon to prison and jail inmates, homeless people, alcoholics and drug addicts, all around the world.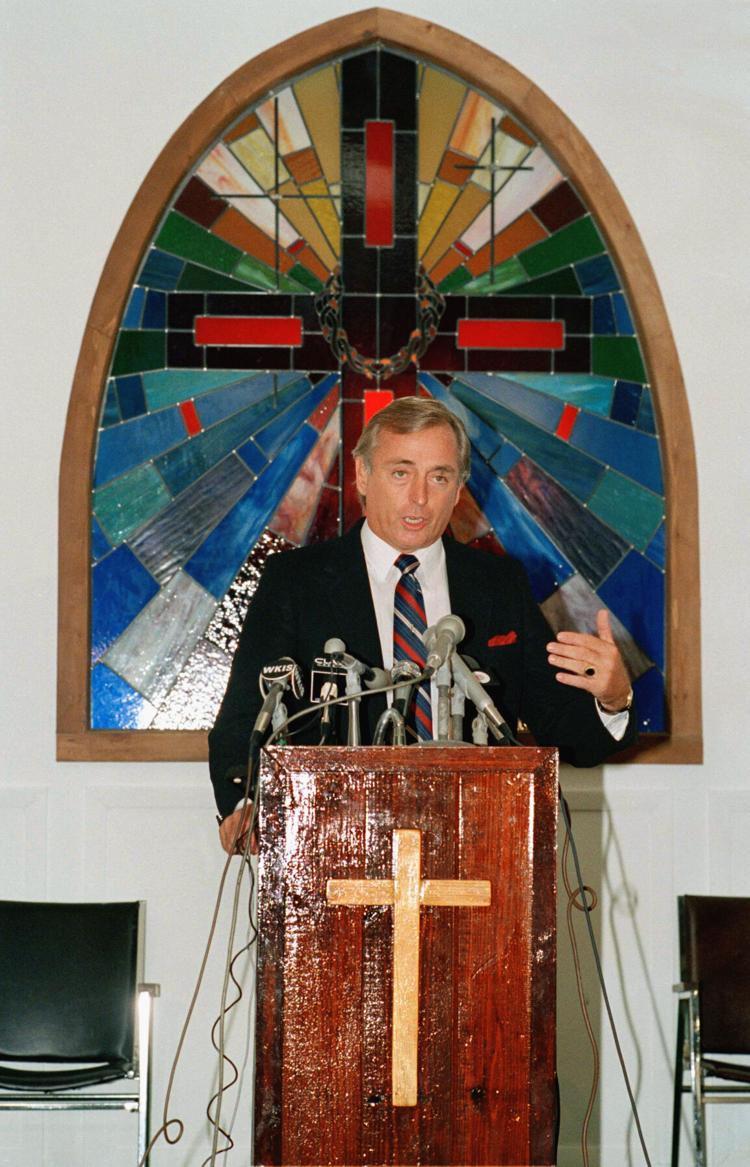 "What impressed me most about him, he would just show up here and talk to the men one-on-one, always preaching the gospel," said Mike Awe, former executive director of The Sanctuary Mission in Homosassa. "He was a speaker extraordinaire, very articulate and could speak spontaneously about anything to any group. But he gravitated to the lowest people. He was humble.
"I call him a 'low-profile general in the Army of God," Awe said. "God used him on a mighty scale."
Jack Murphy's life didn't start the way it ended.
In his younger years, he was smooth. He had swagger and had to be the best at whatever he did.
When he was a teenager, he moved with his parents from Southern California to Pennsylvania where young Jack started competing in tennis tournaments, earning him a scholarship to the University of Pittsburgh.
However, the irresistible clarion call of the surf caused him to leave college and follow the waves — in Florida, first in Miami Beach and then later Cocoa Beach where he opened a custom surfboard shop.
That's also where he got his nickname "Murph the Surf," although he preferred "Murf."
In 1962 and '63, Murf won Florida state surfing championships, and won the first surf contest in Virginia Beach in 1963; he was inducted into the East Coast Surfing Hall of Fame.
Murf was riding high, but he wanted more.
After a second failed marriage, Murphy closed up his surf shop and returned to Miami Beach where he began his career in crime, partnering with Allan Kuhn, pulling off mostly small stuff — preying on tourists and wealthy women.
Then in 1964, Murphy gained notoriety for his part in one of the most famous jewel heists in history by climbing the walls of the American Museum of Natural History in New York City, breaking in through a window and stealing the Star of India sapphire, the DeLong Star ruby and other precious and priceless diamonds and emeralds from the J.P. Morgan jewel collection.
Murphy was eventually caught in Miami and served 21 months in prison for a burglary conviction.
After he was released in 1967, Murphy would go from jewel thief to convicted murderer for his part in the deaths of Terry Rae Frank and Annelie Mohn, two young women who had stolen $500,000 worth of stocks and bonds from the brokerage firm in Los Angeles where they worked as secretaries.
The women were brutally murdered in a boat in Whiskey Creek, south of Fort Lauderdale.
Murphy pleaded not guilty but was found guilty of first-degree murder and sent to Florida State Prison in Starke for the rest of his natural life.
At Murphy's sentencing, the judge told him, "You will never again walk the streets with law-abiding society. It's only because of the jury's recommendation that we don't put you in the electric chair."
By all accounts, Jack Murphy was not a model prisoner — at first.
But something happened during a visit from former Dallas Cowboys player Roger Staubach then-retired Cleveland Browns player Bill Glass.
As the NFL players, part of a Christian prison ministry organization, shared the gospel message, Murphy's life was turned around.
About 12 years later in 1986, Murphy was released from prison and placed on parole with lifetime monitoring, which was terminated in 2000.
He spent the rest of his life traveling the world, speaking about the power of Christ to change a person's life.
In a 2012 Chronicle interview, Murphy said when he heard his sentence, it sucked the life out of him. Barely 30 years old, he was looking at decades behind bars.
"I was thinking, 'How am I going to do this?'" he said. "How will I survive this?"
He said prior to that, he was just having the time of his life. He said he had no sense of guilt whatsoever. His main guiding thought had been: Can I get away with this?
"When I was in prison, I started getting letters from Christians," he said. "And it was Christians who came regularly to visit. No one else did, but the Christians came consistently."
That stayed with him and helped him become the man he was until his death.
"He was one of the finest individuals I ever met," said Richard Adelberg, former Crystal River resident and past board president of The Sanctuary Mission.
"I met him at a Sanctuary benefit — he was the guest speaker," Adelberg said. "He was sharp, quick, assertive, an excellent speaker. He went from prison to prison, telling his story and preaching the gospel.
'And he was a man of his word. "What he said he would do, he did. He was my kind of individual."
Jack Murphy was a longtime member of Gulf to Lake Church in Crystal River.
His pastor, the Rev. Lloyd Bertine, recalled the first time Murphy came to the church.
"I knew about him from his surfing days back in the '60s," Bertine said. "So I said, 'You're Murph the Surf!' He laughed and said, 'Yes, I am.'
"He was a unique man, with a heart for down and out people," Bertine said. "He was also an unbelievable artist. When he was in prison, he painted pictures of all the lighthouses in Florida."
The paintings now hang in the halls of the church.
Jack Murphy is survived by his wife Kitten, two sons, Michael and Sean, three grandchildren, and a multitude of friends. 
According to his wishes, there will be no memorial service for Jack Murphy at the church.