Glenn Browne fished.
In the world of bass tournament fishing, he was a superstar.
"He started fishing tournaments when he was only about 16, and even then you saw that he was going to be something special," said best friend and fellow angler Jimbo Denton. "He put in his time, and he started winning tournaments."
Known as "The Flipping Legend," Glenn "GB" Edward Browne, of Citrus Springs, died May 28 after a valiant battle with cancer. He was 43.
From a young age, Glenn stood apart from even the more experienced anglers.
"He was innovative," Denton said. "He started fishing with a braided line like they used back in the 1950s. It was outdated, and people were looking at this 17-year-old kid like he was crazy, but then he started winning tournaments, and now years later everyone who flips uses it. He also started flipping with left-handed reels."
Flipping refers to the specialized technique Florida anglers use to catch the largest fish among the deepest vegetation in a lake, using heavy lines, hooks and fishing equipment.
"I don't know how he figured these things out," Denton said. "He just had this drive and the will, and he learned everything he could. That's why he was so good."
Glenn's life and his livelihood was fishing — 12 years as a professional bass fisherman for the Fishing League Worldwide (FLW) tournament circuit, with sponsors like Lew's Fishing, Phantom Outdoors, Superchips, Ranger Boats and others.
He was a six-time FLW participant and had multiple professional tournament wins, including at Fort Loudon, Tennessee, in 2010, and Lake Champlain, New York, in 2015.
On his days off, Glenn went fishing.
He said once in an interview: "Fishing is my medicine."
But Glenn had another love: his wife, Melissa. The couple married on Jan. 19, 2019, just four months before he died.
"We had our first date on Oct. 4, 2016," Melissa Browne said. "He lived in Ocala, where he grew up, and we went to Bonefish Grill. We hit it off instantly and talked for hours."
The following Sunday, Glenn took her out to Lake Weir for a day in his boat.
Then that following Thursday, he called her with the news: He had colon cancer.
"I told him, 'I'm coming to get you — you're not going to sit at home alone.' So, we went to the square in Ocala and talked," Melissa said. "He told me I didn't have to stick around, that we had just started dating, but we hit it off and I didn't want to give that up.
"So I said, 'People beat cancer all the time; let's just take it one day at a time.' He started treatment, radiation and chemo, the following Monday," she said.
Melissa first met Glenn's parents the day of his first surgery, in the hospital waiting room.
Prior to that, the couple had taken a long weekend trip to the beach, and as they sat on the sand under a full moon, they pretty much knew they would get married, and they knew they wanted a wedding on the beach — under a full moon.
They chose Jan. 19, 2019, not knowing what would lie ahead of them.
"We spent our whole relationship fighting cancer," Melissa said.
But it wasn't all sickness and hospitals.
"He loved to crack jokes," Melissa said. "He was generous — he'd give to anybody who asked for a donation, whether it was Wounded Warriors or a kids' youth bass tournament. He loved helping people."
And unlike some successful tournament winners, Glenn never held back his "secrets."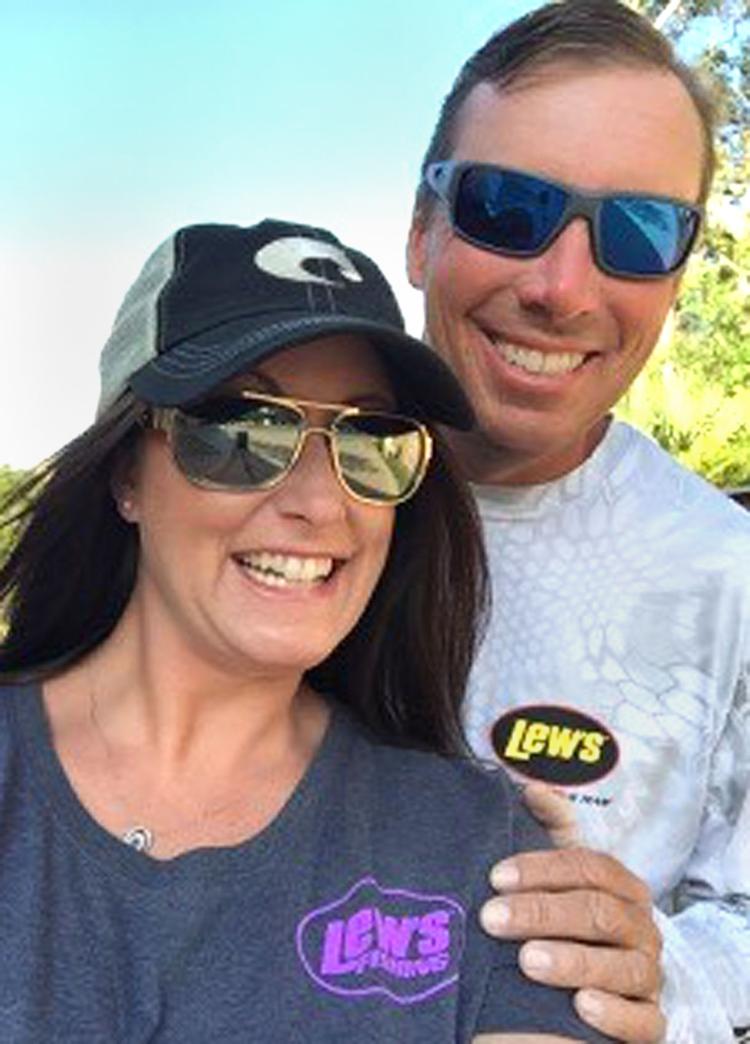 He'd readily tell others where to find the biggest fish and how to catch them.
"He shared his knowledge," Melissa said. "He wanted you to do better; he wanted you to succeed."
One of the things Glenn loved was taking trips, especially if it involved fishing.
"In 2017, for our birthdays, we took a trip to the Keys," Melissa said. "We fished every day, and we just had so much fun. He was going through chemo then, but he was handling it well and wasn't feeling sick."
One day out in the boat they passed Little Palm Island Resort, and Melissa remembered seeing something about it on the Travel Channel.
"So, the last night there we took the boat and went out on the island and had dinner on the beach," she said. "We watched the sun set, and the Key deer would actually come up to the table. It was a 'dream date,' like you'd see in the movies — Glenn said it was the best vacation ever."
It was even better than their "pre-wedding honeymoon," a road trip they took in December 2018 to Savannah, Charleston, Asheville, Gatlinburg and Nashville, spending Christmas at the Gaylord Palms resort.
In the final weeks of his life, Glenn had two trips left on his bucket list: One was to fish the 30th Annual Wolfson Children's Hospital Bass Tournament in Palatka, Florida, and the other was a trip to Springfield, Missouri, to visit the Wonders of Wildlife National Museum and Aquarium and to see his friends at Lew's Fishing, also in Springfield.
"He fished the tournament 10 days before he died — and he never once complained," Jimbo Denton said. "We ran the St. John's River, and that's a tough river to run; you have to really drive the boat, and you're cutting corners, and when we got there (Palatka) I said to him, 'You're probably worn out, aren't you?' He look at me — I'll never forget this — and he just said, 'That was FUN.'"
That was May 18, and on May 21 Glenn and Melissa were in Springfield.
He died a week later.
The day Glenn Browne died, tributes for the Flipping Legend started popping up all over social media — word spread fast.
"He was well-liked by everyone, especially his sponsors," Denton said.
From Lew's Fishing: "The Lew's Fishing family lost a good friend today. GB was a great angler, and a better person."
From Ranger Boats: "Glenn was a great fisherman, a tremendous asset to Ranger Boats and the other sponsors he represented, and an even better man."
From Phantom Outdoors: "GB won plenty of bass tournaments, but more importantly, he won at life. He did things the right way and loved the ones closest to him. He will be remembered as an amazing angler and an even better person.
"We are going to miss you, but we know you're in heaven, pain-free, still setting the hook."
Glenn Browne's Celebration of Life is at 11 a.m. Saturday, June 8, at First United Methodist Church, 1126 East Silver Springs Blvd., in Ocala.
As an expression of sympathy, memorial contributions may be sent to Marion County Youth Bassmasters, 31 Larch Run, Ocala, FL 34480.