Since the end of World War I, there have been 507,439 war-related deaths of Americans.
During the Vietnam War alone, 33,103 18-year-olds were killed in action. Five who died were only 16. Thirty-one sets of brothers died, eight women lost their lives, 1,954 who died were from Florida — 1,448 soldiers were killed on their last day in Vietnam.
For some, these are just numbers. But for many, these numbers represent fathers, husbands, brothers, uncles, someone's son or daughter, someone's grandchild.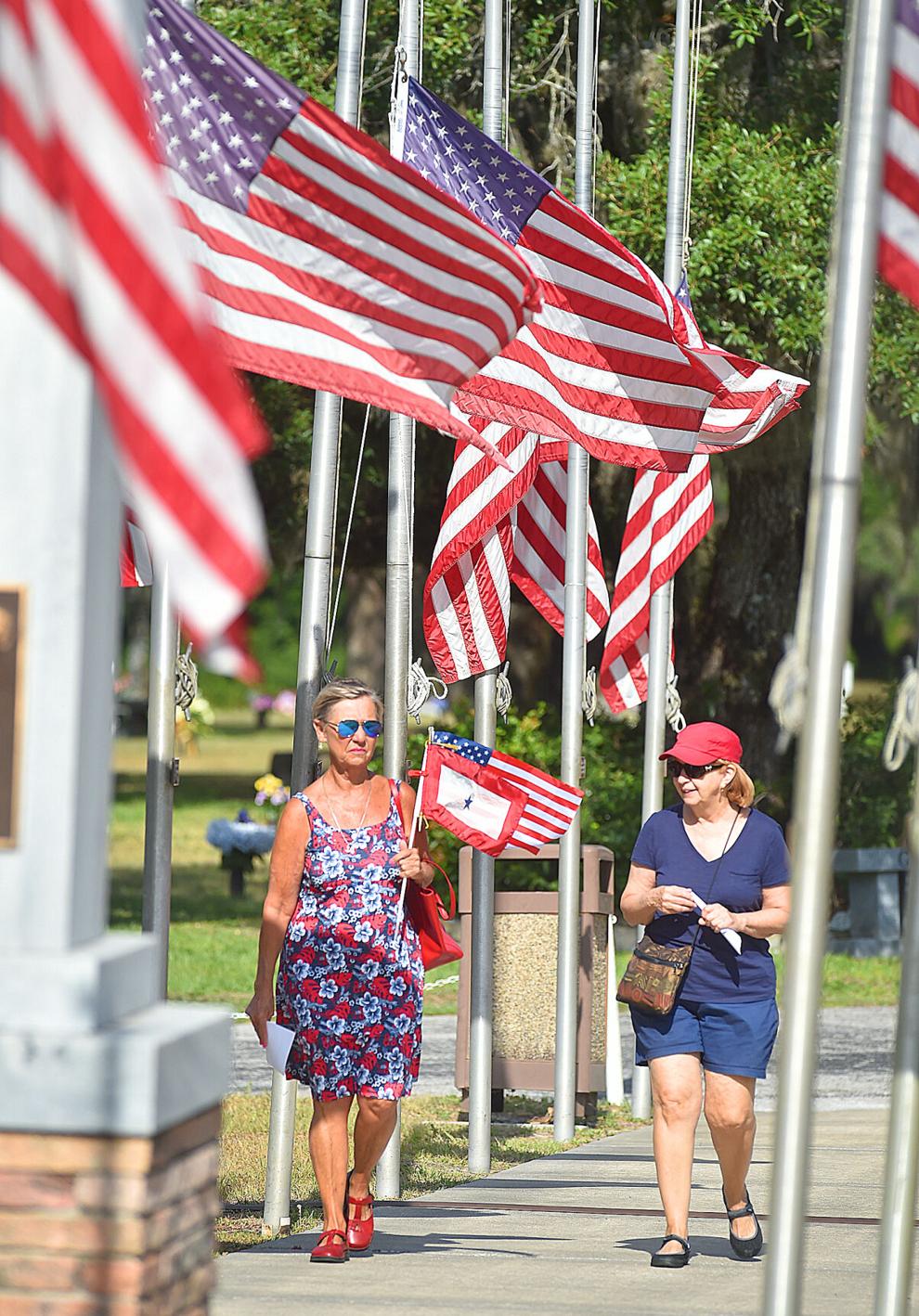 As Monday's annual Memorial Day service at Fero Memorial Gardens Cemetery in Beverly Hills began, Thomas Schenck, American Legion Post 237 commander, welcomed the veterans in the audience, thanked them for their service and sacrifice then said, "But today is not about you. Today is about those who served this nation and made the supreme sacrifice in service of this country ... and we will be forever in their debt."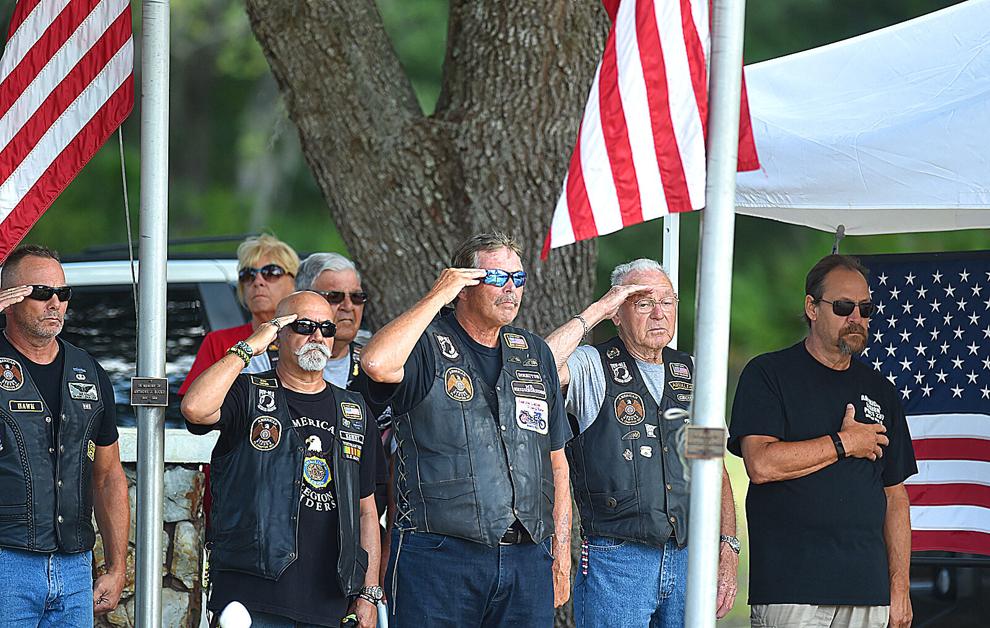 Excluding last year because of the coronavirus pandemic, Fero has hosted this annual Memorial Day service for 41 years.
With a backdrop of dozens of American flags at half-staff flapping in a welcomed breeze and scores of smaller flags planted among the graves, a crowd of patriotic citizens gathered to pay tribute to those who gave all for their country.
The memorial service itself was less about speeches and more about traditions — singing of the national anthem, reciting the Pledge of Allegiance, the ceremonial folding of the American flag, and honoring POW/MIAs with a recognition of the empty chair, always set out for the "missing unknown soldier."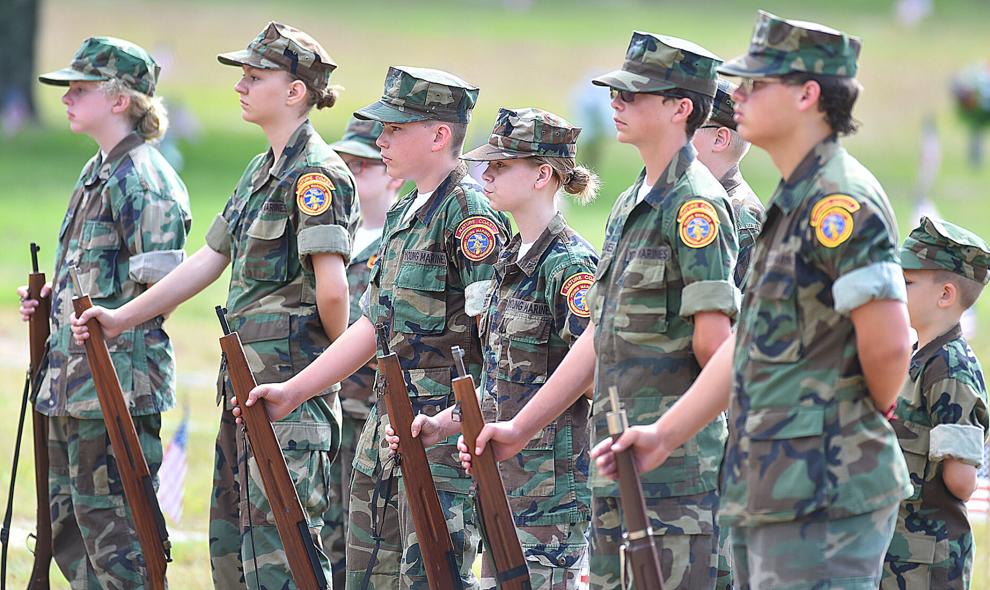 Nature Coast Young Marines with their solemn helmet benediction, the laying of the wreath by women of the American Legion Auxiliary, the playing of taps and rifle squad salute by members of the Citrus County Honor Guard, "Amazing Grace" played by a bag piper.
"Think of those who flew aircraft riddled with holes ... who marched through deserts, forests and snow, through jungles in unmanageable humidity and swamps ripe with disease-carrying insects," said guest speaker Tory Gee, Fero Memorial Gardens general manager and a former US Coast Guard member.
"Some stormed beaches into a hailstorm of enemy fire, knowing their chance for survival was slim, others maneuvering a landing craft made of wood through shelling to get men to shore, and medics who charged into what was called 'hot LZs' — so, freedom is definitely not a cheap gift," Gee said. "It's fought for hard. It's a genie that's hard to put back in the bottle once it's out, so when you win it, you want to protect it.
"One of the biggest enemies of freedom is complacency ... which is hard to overcome," he said. "Thankfully, there are still those today who willingly put themselves in harm's way for the defense of freedom and liberty ... and we owe them our truest gratitude."