Chronicle reporters every December write about the top stories of the year on their beats — county commission, school board, courts, cities etc.
It's usually fairly obvious what grabs the most attention during a 12-month period.
But 10 years? That's another story.
The decade has come to a close, so the Chronicle is presenting five significant stories of 2010-2019. We're not saying these are the top five stories of the decade, but that they were huge stories as they developed and will continue to grow into the new decade.
That said, we want to hear from you. What did we miss? Share your thoughts on the decade's biggest stories by calling Soundoff, send letters to the editor or comment on our social media.
So, to start off a new decade, here's a look at the one just passed:
THE HEADLINE: State starts Suncoast Parkway construction in Citrus County
THE STORY: After years of inching along with little or no progress, Gov. Rick Scott kick-started the parkway's extension in 2015, and construction started in 2018. Meanwhile, the state has tried various methods to develop plans to send the parkway farther north.
• January 2013: Four years after the state stopped all Suncoast funding due to the recession, Florida Department of Transportation announces it is putting aside $5.2 million per year over five years for right of way. It's a drop in the bucket: The state needs $150 million.
•Jan. 25, 2013: Janet Masaoy, founder of COST — Citizens Opposed to the Suncoast Tollway — dies. Masaoy was the face and field general to a group of residents who fought the parkway at every turn. The group would eventually disband, though scatterings of vocal opponents still show up at turnpike meetings.
• March 2014: FDOT official gives first hint that the parkway extension will be used to relief I-75 traffic.
• January 2015: Gov. Rick Scott announces his budget includes $149 million to extend parkway to 44. Also funding for "Suncoast 3" to connect parkway to I-75 near Gainesville.
• December 2015: I-75 Relief Task Force kicks off. It's aim is to find a corridor to extend Suncoast Parkway to 75 near Gainesville, and eventually to Duval County, creating a Jacksonville-to-Tampa Bay corridor. The group's conclusion after eight months of meetings: Widen existing roads, including the freeway, to handle traffic. The last resort, it said, is extending the parkway.
• May 2016: Citrus commissioners ask FDOT to end parkway at C.R. 486 instead of S.R. 44, citing traffic concerns on C.R. 491. Pine Ridge residents balk at potential route that would drop interchange directly across from community entrance. Latest maps in October 2019 show interchange moved away from Pine Ridge Boulevard.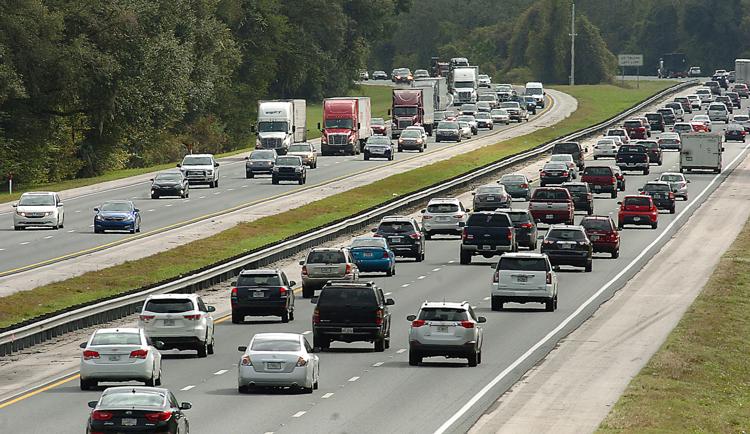 • September 2017: FDOT officials inform the county of Coastal Connector, which is planned to tie Suncoast Parkway into I-75 near Ocala.
• February 2018: $134.6 million construction starts to extend Suncoast Parkway from U.S. 98 in Hernando County to S.R. 44 in Lecanto. Construction expected to take four years.
• May 2018. Citrus commissioners oppose Coastal Connector, joining Marion County and cities of Dunnellon and Ocala, based on potential harmful effects on residents, farms and the environment. The state shelved the project in June.
• June 2018: Federal judge issues restraining order to stop construction after Robert Roscow's group sues, hoping to protect Etna Turpentine Camp site near Sugarmill Woods, which Roscow had placed on the National Register of Historic Places in hopes of stopping parkway construction. In July, judge lifts restraining order and lawsuit is later dropped. 
• January 2019: Senate President Blll Galvano wants parkway extended to Georgia border; also Florida's Turnpike extension to Suncoast Parkway (plus a third road connecting Polk and Collier counties). Legislature approves bill, including $45 million for three task forces and for economic/environmental studies. Plan is $10 billion project to build all three roads in 10 years.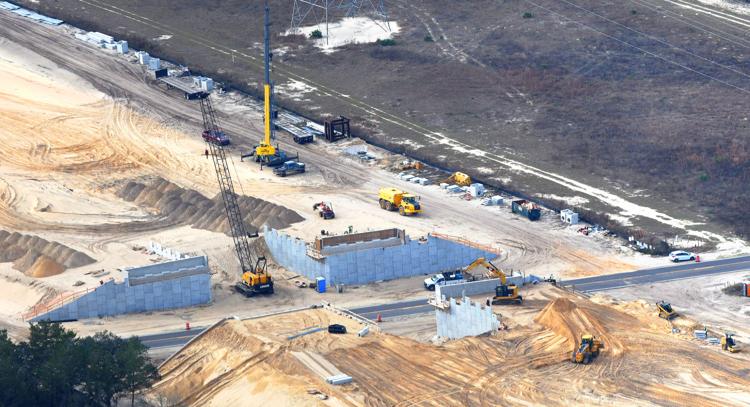 • March 2019: State says it will extend parkway to U.S. 19.
• August 2019: State announces task force memberships for M-CORES M-CORES — Multi-use Corridors of Regional Economic Significance. Commissioners Scott Carnahan, Jeff Kinnard and Ron Kitchen Jr. are appointed to the two task forces that involve Citrus.
IN QUOTES: "It's not because they love us any more than they love the next person." — Josh Wooten, president and CEO of the Citrus County Chamber of Commerce, in February 2015 acknowledging that Scott's freeing up funds for the Suncoast extension in Citrus is more to do with the governor's regional plans for the turnpike than any lobbying on the county's behalf.
 • • •
THE HEADLINE: Progress Energy, now Duke, shutters nuclear plant but builds gas plant
THE STORY: The county and its largest taxpayer/employer had enjoyed a warm relationship since the Florida Power Corp. days 40 years ago
This decade tested that relationship, first with Duke Energy, which merged with Florida Power predecessor Progress Energy Florida, saying it would not repair the Crystal River nuclear plant, forcing 600 high-paid employees either out of work or transferred to another state.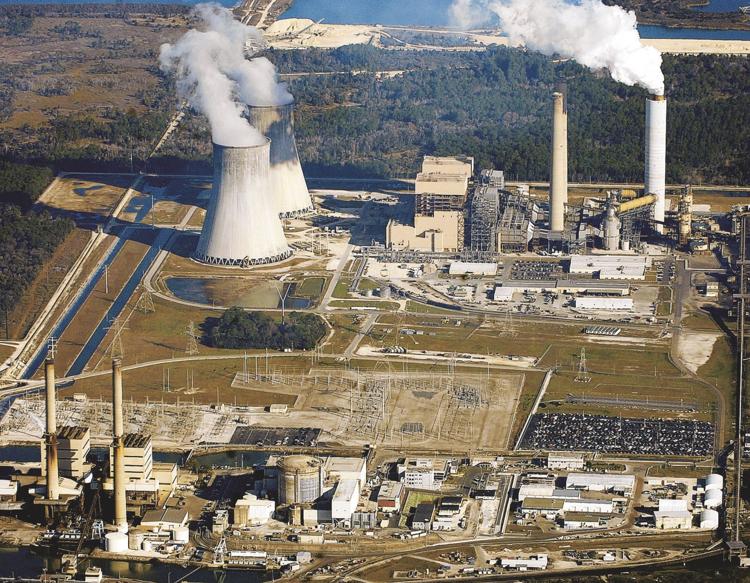 Then the company paid half its tax bill, putting local governments in a financial pickle. Nasty words followed on the county's end, aimed at Duke/Progress. 
It's all smooth again, as Duke invested $1.5 billion into a combined-cycle natural gas power plant at the energy complex. The company is no longer the county's largest employer but it's still the biggest taxpayer.
• January 2011: Progress, Duke Energy announce plans to merge.
• March 2011: Company says nuclear plant, shuttered since September 2009 when a crack was discovered in a containment wall, would restat in April. In April, though, Progress Energy Florida told Nuclear Regulatory Commission it wasn't sure when the nuclear plant would restart.
• June 2011: Progress says nuclear plant will be repaired and operating by 2014. In July, though, workers found a second crack, throwing restart into uncertainty.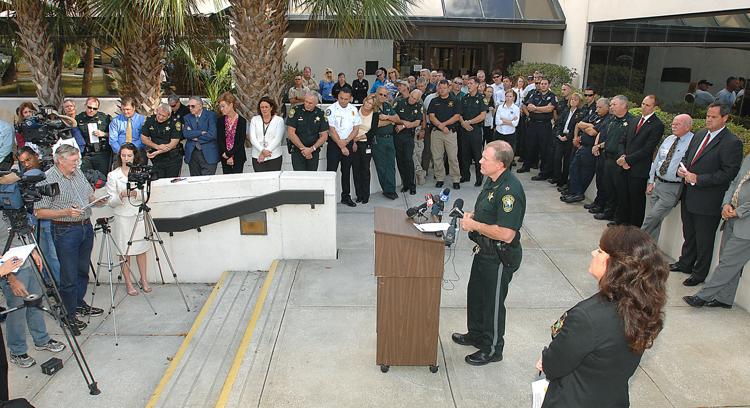 • June 2012: Federal Energy Regulatory Commission (FERC) OKs merger between Duke and Progress. Citrus politicians and business leaders hope deep-pockets Duke will repair nuclear plant. Duke says it's No. 1 issue is making a decision on the Crystal River plant.
• November 2012: Duke/Progress shocks the county by paying only $19 million of a $36 million tax bill, then sues Property Appraiser Geoff Greene over the county's valuation of pollution-control equipment used at the company's coal plants. It's a significant hit — $8 million to the school board and $7 million to the county. Duke says it informed the county two years ago it disagreed with the valuation, so there should be no surprise with the lower tax payment.
• February 2013: Citing rising costs, Duke announces it will not repair the nuclear plant, which came online in 1977. At the same time, company says it will consider Citrus site for a combined-cycle natural gas power plant.
• August 2013: Duke announces it will not build $17 billion Levy County nuclear plant 10 miles north of Crystal River.
• September 2013: Duke says it will build combined-cycle natural gas power plant in Citrus County at energy complex site. Construction to take about three years and include 500 construction workers, about 65 full time workers when the plant goes online.
• March 2014: Property Appraiser Les Cook, appointed to the job after Geoff Greene died in January, settles lawsuit with Duke. The company will pay more taxes but not as much as the amount it would have paid under the taxable valuation Greene gave it.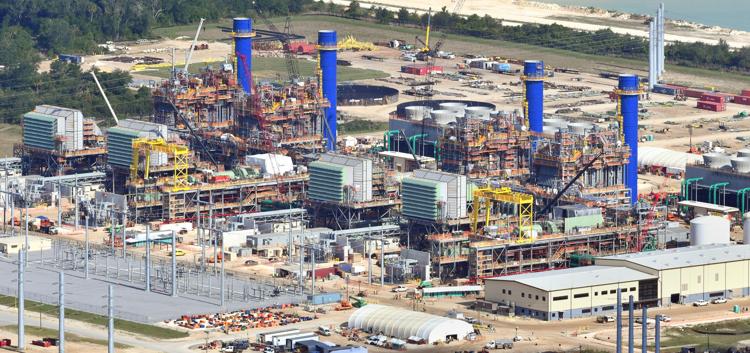 • May 2016: Groundbreaking on $1.5 billion combined cycle natural gas power plant, will pay $4.1 million annually in taxes and pump $600 million into the economy.
• October 2018: Gas plant goes online, producing power for first time.
• "We have a good relationship with Duke. Unfortunately, this issue is causing an extreme amount of fiction." County commission chairman Joe Meek in 2012 during the property tax dispute.
• "I think Duke Energy is a bunch of thugs." — Commissioner John "JJ" Kenney, same time period.
• "We've been Duked!" — County Attorney Richard Wesch, same time period.
• "The impact is real. This has made up for a lot of lost ground." — Wooten, after the company announced in 2013 it would build gas plant in Citrus County.
• • •
THE HEADLINE: City secures Three Sisters Springs property and tourists respond by showing up
THE STORY: It started in 2008 with a grant request from the city of Crystal River to buy the 57-acre Three Sisters Springs property from a Tampa developer.
In July 2010, it was in public ownership.
Purchased for $10.5 million from a variety of public and private sources, the Three Sisters Springs property not only preserved coastal land from development and provided a haven for winter time manatee visitors, it's landed Crystal River in the tourism sweet spot.
Manatees were already a tourist attraction, but before the Three Sisters addition practically the only way to experience them in the wild was to get in the water with them via one of the many local dive shops.
Three Sisters changed that. Now, for an admission fee, visitors can see manatees in their natural habitat by boardwalk.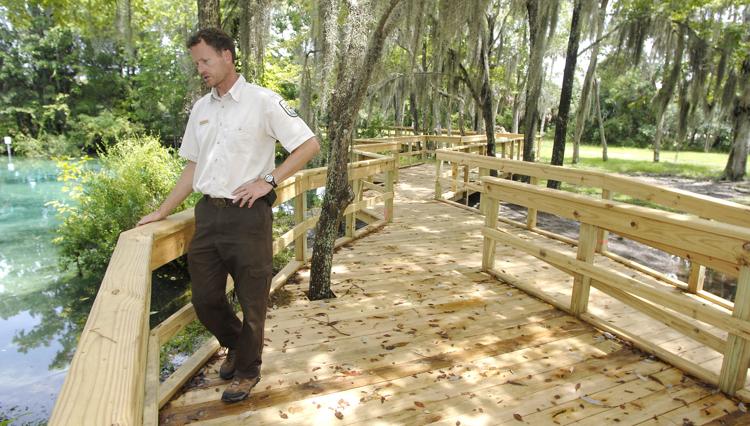 And, while the city and U.S. Fish and Wildlife Service have occasionally dickered about how best to manage the property — the city considered, then rejected, taking over the property management itself — tourists just want to see manatees.
• May 2010: Gov. Charlie Crist signs the budget, including $2 million for the Three Sisters Springs purchase.
• June 2010: Florida Communities Trust votes to add $725,000 toward purchase. Supporters had hoped for $2 million, and the combination of public and private money raised will total $10.5 million, which is the same price developer Hal Flowers and his investors paid in 2005. Flowers's asking price to sell it was $11.8 million. Flowers says he'll accept $10.5 million.
• July 2010: The property sale closes for $10.5 million. Crystal River receives 70% of the ownership, the Southwest Florida Water Management District has the other 30%. The USFWS will manage it on the city's behalf. Other than free open houses, the property remains closed for five years while the management plan is developed and improvements are made.
• November 2015: City debuts trolley service to Three Sisters. With few exceptions, a trolley is the only way to get into and out of the park. The cost is $15 for adults during manatee season: November through March. The city would later raise that to $20, with discount prices for Citrus and Crystal River residents.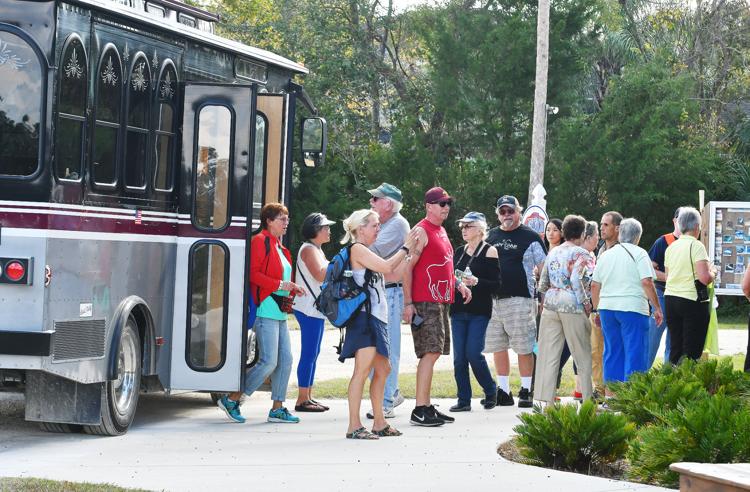 • April 2016: City says it had 22,000 riders in its first year during manatee season. The popularity hasn't let up. In the fiscal year that ended Sept. 30, 2019, the trolley had just under 45,000 riders.
• August 2016: City council decides to move Three Sisters welcome center, and the trolley service, from the chamber of commerce welcome center on U.S. 19 to city hall property.
• "This is a very glorious day." — Lace Blue-McLean, president of the Friends of the Chassahowitzka National Wildlife Refuge, in July 2010 after the Three Sisters sale is completed.
• "It's probably the most fabulous thing I've ever heard of in my life and seen in my life and worked for in my life." — Helen Spivey, co-chair of Save the Manatee Club and a former state legislator.
 • "When I went over to the spring tonight, I thought gosh, I don't own this anymore. The important thing is, nobody else does either." — Hal Flowers, who led a group of investors that bought the property in 2005 for development but sold it for preservation.
 • • •
THE HEADLINE: Citrus Memorial, Citrus County's only public hospital, is leased to HCA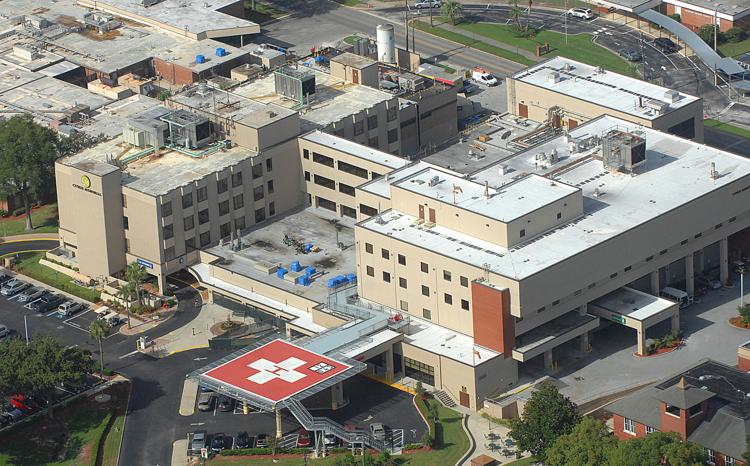 THE STORY: After years of feuding between the Citrus County Hospital Board (CCHB), which owns the hospital and the Citrus Memorial Health Foundation (CCHF), which leases it from CCHB, both sides agreed on a 50-year, $127 million lease with Hospital Corporation of America. Citrus Memorial is a 198-bed hospital that opened in 1957.
The Chronicle covered the issues in detail, but could have narrowed down the timeline to this:
2010: Bickering, lawsuits, legal fees.
2011: Bickering, lawsuits, legal fees.
2012: Bickering, lawsuits, legal fees.
Even after the two boards agreed to combine in the effort of finding a suitor, they still kept lawsuits active and lawyers well paid.
The HCA lease was finalized Oct. 31, 2014, and the community reaps the benefits. An 11-member Citrus County Community Charitable Foundation is providing grants for healthcare programs, derived from interest from about $63 million that netted from the lease.
• October 2012: CCHB starts process to explore a sale of the hospital.
• March 2013: CCHB votes it's in the community's best interest to sell or lease the hospital. Both the board and hospital foundation, which oversees CMHS, believe the hospital cannot continue to survive financially as an independent entity. A corporate-owned hospital can consolidate costs, providing services in a more efficient manner. 
• April 2013: CCHB hires Josh Nemzoff, a Pennsylvania-based consultant, on a $20,000 a month retainer to oversee the transaction. The contract is worth up to $775,000 if he closes the transaction.
• June 2013: CCHB receives four proposals for the hospital, including HCA and Tampa General Hospital ... CCHB eliminates Tampa General from consideration because it's not offering a cash deal, but rather a partnership.
• July 2013: CCHB fires Nemzoff, who had clashed with CCHB attorney Bill Grant, over allegations he did not comply with a citizen's public records request. He had already been paid $53,000 for three months' work. Nemzoff sues the CCHB in federal court and both sides agreed on a $700,000 settlement to Nemzoff, of which insurance paid $325,000.
• December 2013: Both boards agree to negotiate with HCA.
• January 2014: HCA signs letter of intent on 50-year, $127 million lease. HCA promises to invest $45 million in capital projects during the first five years of the lease, and pay property taxes.
• September 2014: Anticipating the HCA lease agreement, the CCHB votes to set the hospital's tax rate at zero.
• Oct. 31, 2014: HCA takeover of CMH begins. Ralph Aleman, who retired in 2019, stays on as CEO.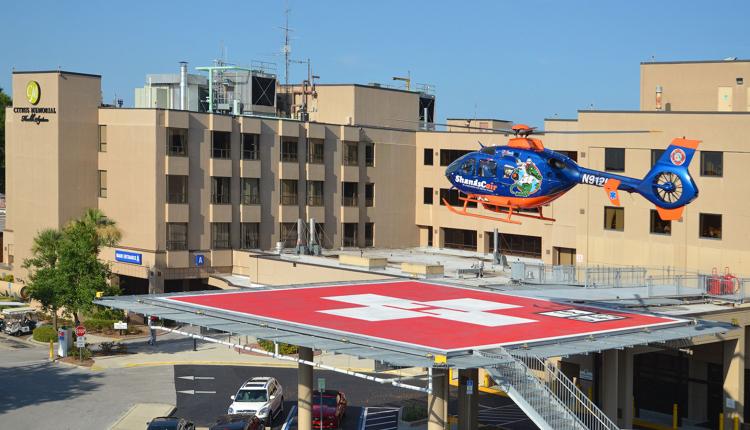 • February 2015: County in dispute with city of Inverness over city's plans to include Citrus Memorial Hospital in its community redevelopment district, meaning that 95% of the hospital's anticipated $412,000 tax bill will stay in the city.
• "We probably wouldn't be needing to sell, lease or merge as quickly as we are. The trustees have to be held accountable." CMH then-CEO Ryan Beaty in July 2013, referring to his belief that the CCHB is partially to blame for the hospital's financial issues.
• "Are you smoking crack or what? What do you think your client hired me for? Wow, you are really a piece of work." July 2013 transaction consultant Josh Nemzoff email to CCHB attorney Bill Grant.
• "We've all had the same goal in mind, and that's to reach a transaction completion with HCA. I'm looking forward to the community's benefiting from the quality health care I think HCA can provide." October 2014, CCHB chairwoman Debbie Ressler.
• • •
THE HEADLINE: Hermine, Irma make Citrus take notice of hurricane warnings
THE STORY: Two names: Hermine and Irma.
Before they barged into our lives, Citrus County for the most part treated hurricane threats in a ho-hum way, wondering if emergency officials were playing "the sky is falling" every time a storm system formed in the Atlantic or Gulf of Mexico.
That was always the concern from emergency responders — residents would become so lackadaisical about a potential hurricane impact that it would be right on top of them and too late to respond.
Then Category 1 Hurricane Hermine showed up in 2016 and flooded everything west of U.S. 19, destroying or damaging thousands of homes and businesses, plus public property like Fort Island Beach.
A year later, it was Irma threatening and the public paid attention, jamming gas stations for fuel ahead of time, grousing about power outages afterward that stretched for most well past a week. This, despite the fact that Hurricane Irma was actually a tropical storm by time it blew into the deserted streets of Citrus County.
Few are haphazard about hurricane preparation now.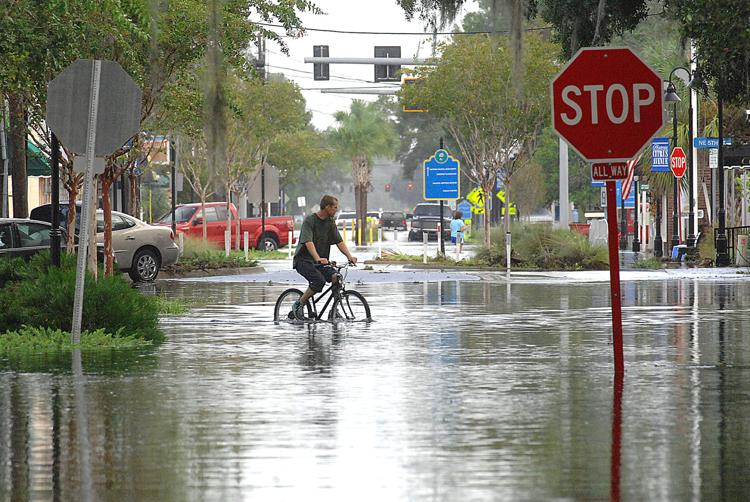 • Sept. 2, 2016: It was Labor Day weekend when Hermine wandered up the Citrus coast, bringing tropical storm-force winds, heavy rain and storm surges. Many compared it the 1993 "no-name" storm that brought a foot of water to U.S. 19. The storm left 21,000 without power. Many who fled returned to their homes to find them partially submerged or destroyed by water.
• September 2016: Government officials say some homes damaged by Hurricane Hermine may need to be rebuilt. We would learn much more about this in the coming months, but basically it's because of the so-called 50 percent rule: If the damage repairs exceed 50% of a home's value, it needed to be rebuilt to current flood codes.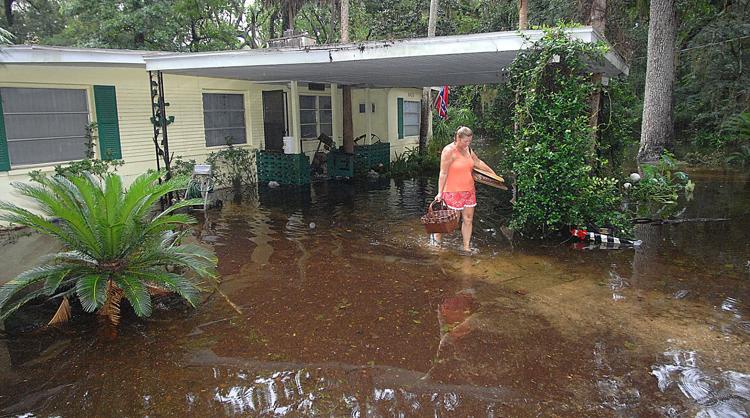 • December 2016: There were numerous stories about the storm's aftermath and this was one: A family renting a house in Old Homosassa, flooded from the home, set up tents in the yard to live while the landlord tried to have them evicted.
• February 2017: Here's another: Complaints in The Islands condominiums in Crystal River of shoddy repairs and questionable work practices embroil the community. Many residents were forced from their homes by flood waters and were not able to return for many months, some close to a year.
• Sept. 6, 2017: County wary as powerful Category 5 Hurricane Irma plows through the Caribbean and is expected to take a northern turn straight up the Florida peninsula. "That does not bode well for us," EOC Director David DeCarlo says.

Huge lines form for sandbags. Same thing at gas stations. Meanwhile, both U.S. 41 and U.S. 19 become clogged as residents from South Florida flee Irma.
Mandatory evacuations set west of U.S. 19, and even east in some parts. Hotels must evict guests, some who had fled Irma from Miami.
Sheriff Mike Prendergast issued dire warnings, including the potential of flooding clear east to Rock Crusher Road — 5 miles east of U.S. 19.
"This storm is a killer." Prendergast says.
Schools close for a week and shelters are open. Residents are encouraged to find alternative ways to ride out the storm.
"The shelter is not the love boat. It's a lifeboat," DeCarlo says.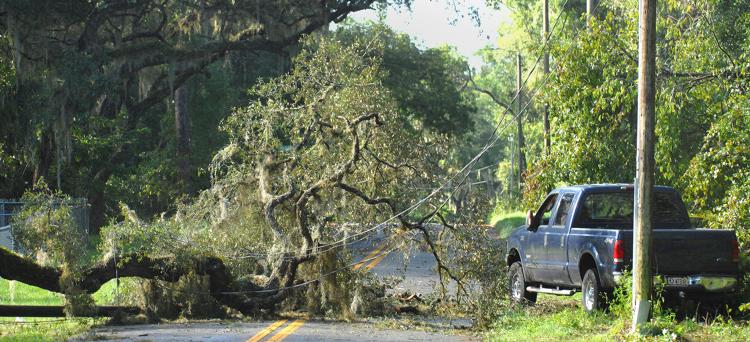 • Sunday, Sept. 10: The Chronicle's headline is, "Stay safe Citrus County." Streets deserted, businesses closed, some churches cancel Sunday service — all to prepare for what is expected to be a Category 2 or worse storm to arrive that evening.
As the day progresses, though, the hurricane loses strength. It arrives Sunday night as a tropical storm with rainfall of 7 to 8 inches, about half of what was expected. And, thanks to a westerly wind, no storm surge or flooding.
• Monday, Sept. 11: The cleanup begins. While the damage is not what was anticipated, downed trees and power lines cut electricity to 90,000 customers. It would be a week before most of the power is restored.
• October 2018: With the memories of Hermine and Irma still fresh, Citrus County residents again crowd gas stations and grocery stores as Hurricane Michael heads up the Gulf Coast. The hurricane stays far enough from Citrus but is a Category 5 when it hits the Panhandle.
• "It wasn't as devastating as in '93, but you can't help but try to compare them. It's been that long since we've had that type of surge." DeCarlo, September 2016, comparing Hermine flooding to the 1993 "no-name" storm.
• "I went through the 'no-name' storm and I didn't have to swim out of my window this time, so that's a good thing." Woodland Estates homeowner Kyle Messier.
• "All those elevated homes — zero damage." County building director Carl Jones, responding to complaints that requiring homeowners to rebuild houses to flood requirements after Hermine is unfair.
• "All the decks that floated away and ended up on the neighbor's porch — the ones we're putting down now all have anchors, so they'll never float away again." Dan Williams, owner of Peck's Old Port Cove in Ozello, after Hermine. The popular restaurant reopened in October.
• "I tell people all the time to remain calm. Of course you prepare for the worst, but you believe, too, that God's going to take care of them, even in the storm." The Rev. Doug Alexander, September 2017, pastor of the New Church Without Walls, offering advice to residents skittish over the coming Hurricane Irma.
• "We were fortunate and totally blessed by the hand of God." Prendergast, the day after Irma.
• "You can have all the gizmos and gadgets, but Mother Nature is very fickle. She's going to do what she wanted to do." DeCarlo says, trying to explain that weather predictions can only go so far.