Editor's Note: This story was changed to show that the AES board did vote to replace its school's SRO with a guardian.
Citrus County School District officials are optimistic they'll have a agreement in place soon to have sheriff's deputies in schools for another year.
Assistant Superintendent Jonny Bishop said Wednesday he's hopeful the school board will finalize its annual contract for school resource officers, or SROs, with the Citrus County Sheriff's Office (CCSO) at its next meeting on June 11.
"We're moving forward," he said.
Bishop told the Chronicle's Editorial Board the sheriff's legal team is reviewing a couple revisions proposed by the school district, and he's expecting CCSO to give a response to his staff in a week's time.
Those contractual suggestions include a request by the school district's financial auditor to have SROs document their activities, and another by the Academy of Environmental Science (AES) board to replace its school's SRO with a guardian.
AES Board Chairwoman Michelle Leeper said Wednesday the board's vote for the replacement took place because it thought a guardian was a better fit for the school's size and budget.
Bishop said one SRO costs the school district around $96,000.
School district board members voted in April to hire on eight guardians at roughly $40,000 apiece to supplement the sheriff's SROs now in each of the district's 22 public schools as a result of last year's $2.5 million SRO contract.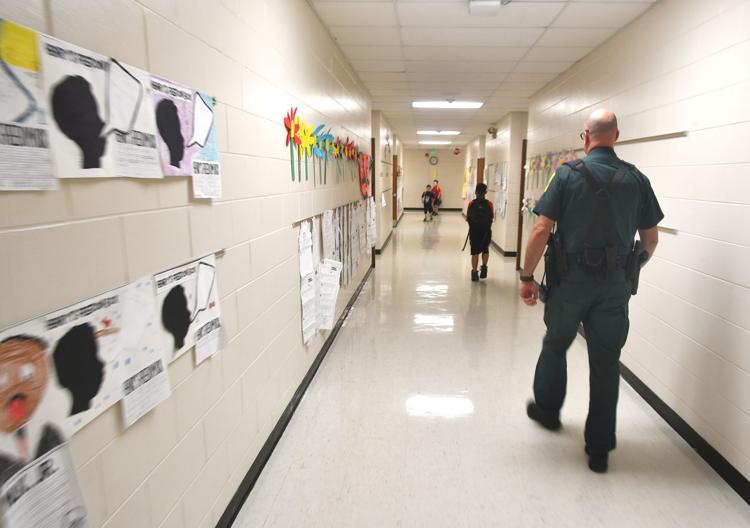 Bishop said state law obligates CCSO to provide guardians with 144 hours of training, which includes a guardian reaching 85% in shooting proficiency, 5% higher than deputies need to have.
School District Police Chief Larry "Buddy" Grant will supervise the guardians and act as a liaison between them, the school board and sheriff's office, Bishop said.
"He's the hand-to-hand, day-to-day management with the squad," Bishop said of Grant, formerly CCSO's undersheriff.
Unlike deputies and SROs, guardians have no arresting authority, they can't discipline students and they can't be relied on to cover after-school student events. Their main duty is to neutralize an active shooter or assailant on campus, Bishop said.
Threats to schools, staff and students will still be investigated by the sheriff's office and Grant.
To that point, Assistant Superintendent Mike Mullen said, Grant has looked into about a half-dozen school threats since the start of May. 
Mullen said the school board will consider at its next meeting whether to expel four students for making school-shooting threats, which calls for a minimum one-year expulsion and prosecutorial referral to the State Attorney's Office.
Bishop and Mullen said district officials have to be careful how they notify the public about threats because it could influence copycats and/or cause unnecessary panic if it's not legitimate.
"You don't want to create hysteria when it's not there," Bishop said.
But he said they also recognize the need for parents to be informed, and would rather put correct information out than have rumors circulate.
"We have just been worn out from calls from parents asking, 'We want to know,'" Mullen said. "It might as well come from us because it's out there anyhow."
Afterward, Bishop said, the district's hands are pretty tied when it comes to getting the parents of at-risk students to seek out mental-health counseling.
"I would love for there to be some mandate to force parents to take them to services," Bishop said. "There's not a lot of accountability with parents."
But right now, removing the offending student from school indefinitely is "the only tool in the toolbox," said Mullen, who acknowledged that expelling and further isolating a student could be worse for the child than counseling, but said the district must prioritize safety.
"I'm not willing to put them back in a classroom next to another kid," he said.