Caleb St. Hilaire suited up and arrived early to the Inverness Airport on Friday morning and took to the clear sky in a Piper one-seater to continue his training to become a crop duster.
Only don't call him that. The term "crop duster" has fallen out of favor and the new description is "aerial applicator" or even "agricultural pilot."
But whatever the term, St. Hilaire is glad to be in Inverness, which is only one of five agricultural training schools in the country. 
And with the average age of crop dusters hovering around 55, St. Hilaire — at 28 — is part of the new breed of such pilots.
Such a job is risky. It requires flying low. Nine percent of aerial application fatalities from 2009 to 2018 were from collisions with towers. Collisions with power lines accounted for an additional 13% of accidents, according to the National Agricultural Aviation Association
"(It's) challenging for sure," St. Hilaire said. "Not scary."
Down on the farm
St. Hilaire decided to invest the $18,000 in the course and plans to get his commercial license down the road because he wants to help out on the family farm. Right now, the family must hire agricultural sprayers to tend to the crops of peppermint and spearmint.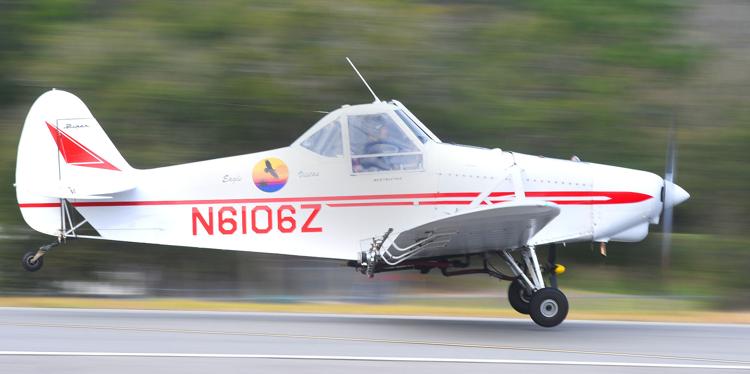 There was only one problem. His family farm is in Oregon and, given the lack of ag pilot training schools, he had to do some research.
When he heard about Eagle Vistas LLC at the Inverness Airport, he was off to Florida, where he's been for the past few months as he pursues his commercial pilot license and ag application endorsement.
"I was looking for an ag school that instructed crop dusting and would be available to train yearlong," he said. "Eagle Vistas was the only one I could find."
He also was drawn to the Inverness Airport because it has a 5,000-foot runway — longer than most. That extra strip of pavement comes in handy when practicing takeoffs and landings. 
On Friday morning, St. Hilaire did a series of aerial training, testing his skill with different gallons of water stored in the plane's "hopper." For training purposes, water is substituted for chemicals. Then his prowess with the spray applicators — 75 feet in the air — was tested.
Randy Miller, his flight instructor, looked on from the runway as St. Hilaire put the Piper Pawnee through its paces 75 feet in the air.
"He's doing very well," said Miller, who joined Eagle Vistas some five years ago.
Miller said there's a shortage of agricultural pilots in the nation, probably due in part to the fact that it is so specialized and there's probably more money to be made in other aspects of flying.
St. Hilaire figures he has another three-and-a-half weeks left of training and then it's back to Oregon. But he will take memories of Inverness with him. It was his first visit to Florida.
"I love it," he said. "It's beautiful and it's got pretty fair weather."
Economic incentives
Beverly Berry and husband, Randy Berry, are co-owners of Eagle Vistas LLC.
The Berry opened their first agricultural pilot flight training school 18 years ago in Fort Pierce. They moved to Inverness in 2018 mainly because they knew the owners of Right Rudder Aviation, a flight school and the Inverness Airport's fixed-base operator (FBO).
The crop dusting term is kind of a misnomer, Beverly Berry said, because there are so many other jobs agricultural pilots can do when they are trained. There is mosquito spraying, pesticide spraying on ground-cover crops and pilots are sometimes called in to help extinguish blazes.
"Agriculture is a huge economy globally and so the actual spraying of the crops is only part of what an aerial applicator can do," Berry said.
Berry said she has about four students enrolled in the agricultural training class right now and all are in different stages. And they come from all over the country and abroad: Germany, South Africa, Costa Roca, to name a few.
Element of danger
Before they are hired, ag pilots must get their private pilot license and then — if they want to hire out their services — their commercial license. Right Rudder handles that and it can take four to six months.
Eagle Vistas then trains them in the agricultural training course which generally lasts one or two weeks.
Out of-state students either find short-term lodging in the county or — in St. Hilaire's case — stay in one of the dorms at the converted terminal building on airport property. 
"Our partnership works so well," said Shavonna Reid, director of FBO operations.
Reid said another reason for so few ag schools nationwide is because of the enormous insurance costs associated with operating such facilities. That attests to the fact that careers in this field come with a degree of risk.
"They're flying under power lines and under the most intense situations with very little room for error," Reid said. "There are a lot of accidents. It's very rigorous work and it's very hard work."
But it's also lucrative work.
Reid said she knows of an ag pilot who went through the required training at the Inverness Airport, got an agricultural application spraying job in Arkansas and made $2,200 in just one day. 
If they stay busy, these pilots can make all their money in three to six months, she said.
"It takes the right kind of pilot to do it." she said.
"They come to us and we train them to get their private license and commercial license so they can get hired somewhere in the country," Reid said.
Flying higher
Reid said the county-owned Inverness Airport is attracting attention because of this and the plane disassembling business Right Rudder recently started.
Right Rudder puts the word out to airports, cargo and charter companies or dealers nationwide that it is taking unwanted airplanes. A deal is made for the plane, which is flown into Inverness. Right Rudder takes the plane apart and sells the scraps.
All this new activity is getting Inverness noticed, she said.
"Every week we get at least two people who come here and said they had no idea this place was here," she said. "It's a lot more active here and people are noticing."
Former city manager Frank DiGiovanni said the Inverness Airport is finally becoming the key player it was meant to become and he praised the new fixed-based operator for doing it right. 
"This is all good for the airport," DiGiovanni said. "The county selected a very good firm that's willing to invest and work it. The progress is real. It's going to add to the economic viability of Citrus County."