When recently appointed Circuit Court Judge Stacy Youmans decided she wanted to take the bench, she did it to have an effect.
"Only in the last few years did I begin to ... consider myself having gained enough experience and knowledge to think I can be beneficial to the community in this capacity," said Youmans, who prosecuted and later represented defendants during her 19-year legal career in Marion County. "I feel very blessed to be given this opportunity ... a tremendous opportunity that I do not intend to take lightly."
Gov. Ron DeSantis appointed Youmans in July to replace Willard Pope, a circuit judge in Ocala, who announced his retirement in April.
At the time she applied for the position, Youmans was told she would be judging cases in Citrus County's courthouse in Inverness, where Circuit Judge Mary Hatcher had transferred from to fill Pope's vacancy, creating a spot for Youmans.
While she lives just outside of Citrus County, Youmans said it reminds her of the small town in Georgia where she grew up, after leaving her birthplace in Gainesville.
"When I come to Citrus County, I feel like I'm coming home," she said.
Youmans was assigned to oversee family law cases, domestic violence injunctions and probate cases.
"The docket is demanding, but we're trying to keep at it, make sure we treat everyone with respect who comes into that courtroom," she said. "The idea is to get straight to work and hit the ground running."
Youmans has noticed the "high points" of her new caseload. 
She approved her first adoption in August, placing 5-year-old Anna Heaton in the care of Kimberly and Jeffrey Heaton. 
"I don't think you could have wiped that smile off my face that day," Youmans said. "It was such a lovely day; it was a gift to be able to do that for that family."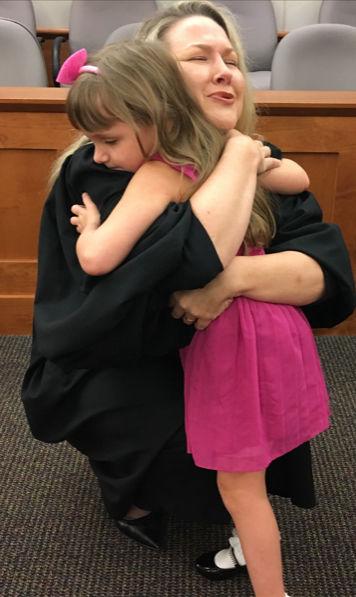 Youmans was a middle school student when she got the idea she wanted to be a lawyer.
Her assignment then was to argue the benefits of solar power energy, which she did, earning a majority vote from her class over the alternatives. Afterward, the teacher suggested to Youmans she take up the profession.
"And it stuck," Youmans said.
Youmans said her eight years as an assistant state attorney in Marion County, and subsequent background as a private lawyer handling criminal, family and civil cases for, makes her a suitable judge.
"I come in having experience on both sides of the aisle," she said. "I do intend to bring that experience in to the courtroom."
From 2000 to 2008, as a prosecutor (prosecuting mostly sex crimes), and from 2008 to 2019 as a partner at Blanchard, Merriam, Adel & Kirkland in Ocala, Youmans has been to courthouses across Florida and over the state's Fifth Judicial Circuit, which covers Citrus, Marion, Hernando, Sumter and Lake counties.
Youmans said she didn't always envision herself as a judge, a position she revered.
"I saw them as an entirely 'other' when I was a lawyer," Youmans said about judges. "There have been judges who I certainly have admired over the years, and I ... want to emulate those judges.
"More than anything, I want to do a good job for this community and for this circuit," she added. "It's my hope to be here for Citrus County for as long as they'll have me, and I've felt very welcome."