Developers of a proposed RV park for The Plantation on Crystal River are going back to the drawing board after their building plans raised worried and passionate pleas from its potential neighbors.
After hearing from a packed city hall of residents opposing the Plantation Outpost Club and Resort, volunteer members of the Crystal River Planning Commission at their Thursday, May 6, workshop scheduled a public hearing for June 3 so builders can address issues.
"I ask you from the bottom of my heart," Ben Torricelli told commissioners, echoed by a dozen other locals, "you're killing us with this development, you're killing us."
Commissioners were also unsettled with how the Plantation Outpost would impact area wetlands and the water quality of King's Bay.
"I don't think there's a commissioner here who doesn't have some concerns," Commission Chair Robert Froehling said. "We need total transparency here."
Commissioners could hold a vote at their next meeting to recommend City Council either OK or turn down the zoning and plan changes requested by the Plantation's owner out of Georgia, the Kingwood Crystal River Resort Corporation.
However, the planning board could also turn their meeting into workshop again if questions are still left unanswered, tabling its vote.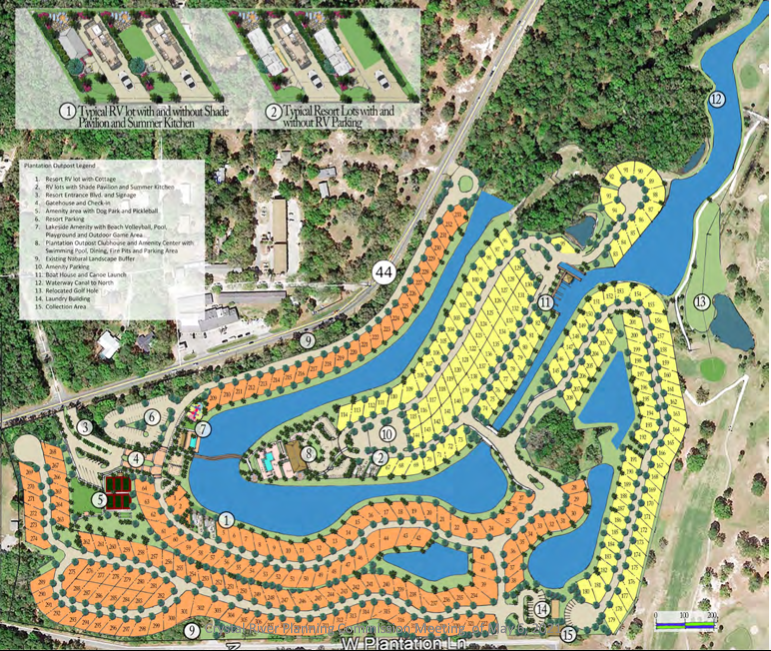 Soon after buying the Plantation in January 2017, Kingwood tried to move forward with a similar RV park endeavor on 61 acres wedged between West Fort Island Trail and West Plantation Lane, within city limits.
City council members voted in mid-2018 to approve the rezoning and planned unit development plan for the gated 294-lot project, equipped with a clubhouse, pool, tennis courts, gazebo and laundry building.
Kingwood, according to the city, rescinded their development application before it resubmitted its proposal for a revamped Plantation Outpost Club and Resort at the same location.
"We're putting meat on the bones of this application," said ACP-Communities, LLC Engineer Daniel Baker, Kingwood's representative at Thursday's workshop, "and we've detailed out what we plan to do."
Compared to Kingwood's RV resort plans from 2018, the Plantation Outpost wants to add another 7 acres from its owner's neighboring golf course to incorporate a total 322 RV lots, requiring Kingwood to ask for a rezoning and numerous changes to its development plan. 
City staff also added several development conditions focused on implementing traffic-access, drainage, land-clearing and evacuation rules for the RV resort.
Baker said RV resort tenants could stay for at most six months, and standards are being drafted to regulate the types of recreational vehicle allowed.
In her presentation to city planning commissioners, Jenette Collins, Crystal River's urban planner, said the Plantation Outpost would be constructed in six phases over a decade.
RV lots will replace Plantation's nine-hole Lagoons course, leaving its 18-hole championship course intact.
Plantation Outpost opponents living along the Lagoons told commissioners its removal would lower their property values.
Construction crews would enter the resort site from Fort Island Trail and Plantation Lane, prompting angst from county residents who live off of and travel those roads, including North Country Club Drive.
Local Jackie Brooks said the work trucks, along with congesting traffic and causing noise, would ruin the roadways and Fort Island Trail's "deteriorating" culvert bridge.
Collins said the first phase of construction would also include the resort's hookup to city water and sewer. City Manager Ken Frink said city water could handle the added demand.
Citrus County would also be granted an easement to build stormwater piping into the resort's manmade lakes so it can better pump floodwaters from the Hourglass Lake Subdivision to the south.
Baker said the resort's interconnected lakes would be able to filter out nitrogen and phosphorus from stormwater runoff before they discharge it into King's Bay.
Planning Commissioner Terry Thompson said he wouldn't support the RV resort if it helped increase runoff pollutants into the bay, undoing years of water-restoration work.
Baker said developers would have to get permits from state and federal agencies to dredge and widen and lengthen existing drainage canals up to Fort Island Trail, allowing waterway access to the Plantation's marina from the RV resort.
Commissioner Charles Kish questioned whether the lakeside RV lots would be considered waterfront property instead of commercial, like Kingwood has it zoned for.
Baker said the lots wouldn't be waterfront because the resort's waterways would be man-made.
Collins said developers would be required to have a 10-foot vegetative buffer surrounding most of the RV resort, except for its border with the golf course.
Jim Fike, and others who live off the golf course, demanded a privacy fence around the Plantation Outpost to help keep trespassers at bay.
Of the resort's RV hook-ups, 144 of them are planned to have a 400-square-foot model trailer on their lot.
"It's an alternative to a hotel room, really," Baker said.
City Attorney Robert Batsel Jr. asked Baker if Kingwood would agree in writing it wouldn't sell or mortgage the trailers as homes for its customers.
"Our intention is to not have permanent residency," Baker replied. "that's not an unreasonable condition."
Each model trailer would rest on a permanent chassis hidden by deck skirting, allowing it to be wheeled and "road-ready" for evacuations from an encroaching storm. 
Collins said the trailers, because they're not permanent structures, wouldn't have to be elevated to the 12-foot base flood level set by the Federal Emergency Management Agency.
Baker said Kingwood, per the city, is required to submit an evacuation plan, but Frink asked Baker who'd be responsible for hauling the trailers out.
Baker said tenants "would be responsible for the removal and evacuation" of the trailers.
"We ... aren't going to take responsibility for removing someone else's property," he said.
Baker said the trailers wouldn't be anchored, leaving their fate up to floodwaters if they weren't towed away.
"It's illogical to think these lot owners would have the ability to move these vehicles," Brooks said.
Residents and planning commissioners also wanted an updated and independent traffic study to show the need for a turn lane at the Plantation Outpost's entrance across from Falls Terrace.
Torricelli and Fike said the Plantation Outpost would bottle neck more vehicles at Fort Island Trail's intersection with U.S. 19.
Brooks said RV families trying to walk across to the Plantation will also be in danger of avoiding nonstop traffic.
Citing a traffic study from 2018, Baker said developers are against building a turn lane during initial construction because it wouldn't be warranted until more RV lots are built.
"Decisions like that are at a higher level than me," Baker said, referring to the developer.
"If you want the neighbors to be happy," Froehling replied, "you need to consider that."