After two years being nursed back to health, a 700-pound manatee named Carmen returned to the wild Thursday morning as professionals and volunteers released her without incident into Three Sisters Springs.
It was hoped the manatee would share the experience with her mother, who was rescued along with Carmen on Feb. 8, 2018, in adjacent Magnolia Springs. But mom died of boating injuries and Carmen, less than a year old at the time, was sent to various places for rehabilitation.
Carmen — not injured at the time but underweight and requiring hand-feeding — not only survived, but thrived during rehab and 75 to 100 people gathered on the boardwalk at Three Sisters to take pictures and cheer as she was lowered via a sturdy blue tarp into the warm springs waters and her second lease on life.
Maybe nobody in the crowd was happier than Stacy Dunn, a local charter captain and manatee rescue volunteer with the Florida Fish and Wildlife Conservation Commission (FWC).
Dunn originally saw the calf and wounded mother in the springs two years ago on a tour boat and still remembers how the mom cradled her baby in the water.
"I could tell something was wrong," Dunn said.
She notified the proper authorities and on Thursday, two years later, seeing her "baby" return to the waters of her home was emotional.
"It's special," Dunn said. "It's a success story to see her return to the wild a free manatee and, hopefully, have her own babies someday."
It was a lengthy journey that led to Three Sisters.
After her rescue, Carmen was transported to SeaWorld and then to the Columbus Zoo in Ohio, one of only three organizations that help rehabilitate manatees until they recover and can be released back into their native waters in Florida.
Carmen stayed at the zoo until October 2019 and it was back to SeaWorld where she was medically cleared for a return to the wild after she reached the desired weight of 600 pounds.
On Thursday, staff from SeaWorld, the FWC and U.S. Fish & Wildlife Service assisted in the release, which took about 45 minutes.
Carmen was carried on sturdy blue tarps to the water. Before her release into the 72-degree water, Carmen was tagged with a satellite transmitter and will be monitored by Clearwater Marine Aquarium Research Institute staff.
Then Carmen was off to join an estimated 200 other manatees at Three Sisters.
An estimated 130 manatees have been rehabilitated and released in Florida waters between the 1990s and 2013.
Michelle Williams was visiting Three Sisters Springs on Thursday morning with her friend to see manatees and had no idea she would be witnessing the release. It was her first time ever to even see a manatee so this was a bonus.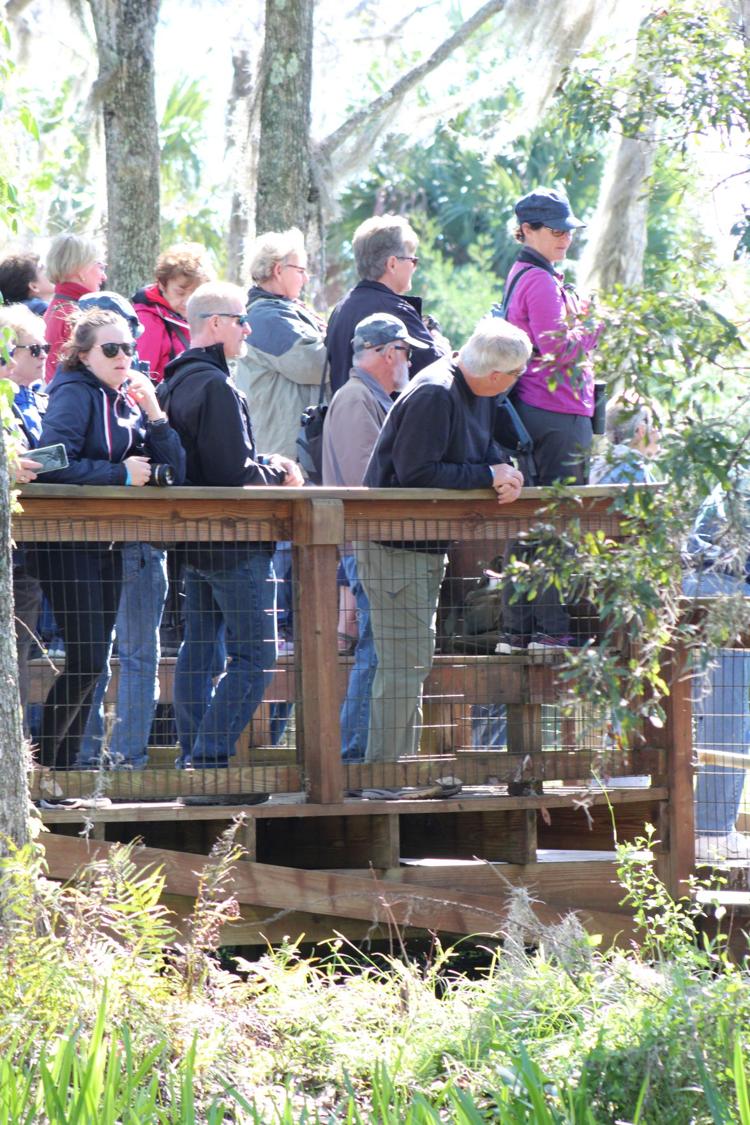 "That was unbelievable," Williams said.
Her friend, Sandra Imschweiler, of Spring Hill, has seen plenty of manatees, but Thursday's event was special so she took plenty of pictures.
"They'll be shared on Facebook and all my friends will be jealous," she said.
Brant Gabriel, supervisor of animal rescue for SeaWorld, said Carmen's chances of surviving in the wild are good. He said there is a 95% success rate for newborn manatees returned to the water.
Carmen will be monitored via GPS and a body tracker for a period of time to see if she adapts.
"We'll keep an eye on her," he said.