What was supposed to be the trip of a lifetime for a pair of Citrus County couples has turned into an international crisis, with the Japanese government forcing the quarantine of the Diamond Princess outside of Yokohama Japan.
The Courters – Phillip and Gay – and the Mendizabales – Dr. Mario and wife, Vana – have been stuck on board since the Japanese Health Minister forced the Princess Cruise-based ship into quarantine after a passenger later tested positive for novel coronavirus after getting off in Hong Kong, was on the ship late last month. There are around 3,700 passengers and crew aboard, and all are being quarantined.
"It's like being in prison, we're just marking off the days," Phillip Courter said late Saturday, referring to day five of the quarantine that is expected to last until Feb. 19. He finished reading two books he started on the trip and has searched for more to place into his Kindle.
By Sunday afternoon, according to The Associated Press, Diamond Princess confirmed six additional cases of coronavirus, bringing the total to 69. Officials also said that over the weekend, 10 guests disembarked the ship because of non-coronavirus medical needs and were transferred to local hospitals.
"It's interesting," said Courter, as he peered out the window, where he said he saw throngs of medical personnel in hazmat suits, media and wayward passers-by. "It's unique. An experience for sure. It certainly is, it's just hard to believe."
The cruise line is doing everything within its capabilities to make sure passengers are well fed and happy, he said.
"They've opened up a couple of hotlines for those people who really need to talk to someone about their state of mind," he said. "There are lot of inside cabins; I'm awfully glad we're not in one of those."
Conditions could be a lot worse. 
"They're doing a terrific job to maintain good services, in no way is this their fault," he added of the crew.
Still, there is reason for concern.
"The main job to try to stay healthy in spite of the fact the air on board could be polluted with corona virus," he said. "We have a door cracked that allows us to keep fresh air as one small method we can use to stay healthy.
"We're making the best of the bad circumstances. The conditions could be a lot worse."
The Courters as well as the Mendizabales were due to disembark the ship and were preparing to return stateside after a two-week voyage. The situation has awakened the Mendizabales to many aspects of their lives.
"Appreciating where we live, especially in our community," Dr. Mendizabal said. "The fact is we're in a situation that is quite delicate but … people are doing their best."
The outpouring of support from citizens in Citrus County has been tremendous, Dr. Mendizabal said.
"The mayor of Crystal River, he just immediately started helping, reaching out to anyone he could," he said. "I just want for us to create a positive feeling for the local community; that's more important than anything. We really miss Citrus County and are looking forward to returning as soon as we can."
Dr. Mendizabal's wife, Vena, admitted they have thought of ways to exit the ship, but said they know that creating awareness about the plight of all of the passengers was important. They, as well as the Courters, have done dozens of interviews with media outlets across the world.
"Staying in this situation is not the healthiest thing for us," she said. "The fact is we're under jurisdiction of the Japanese government. It doesn't appear they're going to change the rules of quarantine or want to give anyone permission, unless they're sick."
One way to pass the time has been spent communicating with family, friends and the media and reading. Of course, they're counting down the days until Feb. 19, possibly the final day of quarantine, "unless something changes."
"That's kind of the frame work we've been given," Vena Mendizabal  said. "Of course, we're thankful not to be sick ourselves, where we'd be transported to a local facility and separated. That's certainly something to be thankful for."
But the Mendizabales are eager to return home to Dr. Mendizabal's practice, their family, friends and church family at Seven Rivers Presbyterian Church.
"We've never taken a long vacation, we've never been able to leave for a week to 10 days, but and this was really a trip of a lifetime, we'd been planning for a long time," Vena said, noting they're "not anticipating taking any more cruises" for now.
"We may change our feeling about it. Right now, we just really looking forward to resuming our lives. My husband misses his work, patients; we miss our church, friends and pets."
The myriad media interviews has helped pass the time for the Phillip, a filmmaker, and his wife, a best-selling author.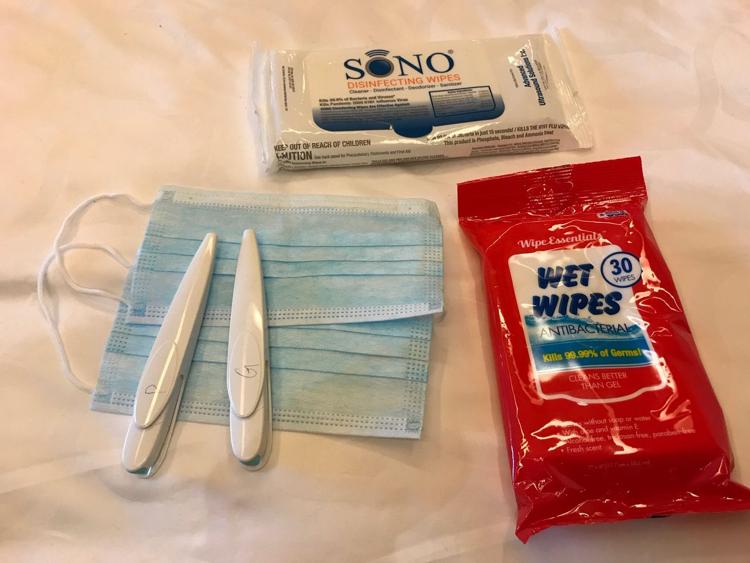 "It helps to have someone call and chat about the situation, it passes the time, that's worth more than anything," he said. "I appreciate the media for raising awareness, but more so, the conversations help pass the time."
Avid world travelers, he admitted, this isn't the first hiccup, citing a sailing boat mishap years ago, but this certainly tops the list.
"This is a biggie," he said. "We didn't expect to spend 19 days in quarantine; we never would have imagined or thought about it ahead of time."
According to The Associated Press, the numbers of infections continue to rise, especially in China.
There were 34,598 confirmed coronavirus cases in China, including, 6,101 severe cases and 723 deaths. Outside China, there have been 288 confirmed cases in 24 countries and one death.
In the U.S., 12 cases have been confirmed in six states. More than 330 individuals have been tested for the virus and the results for 100 of them is pending, according to the Centers for Disease Control and Preventions. The rest have tested negative.
Florida has reported no confirmed cases so far. State health officials have not disclosed if anyone is being tested for the virus.
U.S. passengers did hear from the American consulate in Japan in which they have been assured once they finish their quarantine and remain healthy, at that point they will be permitted to leave ship, Courter said. They, too, are eager to return stateside. But before he and his wife can take a kayaking journey or meet with family and friends for dinner; he expects to be busy.
"We probably have a monstrous pile of mail waiting for us," he quipped, noting keeping a sense of humor in an uncertain situation is important.