Three Crystal River area manatees no longer will call captivity home after Zoo Tampa wildlife workers and volunteers Monday released the mammals into the warm waters of Three Sisters Springs.
The three were all male juveniles nearly 7 feet long and each weighing more than 600 pounds. Two were orphaned when originally captured more than a year ago and suffering from cold water exposure. The other was with his mother that was severely injured during a boating accident. All three came from other facilities before taken to Zoo Tampa and the zoo's critical care center's pools to recover.
About 10 volunteers with red U.S. Fish & Wildlife Service T-shirts hauled the manatees to the Three Sisters Springs waters. The volunteers carried the animals with reinforced blue tarps after measuring and tagging them.
The first two to be released were Obsidian and Slate.
"Their skins were really dark like slate so they were called the stone brothers," said Dr. Lauren Smith, a veterinarian at the zoo and one of the manatees' caretakers. "I saw them every day."
Smith said the zoo typically releases rehabilitated manatees during the winter at springs near where they were captured. That's because manatee will congregate in waters warmer than 68 degrees. The Three Sisters Springs' waters are a constant 72 degrees.
Smith said the hope is that as the waters outside the springs warm, the three juveniles will follow the other manatees out to warmer waters later in the year and learn the migration patterns.
Smith said that the third manatee was Sriracho. Sriracho's mother was badly injured during a collision with a boat. The collision with the boat and prop left his mother with trauma that penetrated one of her lungs. She remains at the zoo, Smith said, and is undergoing long-term care.
Sriracho, named after a hot sauce, did not appear to be bonded with its mother, Heinz, and the two were temporarily separated later because her injuries were so severe, Smith said. Smith thought that the mother could have had problems bonding because of her injuries.
It was not readily available how many manatees are rehabilitated and released in Florida waters. One Florida agency website cites more than 130 between the 1990s and 2013.
About 100 onlookers crowded themselves onto the railed, wooden boardwalk and cheered as each manatee was released and joined other manatees. Two flapped their flat tails several times, dousing the volunteers. There were also more than a dozen snorkelers in the water several yards away and more than a dozen media representatives, many taking video and photos.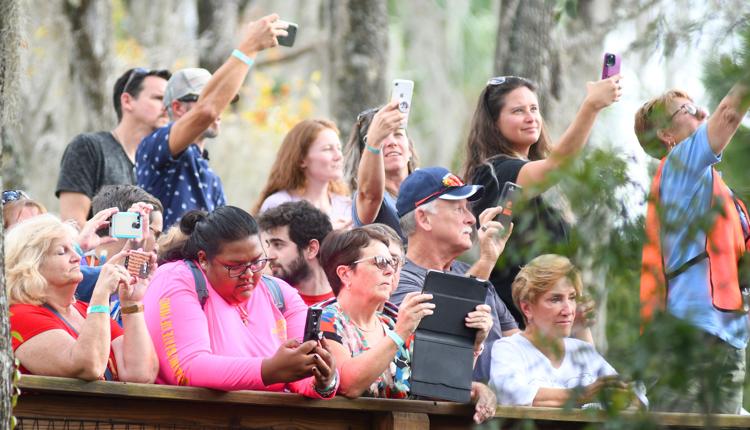 There are an estimated 200 manatees in the Three Sisters Springs area.
One of the onlookers was Johanna Hehenkamp, 54, who was visiting from the Netherlands.
When she and her family learned of the 1 p.m. release, Hehenkamp said they decided to stay and watch.
"I think it's very special. We have no manatees in the Netherlands," she said. "There are so many here. It's very lovely. They have such a sweet expression."
"They are so vulnerable," she said, pressing against the railing for a better view. "That's why this release is so special."