Gun and ammunition sales have always been steady at Dunnellon Jewelry & Pawn, but then the new coronavirus arrived and sales began to spike like the number of infected.
Sales at the store, which serves both north Citrus and south Marion counties, have jumped about 50%, said Mark Peltier, a gunsmith and salesman at the business.
"Gun sales have been higher because of it and ammunition, too," he said. "There have even been times when we've been out of popular caliber (ammunition) because of the rush."
Customers tell Peltier they are unsure of what lies ahead because of COVID-19 and the economy as many people remain unemployed and there is no cure for the virus in sight.
"They are responding to what they've heard about COVID-19 and not being able to protect themselves if things get worse," Peltier said."And we saw a real jump when people saw their stimulus checks."
This rush on firearms isn't unique to the gun and jewelry store at 11941 Bostick St. in Dunnellon.
There were 3.7 million firearm background checks conducted nationally through the FBI's background check system in March during the pandemic, according to the federal agency. 
That's the highest number in more than 20 years, an indication gun sales are skyrocketing.
The FBI conducted almost 3 million background checks in April, a drop since March but still the fourth highest month since the bureau began keeping such statistical records in 1998.
That rush on gun purchases nationally is being felt here locally.
Dunnellon Jewelry & Pawn has hundreds of firearms on hand, but poplar brands are becoming hard to come by, Peltier said.
"The distributers are out of stock," he said. "We can't replace them right now."
Many of Peltier's recent customers are new and new to owning a gun, he said.
One woman who bought a handgun owns a small farm and was afraid people might try to steal her animals if meat shortages continued or worsened, Peltier said.
Peltier said people are not panicking to buy guns when they come to the store, but customers who come in plan on buying a firearm.
"It's definitely been good for gun sales," he said.
Ronald Calkins said he saw a boost in firearm sales at RPJ Guns, at 5384 S. Suncoast Boulevard in Homosassa, soon after President Donald Trump announced a declaration of emergency on March 13 in response to COVID-19.
"That's when it went ballistically crazy," Calkins said about his co-owned gun store, named after his family.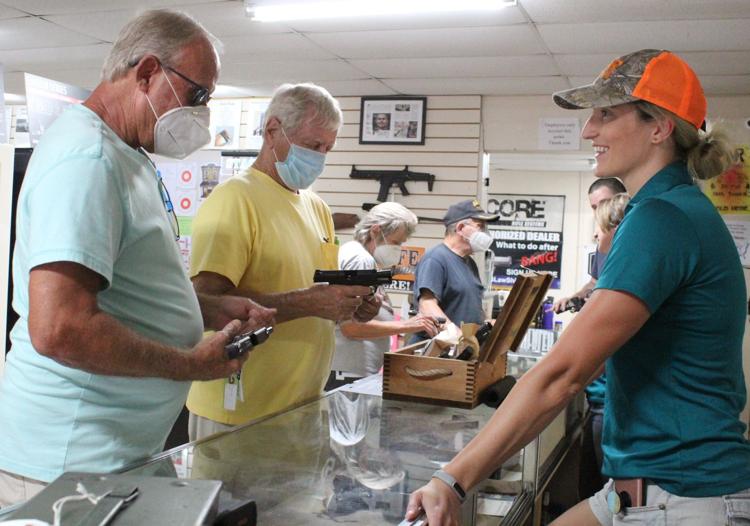 Hillary Dube, who's co-owned HNR Gunworks at 3238 S. Florida Ave. in Inverness with fiancé Ross Rivkin for three years, said the end of March was when things "started getting really crazy."
"It happened almost overnight," she said. "We've kind of seen this stuff before … but it didn't happen overnight … there was a chain events that let to it … We were wiped out in one day; it was crazy."
Goldiggers and Gunslingers owner and former employee Dan Leon, who's run the 10-year-old Inverness gun store at 2416 Highway 44 West since 2017, said his peak business lasted from March to the start of April, but it's starting to taper off.
"We're back to normal," he said.
Calkins said during the pandemic, some firearm distributors are faced with trying to meet quadrupled demand while staffed with minimum crews.
Depending on the distributor, it would take between one and three weeks for its ordered firearm to reach their stores, Calkins and Dube said, adding wait times are improving.
Before COVID-19 struck, ordered guns could arrive in two to three days, Dube said. 
Gun store owners said they were able to replenish their business' armory of ammunition and guns on a regular basis.
"I was able to ride the wave," he said. "I have a very good supply right now; not what I used to have, but it's good."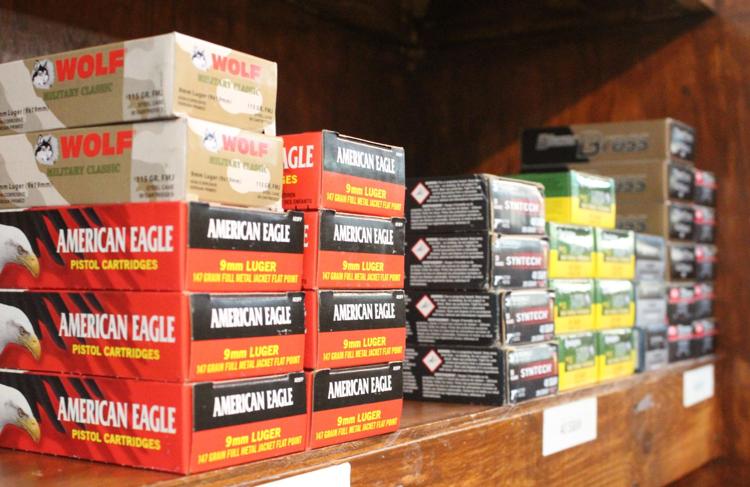 Calkins said ammunition was the first thing to shoot off his store shelves, followed by handguns and long guns priced under $800. 
For the first time, HNR Gunworks started pre-selling or reserving ammo for prepaid customers, Dube said.
"We haven't run out of guns, we haven't run out of ammo," she said. "We've been using all of our resources…and we'll continue to be open…I'll be cleaning everything a million times a day; but besides that, we still want to keep everybody happy with everything." 
Small, concealable self-defense handguns and shorter-barreled, home-defense shotguns have been most in demand, gun store owners said.
Leon said his latest customers have been buying whichever firearm has its ammunition on shelves now.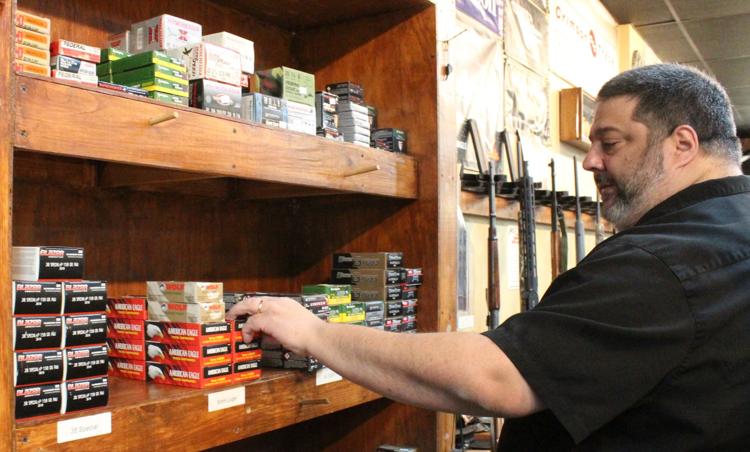 Along with those needing .380 and .38 ammunition, handguns with a 9mm caliber attracted the most customers because the ammo is affordable, and more of those firearms can hold a higher capacity of rounds in their magazines, Leon said.
Leon said also he ran out of buckshot shells, which contain larger metal pellets compared to birdshot shells.
Hunting calibers, like .308, .30-06 and .300, haven't been moving past Leon's registers much, but hunters still come in for ammo depending on the gaming season, he said.
Pistols with slides that are easier to retract and cock the gun have been popular with women and people with arthritis, Calkins said.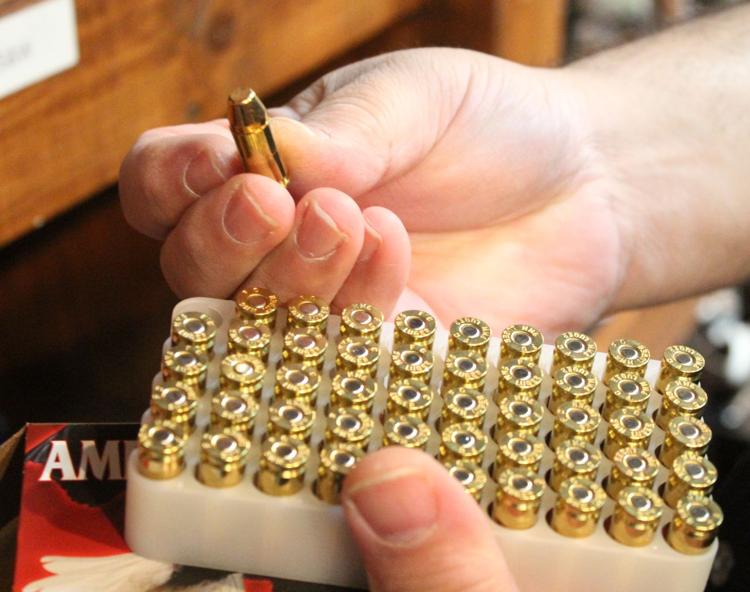 New-time gun owners have been big customers, but enthusiasts are also buying additional accessories, Calkins and Dube said.
"We have good loyal customers that are still coming in," Dube said. "If we're going into the Apocalypse, you might as well have some cool stuff."
Leon said 80% of his customers he's seen as COVID-19 moved into Citrus County never thought they'd own a firearm before. 
"You're talking about a customer who has nothing," he said. "When people start feeling that fear…that's when they realized buying a gun would be a good idea."
Many local gun stores either offer or refer customers to gun-safety and concealed-carry classes, which new gun owners are taking. 
"I will say that most people we've been selling their first guns to have been signing up for the permit class," Dube said.
Leon said the influx of first-time gun users still raises questions of concern for him on if there'll be a rise of accidental and lethal firings as a result, but his store will do what it can to arm its customers with knowledge before they leave.
"Are they qualified, are they capable of using a gun?" Leon said. "We hope we've done what we can to help them."