"It's truly amazin. That spirit of Christmas." — Ray Charles
As a boy growing up in South Florida, Frank Simmons remembers the moment "he saw the light."
To be more appropriate, it was the "lights." Thousands of them.
"I was real small, 8 years old or so, and there was a huge display along Interstate 95," he said about a Christmas light display in Hollywood, Florida. "There was a house, they went all out; there was probably about three houses. We went one year. I just absolutely fell in love with it."
Simmons more than fell in love; the hobby of decorating his house for Christmas has become a passion.
"I never thought it would get this crazy," he said. "I guess it's just a happy memory from childhood."
For 20-plus years, Simmons has been going full "Clark Griswold," when it comes to Christmas light displays.
"Because I'm crazy ... at least that's what my wife says," he said with a laugh. "It's kind of crazy, but it's worth it. It makes everyone happy, it puts smiles on faces. We have had noting but welcoming arms for our display."
And for those not in the know, Clark Griswold, a character made famous by Chevy Chase, goes all out for his Christmas light display in "National Lampoon's Christmas Vacation."
"That's what everyone calls me," Simmons said when the Christmas season approaches. "I'll be out and everyone asks, 'How you doing Griswold?' We've become pretty popular."
Light Up Citrus, Simmons said, is one of Citrus County's most highly decorated homes of holiday lights featuring 50,000-plus led lights all synced to music. The display set to music has been in place since 2016. Light Up Citrus is nightly now through Jan. 5 at 745 N. Heathrow Drive, Lecanto.
"That was the year our displays changed forever," said Simmons, who had been studying the software to tie music into the displays since 2010. "Never did I imagine I'd get this invested in it."
Invested they are, Simmons said, at approximately $20,000 worth of lights, displays, wires and whatnot.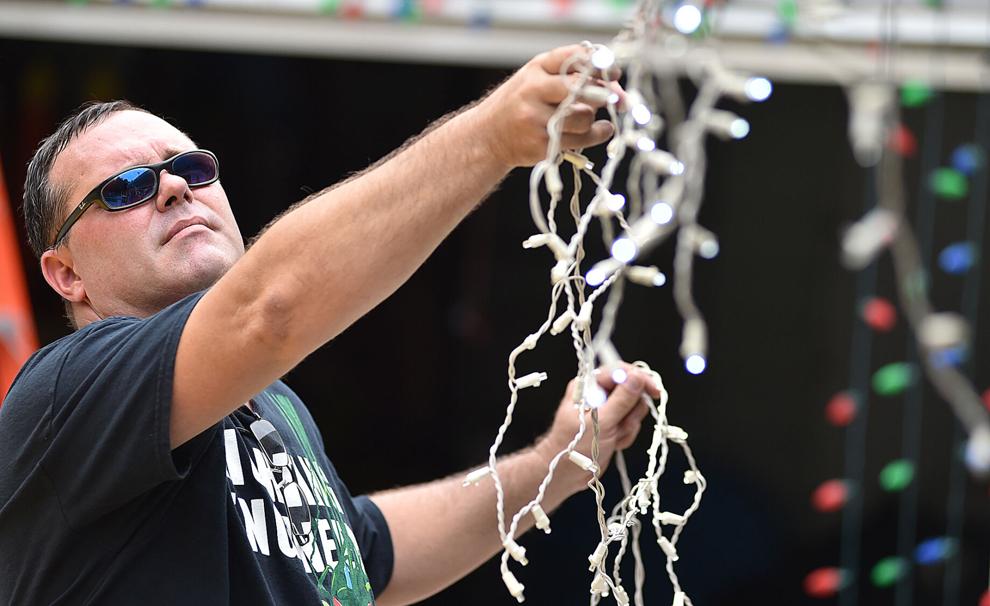 "It definitely starts adding up," he said, noting he upgrade to LED lights in 2012. "Now everywhere you go, the future is LED."
Simmons and his family — his wife, Rachel; and his sons, Dominic, 18, and Jeremy, 17 — aren't in it for the attention. The reason is to bring smiles to the faces of families.
"I always have my boys come out on the busiest nights of the year, so they can hear people's stories," Simmons said. "We hear people tell us, 'Look I've been here 10 times this year with son, my autistic son loves this.' That's the reason we're doing it, to make people smile, feel good."
In the midst of the pandemic, Simmons said, people need this more than ever. There was no talk of canceling the light display.
"This year is important, especially in the lighting community," Simmons said. "This is the year everyone needs it the most. You've got my display … mine is kind of a small display. In other states, displays attract thousands of visitors a night. Thank God, we're not at the stage. I wanted to it out this year more than ever, (people) need that joy, that happiness."
Putting up the lights and displays take about two weeks, but it's planning the music to go along with it that takes the bulk of the time. Simmons spends about six months sifting through the songs he plans to use and syncing those tunes with the lights and displays.
""It takes up to a week, to perfect everything the way you want it," Simmons said. "Thank God for my kids; the boys really help me out (setting everything up)."