Eighteen-year-old Lecanto High School graduate Lauren Stokes has been riding horses ever since she could sit up and before she could even reach the stirrups.
Back then, she rode with her mother, Robin Stokes. "It's the lifestyle she knows," Robin said.
"When I was 2, I started riding horses and showing them," Lauren said. She's been in the local 4-H program since she was 8 and this marks her last year in the program.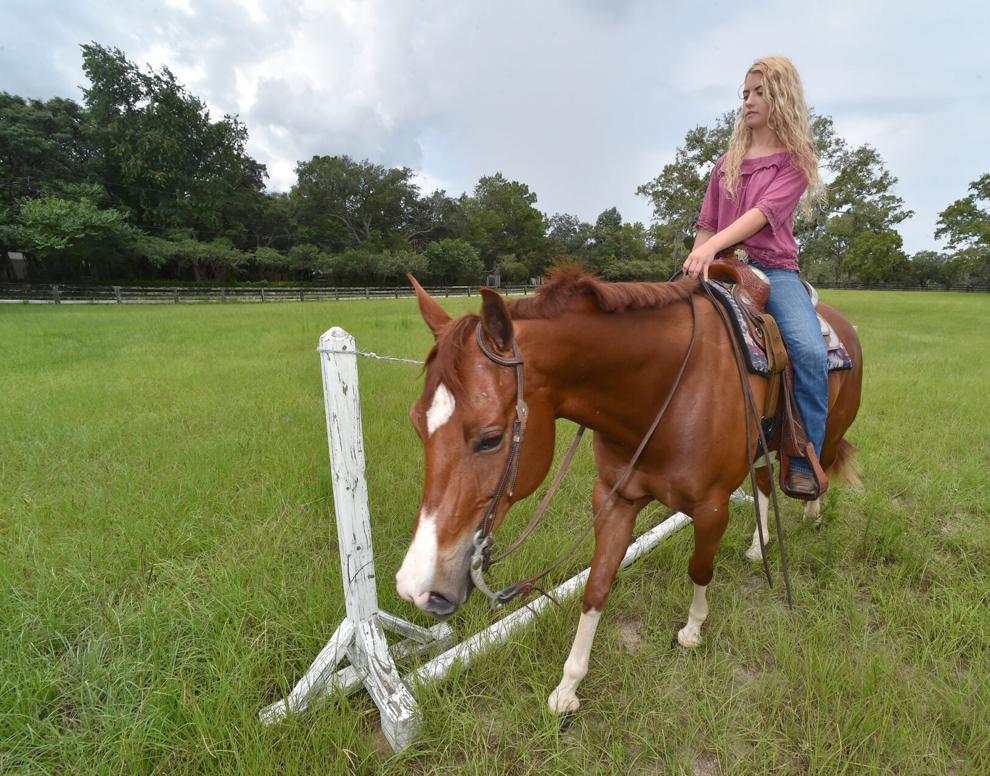 "She went out with a bang," Robin said.
Lauren and her American Paint horse, IB Majestic, earned a total of 39 points at the Florida State 4-H Horse Show and took home the following awards:
First place in Stock Type Geldings;
First place in Senior Western Pleasure;
First place in Senior Western Trail;
Second place in Senior Western Horsemanship; and,
Second place in Senior Western Showmanship.
Overall, Lauren and IB Majestic earned the following:
Overall Highpoint Western.
High Point Florida Bred – Western.
Reserve Paint.
Overall Pinto.
Fourth place out of the top 10 seniors.
"Lauren was, by far, bringing home most of the awards," 4-H youth development agent, Marnie Ward said.
Lauren, along with nine other Citrus County riders and their accumulated points, won Reserve High Point for Large County.
Five riders, including Lauren, will advance to the 2021 Southern Regional 4-H Horse Championships on July 28 in Perry, Georgia.
"It's not just something that comes overnight," Lauren said. "It's a lot of time that we have to put in it."
Lauren spends much of this time practicing with IB Majestic, nicknamed "BB." BB is 7 years old; he's in his prime years.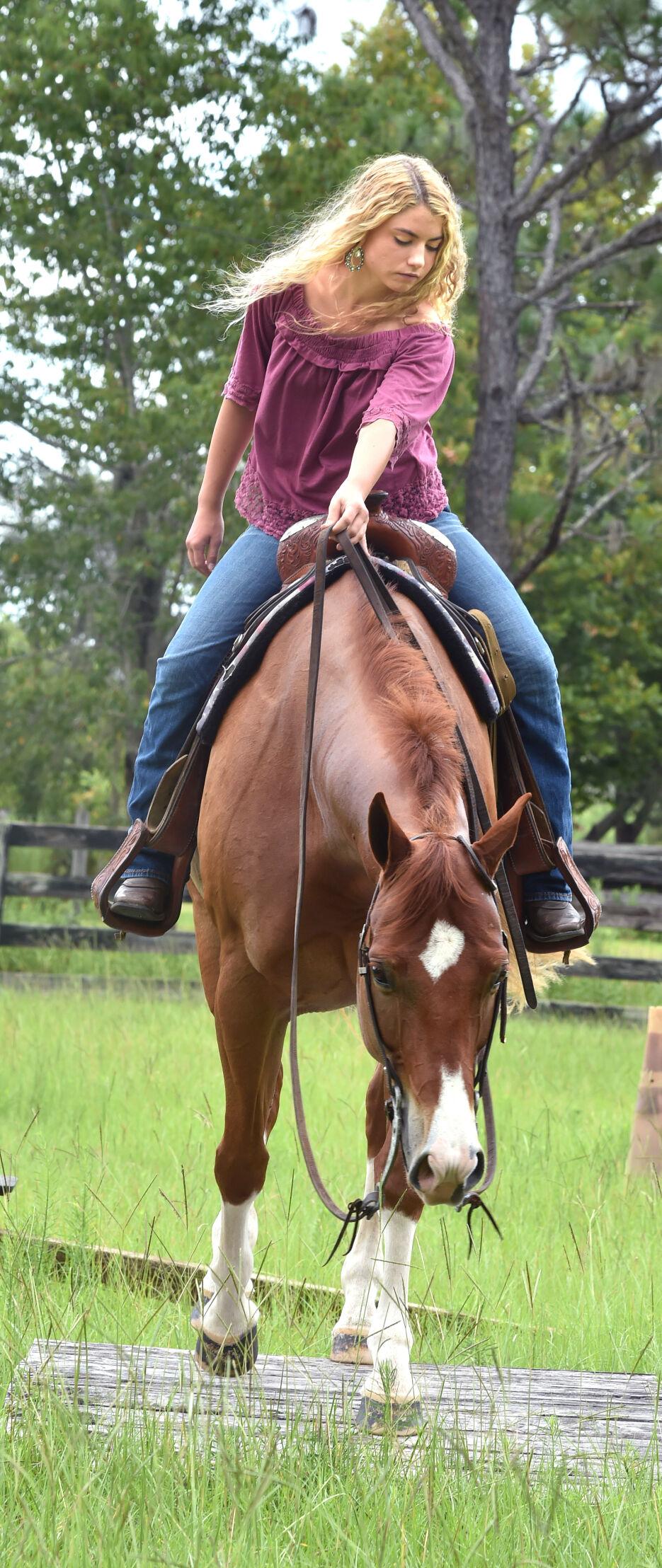 Lauren and BB have been working together for about two years.
"It takes a while to become in a partnership with a horse," Robin said. "They're really starting to click and really starting to work excellent as a team."
At Lauren and Robin's Lecanto home, Lauren and BB practice competition obstacles such as bridges, gates, boxes and poles. Lauren's grandfather even made a practice bridge for her.
The bridge is one of the most difficult obstacles for BB and one he had to perform in the Senior Western Trail class. This skill, like many other, displays the mutual trust between a horse and their rider.
"When we go to competitions, there's always different color bridges, there's different shapes of bridges or flowers, so it's a bit of a distraction," Lauren said.
These obstacles and colors often confuse or scare the horse. Whether or not they decide to cross the bridge displays their level of trust with their rider.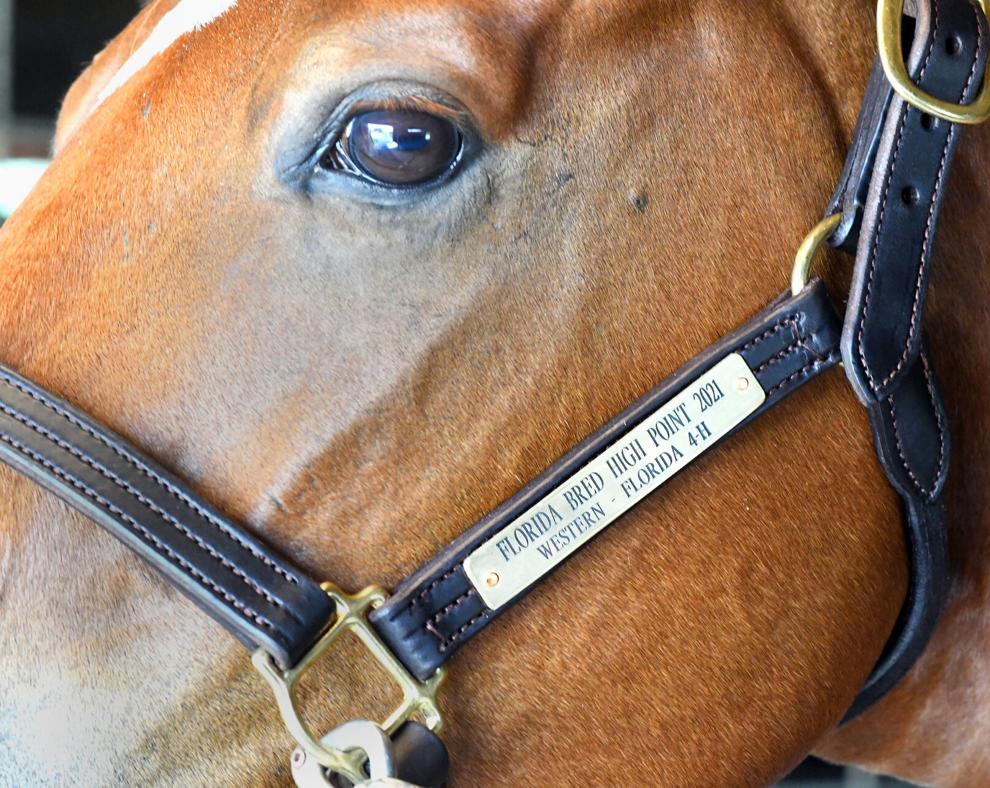 When performing these skills, Robin said, they are graded on accuracy and precision. For example, points would be docked if the horse hits any poles or won't cross a bridge.
Robin said that BB has been scared to cross over bridges by himself for the first time. However, if Lauren walks across the bridge alongside BB first, he has no problem when she's on his back.
At the state competition, Lauren didn't get the chance to walk across the bridge with BB before riding him. "It was a make or break moment," Robin said. BB trusted her — "He didn't even hesitate."
According to Lauren, BB seems to know when he's in a competition and acts accordingly. "He's very smart," she said. "He tries very hard."
Lauren and BB's hard work and bonding certainly paid off at states, earning them the most points out of any other pair from Citrus County.
When Lauren isn't competing or practicing, she's working as a veterinary technician at Countryside Animal Clinic. In the fall, she will attend the College of Central Florida and plans to finish her education at the University of Florida.
Lauren hopes to one day become a veterinarian at a large animal clinic or a college professor. Right now, however, she's focused on the regional championships.
"As well as we've done this year at states, I think we're going to do pretty good," Lauren said.