By 8 a.m., a line of about 200 people was wrapped around the new Wawa store in Lecanto waiting for the doors to open.
They started arriving much earlier — some as early as 6 a.m.
And they didn't need the promise of free coffee to lure them. This was, after all, Wawa.
It's not a gas station or convenience store. It's an experience, said numerous patrons — many from New Jersey and Philadelphia, where Wawas are plentiful — who were clearly pumped up before they even got in the doors.
George Wolf, of Forest Ridge, was one of the earliest arrivals and was able to find a parking spot and get near the front of the line.
"It's just the atmosphere — the people are just so much nicer," Wolf said. "There's nothing bad about Wawa."
As the clock struck 8, employees started a countdown and opened the doors wide to a cheering crowd that dispersed to the food or coffee stations.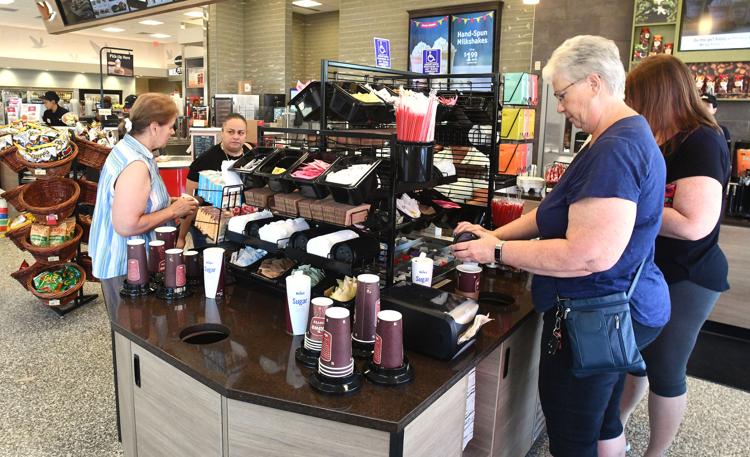 The 24-7 store on the southeast corner of County Roads 486 and 491 is the chain's 20th store to open nationwide this year. It employs about 30 people but, for this occasion, the chain brought in at least 70 more from Wawas in the area to handle the crowds. Amid blaring music, they handed out plastic hand-clappers and samples of fruit smoothies for people to bide their time while waiting in line.
Not that they needed much to pacify them. Waiting patrons chatted among themselves, many extolling the virtues of the chain they grew up with back home.
"It's not just a gas station," said Merry Ellen Douglas, of Citrus Hills. "It's got everything you want other than underpants. I will not go to any other gas station and eat one of their hot dogs rolling on on their grill."
Wawa went all out to make sure the crowds went home happy.
The first 100 people through the door got a free T-shirt. There was a charitable hoagie-building competition between Citrus County Sheriff's Office and Fire Rescue officials. Wawa offered free coffee to all customers — a promotion that will continue through May 26.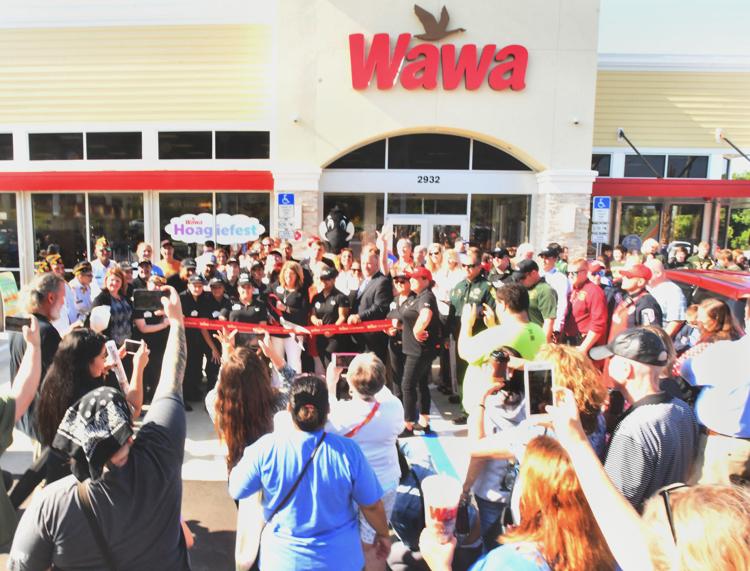 There was a $2,500 check presentation to the Community Food Bank of Citrus County. The Lecanto High School band performed. And if that wasn't enough, the chain's mascot, Wally Goose, greeted customers.
All 16 gas station bays under the trademark sloping roof were busy.
Many present Thursday hoped Wawa will spur more development. There are still several outparcels available, especially across the street by McDonald's and Walmart.
"(Wawa) is like an anchor," said Mike Carr, of Beverly Hills. "It just draws people to it. I would love to see a Target across the street."
Jacob Stewart, an off-duty employee at the Circle K on the opposite corner of the intersection, was one of the first in line to buy food.
"I see a lot of of my customers in line," Stewart joked.
He doesn't believe Wawa will hurt business at his Circle K.
"I think the competition is good," he said. "I don't think much is going to happen. I think Publix and Subway will be hurt the most."
And it is the food that seems to be the main driver to the Pennsylvania-based chain. Sure, it sells gas, but most people interviewed Thursday said it's the scores of custom-made sandwiches (and coffee) that sets this place apart.
"The food quality and the service is just awesome," said New Jerseyite Donna Debbie, of Citrus Hills. "It's like being home again and we've only been here five years."
Husband and wife Jacob and Rebecca Neeld, of Crystal River, couldn't contain their happiness.
"This is the best thing to happen to Citrus County," Jacob Neeld said. "Nothing compares to it."
Rebecca Neeld said she couldn't wait for opening day. She said she fell in love with Wawa ever since visiting one for the first time about four months ago in Clearwater.
"Since then, it's all about Wawa," she said.
The celebratory fervor will likely be repeated when Wawa opens its second county location on the northeastern corner off U.S. 19 and State Road 44 in Crystal River. That location is still in the land-clearing stage, but it is tentatively set to open the first quarter of 2020, said Wawa area manager Angela Reynolds.
Reynolds has been to several Wawa grand openings lately — Ocala opened three in the same day last month. She was not surprised to see Thursday's turnout.
"It's a cult following, for sure," she said.
County Commissioner Ron Kitchen Jr., on hand for the event, said it is businesses like Wawa that pave the way for more economic development.
"These stations are the leading indicators of growth," said Kitchen.
Kitchen said retailers are positioning themselves for the advent of the Suncoast Parkway and buying up land now.
"When you get national chains wanting to locate in our community, we are on the radar for sure," County Commission Chairman Jeff Kinnard said.
The CR 491/486 intersection has long been envisioned as becoming one of the most-developed corners in Citrus County, Kitchen and Knnard said.
With Wawa here, "it is absolutely going to take off," Kinnard said.