Citrus County Sheriff's deputies shot an armed Lecanto man who had barricaded himself in a home Friday evening with two hostages, authorities said.
The man, identified by his mother as Salvador "Bo" Salazar, 35, was taken by ambulance to a waiting helicopter at the College of Central Florida parking lot. He was flown to an Ocala hospital where his condition was unknown Friday night, officials said.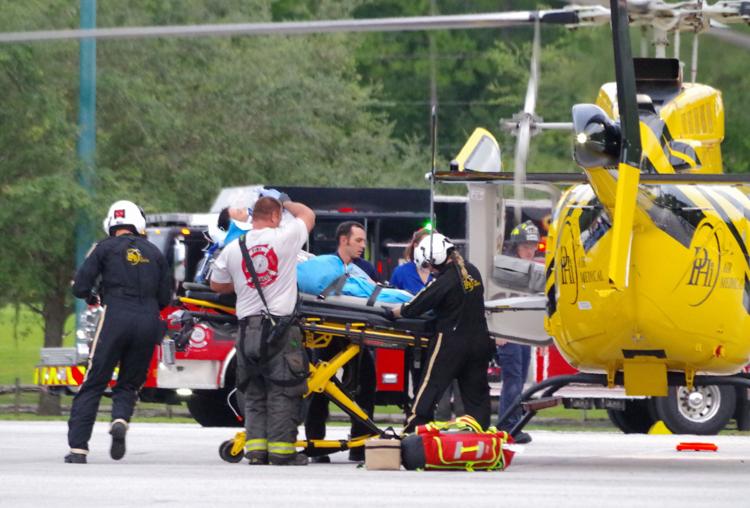 No officers were injured, authorities said. Salazar released the hostages unharmed before the standoff ended, they said.
A three-hour standoff began around 5 p.m. when a Citrus County Sheriff's Office deputy responded to a call to the 1200 block of West High Acres Street, just north of Cardinal Street and off of County Road 491, Sgt. Lee Carey said.
The call was about a barricaded, suicidal man with hostages, Carey said.
Carey would not provide details of the gunfire and he would not identify the deputy involved. He said investigators have not determined if Salazar fired at officers.
The Florida Department of Law Enforcement is investigating the shooting.
Sheriff's office hostage negotiators were called in and Salazar surrendered, Carey said.
Carey would not identify the hostages or their relationship with Salazar.
More than two dozen law-enforcement vehicles from Citrus and Hernando counties responded to the scene. 
Salazar's mother, Lisa Bush, who lives on the same street as her son, said law enforcement gave her few details about what happened.
"He just had a breakdown, PTSD," she said, sitting on the bed of a pickup truck behind the yellow police tape. "He felt like no one cared. No one's talking to us. They fired multiple times."
Neighbors reported hearing close to a dozen gunshots, and deputies ordering them back into their homes.
Rick Papineau said he witnessed a deputy yelling at someone.
"You could hear him screaming, 'Put down the gun!'" Papineau said. "I ran out front and they yelled at me to get back into the house."
SWAT team members were prepared with battering rams to force themselves into the house if necessary.
Marco Porro, who lives across the street, said he could hear the standoff as it came to an end.
"I was in the living room and I heard about 10 gunshots, very close," he said. "I rushed out the door and I could hear screaming and yelling, 'Get down on your knees! Get down on your knees!'"
Carey said the sheriff's office would release more details in the coming days.
West High Acres Street was blocked at C.R. 491 for several hours and a portion of the road was closed Friday night where the shooting occurred.
Staff writers Buster Thompson and Mike Wright contributed to this report.