Bob Henckel didn't yet see Alzheimer's disease symptoms when he asked to get tested, but with four siblings and each diagnosed with the illness, he knew his odds weren't good.
In January, he and his wife, Dixie, went to Renstar Medical Research in Ocala where the 72-year-old Henckel took a battery of cognitive tests. Within a week the business that conducts medical trials for pharmaceutical and biomedical companies also conducted brain scans to see whether Henckel had telltale signs of Alzheimer's: namely plaques and neuronal tangles associated with the disease.
"We went back to the Renstar office and (a company representative) said I have bad news and I have good news," Dixie Henckel recalled.
"The bad news is that you have the very, very earliest signs of Alzheimer's," Dixie Henckel recalled Renstar saying.
But embedded in that bad news was also a flicker of good news. Because he had the earliest of signs Renstar told the Henckels it "made him a perfect candidate for the research program they are doing there and the drug with the most success on candidates like him," Dixie Henckel told the Chronicle.
Bob Henckel is now part of the trial, testing the benefits of a new drug called gantenerumab, but unaware whether he is getting the drug or just a placebo.
He is hopeful that the injections he gets beneath the skin on his abdomen has the drug, and at least, it halts the disease so he doesn't get worse.
"Nothing has changed in my mind. I can't say I'm getting better…but I don't think I'm getting worse," Henckel said.   
During this year's October Alazheimers Awareness Month, Henckel is one of the lucky ones. Drug trials give Alzheimer's patients hope where otherwise it is an assured ticket to get only worse and end in Alzheimer's death.
But the track record for drugs making a dent in the relentless disease is not good. At least 150 drug trials have failed during the past two decades. About half a dozen last year. And this year Roche pharmaceutical company announced discontinuing crenezumab, a once promising drug meant to help people with mild Alzheimer's.
In the Chronicle's latest update about the disease that afflicts five million Americans, and likely many more as Baby Boomers age, we look at the state of trials, some alternative explanations for the disease and speak with Dr. Todd Golde, executive director of the Evelyn F. and William L. McKnight Brain Institute of the University of Florida, about trial successes and failures, research funding, and what we can expect in the coming decades.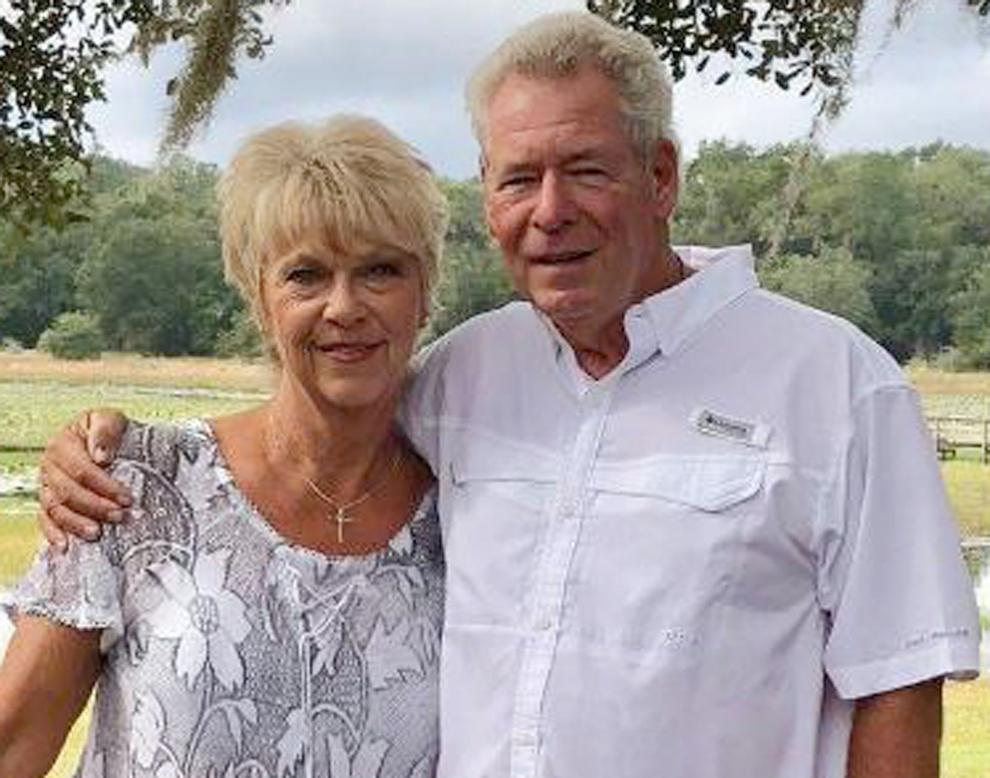 For Inverness, Florida man Alzheimer's drug trials give hope, pave way for possible cure
Watching two of his brothers die from Alzheimer's disease and his remaining brother and sister both battling the illness now, Bob Henckel is watching the clock.
Henckel is enrolled in a trial study of a drug, gantenerumab, overseen by Renstar Medical Research in Ocala, for Roche pharmaceutical company.
It wasn't the 72-year-old's forgetfulness that prompted the retired Pfizer employee from Plainwell, Michigan to get tested for evidence that he might have the makings in his brain for Alzheimer's disease. Nor was it that he would more frequently get lost when he was driving.
"The clincher for me was that all four of his siblings …had Alzheimer's," said Dixie Henckel, his wife. "I just wanted to know for sure.
The Henckels got there answer in February when Renstar informed them Bob had early symptomatic signs of the disease, along with amyloid beta protein plaques and neuron-destroying tau tangles in his brain – the structures that many believe either causes or triggers Alzheimer's disease.
He was a good candidate because he had early signs and many scientists think the earlier drugs are introduced to their patients, the better the results. This is Roche's second try with the drug. Several years ago trials with it failed but the company's scientists think that it could work if the doses were much higher. So far, those higher doses appear safe.
The Henckels both retired form their jobs at 55 and traveled. That was the plan and for nearly the 20 following years the couple traveled to almost every state in the union. They traveled by trailer, motorcycle and hauled all-terrain vehicles behind them when motorcycles were to limiting.
But when Bob had to start relying on calendars to remember plans, and directional devices to keep from getting lost, and started repeating the same questions, Bob wanted to get evaluated and on the trial study.
All of his three brothers and only sister started showing Alzheimer's symptoms during their early 70s. The two oldest brothers died from the disease. The surviving brother with Alzheimer's is four years older than Henckel and his sister is three years older.
His brother and sister both have symptoms more advanced than Henckel's.
"It starts slow and then ramps up and from there goes really quick," Henckel said of the siblings' progression with the disease.
"So in two years from now, I'll know," he said. "Dixie will know. But right now there's no change and that's good."
Editor's note: The Chronicle reached out to Alzheimer's disease (AD) and dementia professionals Debbie Selsavage and Ed Youngblood to get thei…
"If it stopped (where it is) I'd be a happy man," he said. "And it gives hope.
Dixie said there's been no change with his symptoms. In comparison, she said she's seen a progression with his two remaining siblings who are not participating in trials.
"So it gives me a lot of hope for him," his wife said.
There are about 250 clinical studies currently underway and there is always a need for more Alzheimer's volunteers, according to the Alzheimer's Association.
Bob Henckel's parents died of other ailments, and Alzheimer's disease was not prevalent in his family, other than with his siblings.
Dixie Henckel equates signing up for a trial study with wanting cancer treatment.
"If I had cancer I wouldn't just do nothing and live until I died," she said. "I would want treatment. The bottom line is we were aggressive (in seeking help)."
There are drugs available meant to slow the progression of the disease, but they do not stop it, and studies show that in the long term their effectiveness wears off," according to the Mayo Clinic website.
The Henckels wish there had been more progress in stopping and reversing the disease. The couple doesn't understand why more isn't known about it. But they accept where the science is now and are grateful they are part of the testing.
"So you have two choices. You either ignore it (your diagnosis) and put your head in the sand or you attack it," Dixie Henckel said.
"If it gives him the chance to (remain) the guy that I know, that's what we're going to do. We're sticking with the program," she said.
And if the drugs do no good for Bob or his disease progresses because he received a placebo as part of his study, Bob Henckel said, "I'm still helping people in the future."  
If a person with Alzheimer's is eligible to join a trial, the Henckels want them to and not give up.                
But not everyone with Alzheimer's is a suitable candidate. Some have other medical problems or are too far gone to make researchers think drugs will do any good.
David Griffiths wanted his wife Linda to have the same chance of reversing, or at least stopping, her Alzheimer's disease. He enrolled his 72-year-old wife in a trial program but she was soon excluded because her disease had progressed too much.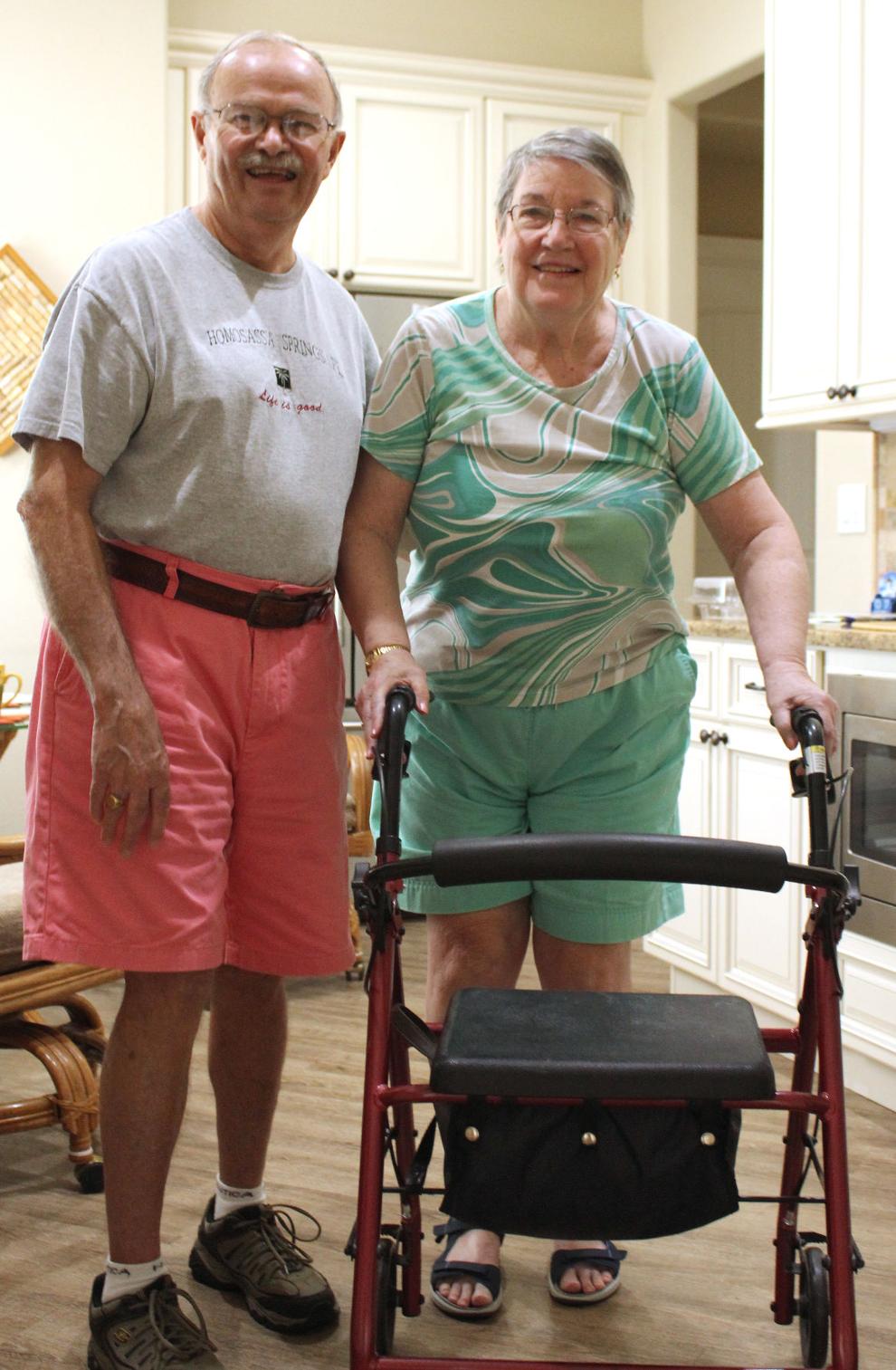 Not all qualify for Alzheimer's drug trials; Homosassa couple struggle to understand
Linda Griffiths was always mentally sharp and physically active.
But six years after her Alzheimer's disease diagnosis she can only smile when she remembers her days on the golf course, how she used to be an insatiable reader, and traveled with her husband on cruise ships.
The disease progressed quickly after the 72-year-old Linda was diagnosed in 2013 and her husband, David Griffiths, admits he was unprepared.
"I noticed some decline (in her abilities)," David Griffiths, a retired police officer from Kingston, Massachusetts, recalled of his wife several months before the diagnosis.
One that stays with him still is when "she mentioned to me she was off (balancing) the checking (account book) and she was off thousands of dollars," he recalled.
As a former Blue Cross Blue Shield manager, that kind of mistake was out of character.
"And she was an avid reader but she stopped reading too," recalled the 71-year-old Griffiths.
Linda and David would often talk, now she sits mostly quiet. When she speaks it's two or three words strung together.
"I really didn't know much about the disease," David Griffiths told the Chronicle recently, sitting at his kitchen table outside Homosassa while Linda was still in bed sleeping. He had prepared her breakfast of muffins and coffee and was waiting for her to awaken.
"I really didn't know what to expect," he said of the disease.
None of his family or hers had a history.
But he knew enough to try and enroll her in a trial for new drugs, but her Alzheimer's had progressed too far.
He belongs to a support group where spouses and children of Alzheimer's victims regularly meet for support and share information about caring for their loved ones.
As for Linda, she smiles often, but sits seemingly unconcerned with her surroundings.
"She seems happy. At least I think so," David Griffiths said. "My frustration is I just don't understand what she's going through."
But David is also frustrated that there are no drugs available that his wife could have taken to stop the progression of the disease when Linda was still the Linda he knew.
"I'm amazed with all the research they've done …they haven't come up with a cure," he said, "and not even something to delay it."
He is frustrated that while there's been advances in the treatment of other diseases, there is nothing to help his wife.
Nearly 13 percent of Citrus County residents age 65 or older is suspected of having Alzheimer's disease, according to Florida HealthCharts, which collects the data from the Florida Department of Elder Affairs. In 2018, more than 6,700 Citrus County residents were estimated to have some stage of the disease. Florida as a whole has similar rates. The rates have remained the same since 2012 when Florida HealthCharts started collecting the data.
Linda is oblivious that there is no medicine for her disease. She is unaware that she has a disease.
She cannot tell you her age, but knows she was born Aug. 1, 1947 and that she has two sons.
Asked whether she enjoys going to the dementia support group meetings, she replied, "old friends."
Asked what she enjoys, she replied, "Golf. When your good it's good."
Asked whether she enjoys remembering her former golf games and vacation cruises, she smiled broadly and nodded.
She said she prefers to stay home now and likes it there.
She turned to her husband and said, I love him."
David replied that he loved her too.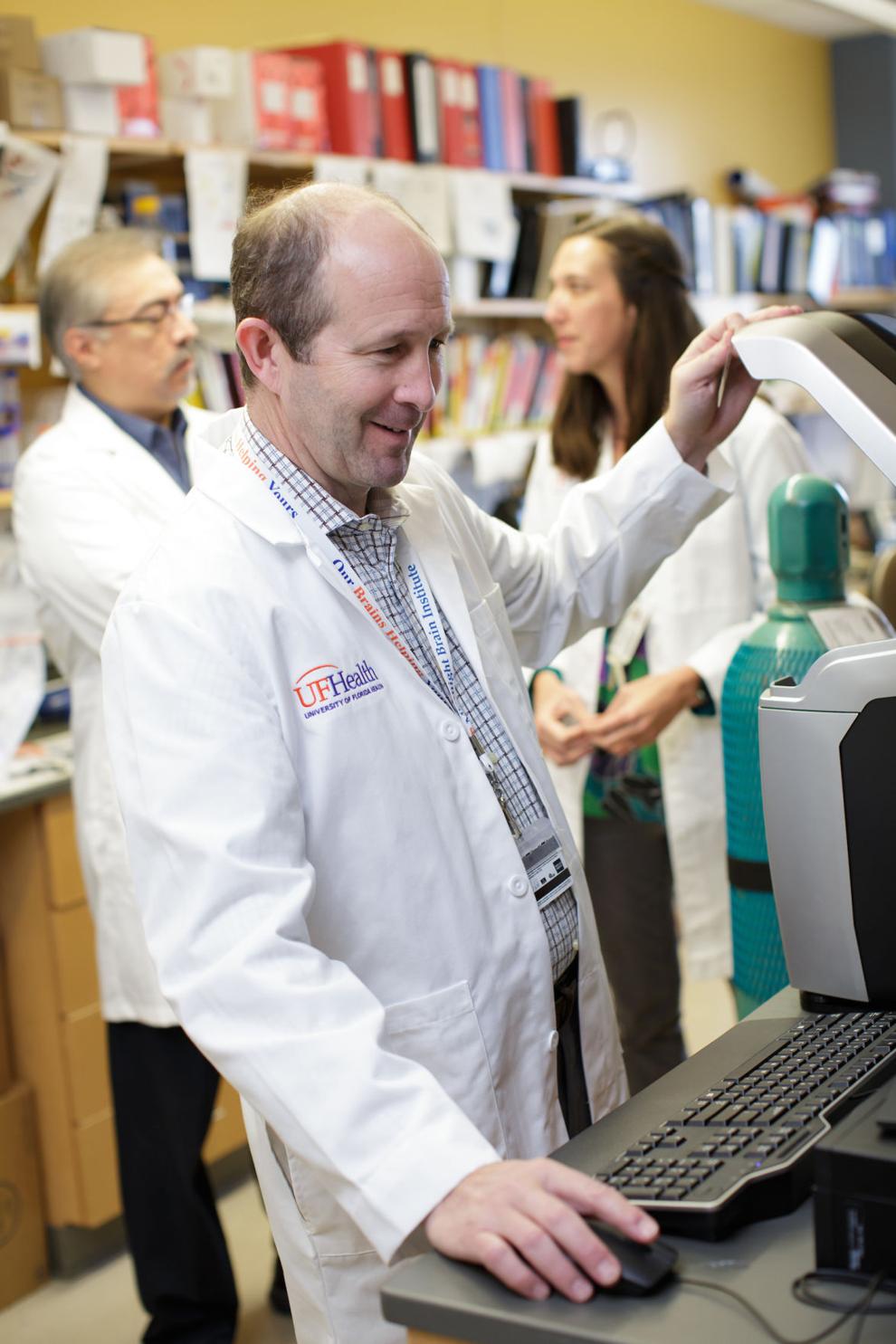 No easy path to Alzheimer's disease cure; top area researcher talk's about its progress
Have we made progress with the prevention or treatment of Alzheimer's disease? Why haven't we seen more? What does it mean when pharmaceutical companies end failed drug trials after much fanfare that the drug might be the silver bullet of a cure? Is there enough funding and has there always been enough? Should we abandon traditional theories about the disease's cause and look elsewhere for cures?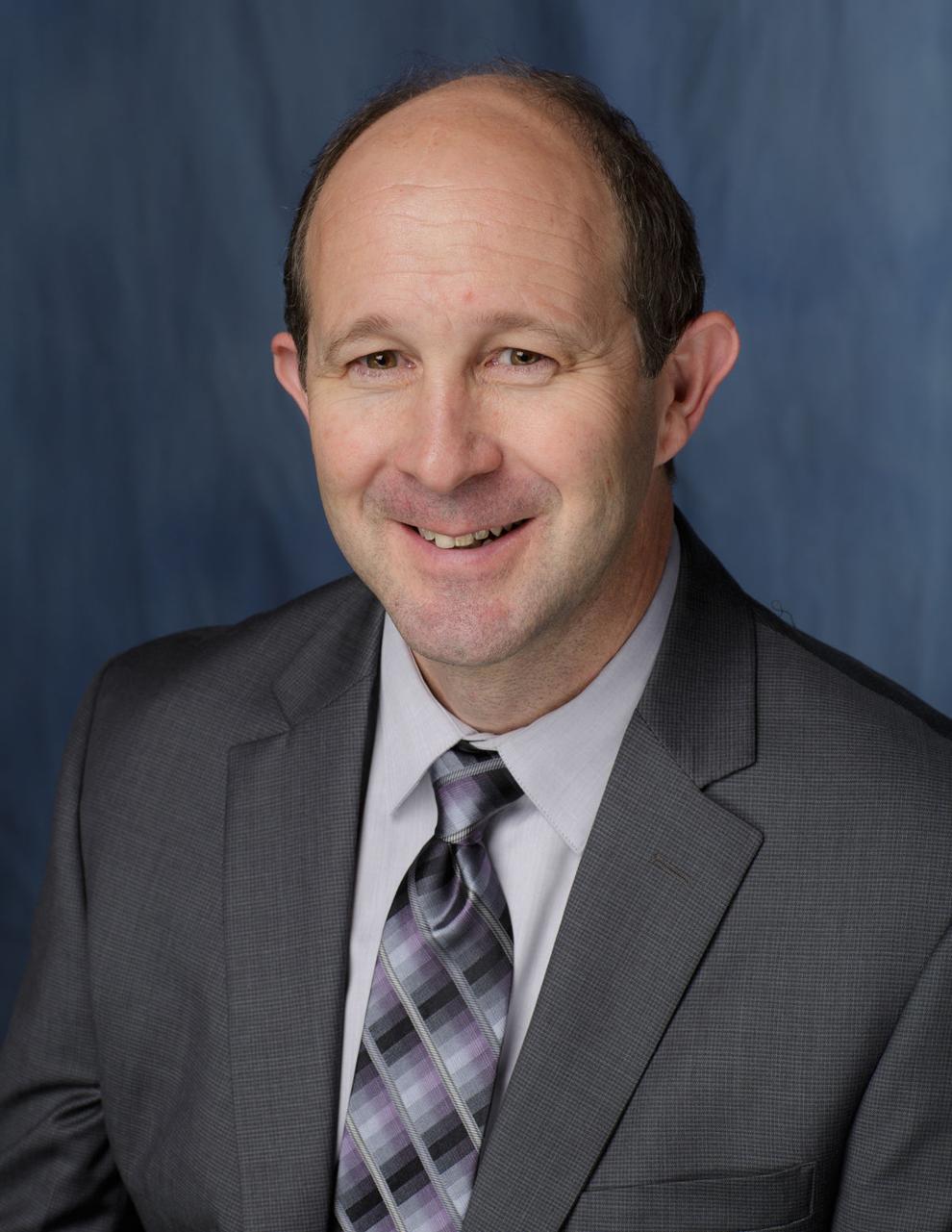 Dr. Todd Golde, executive director of the Evelyn F. and William L. McKnight Brain Institute of the University of Florida, said that before the public casts stones, saying Alzheimer's disease has left most researchers scratching their heads with no progress to show after spending billions of dollars for a cure or prevention, the public should take pause.
Q: Has there been significant progress?
A: Golde said that when he began his research in the disease 32 years ago in the late 1980s, scientists understood that Alzheimer's had a pathology: namely plaques and tangles. But not much more about the disease.
Then in the mid 1990s scientists identified the proteins that were the main components of the (amyloid plaques and tangles) structures that most think cause the disease, or at least trigger it. That's when we entered the molecular age of Alzheimer's disease, he said.
About the same time, scientists were also researching the genetics of the disease "and all of it pointed us to amyloid peptide (the building blocks of plaques) accumulation as the trigger of the disease," he said.
Researchers have also learned that the plaques started accumulating in the brain at least 20 years before the person showed the symptoms of Alzheimer's.
They also know now that tangles appear later in the brain too and usually a few years before symptoms.
Scientists can also detect plaques and tangles using brain scans, he said, allowing researchers to measure the effects of drugs.
In addition, scientists are developing blood tests to detect plaques that will make it easier to identify people afflicted with the disease.
Researchers have also developed drugs that have shown to remove the plaques and the tangles, although patients didn't show improvement as a result.
Q: So now that we know what the plaques and tangles are made of and have drugs to remove them, why aren't we curing the disease?
A: "We have been using the right drugs, but we've been using them at the wrong time," he said.
By the time the patient shows symptoms, the damage to the brain's nerves has already happened, Golde said. He equates it to giving a person cholesterol-lowering drugs when their heart is already failing and they need a transplant.              
Q: What about using these drugs when the patient first shows signs of the disease?
A: When pharmaceutical companies say they're doing early symptom studies, "the disease has already been there for 20 years. In fact, your brain is in brain organ failure. In order to show symptoms, you've lost, in many cases, 30, 40, 50 percent of the neurons or neuronal connections," Golde said.
Q: So why did we test drugs we suspected would not work so late in the Alzheimer's progression?
A: The trials were practical ways that were available "to test (against plaques and tangles) and we were hoping that we'd see enough of a signal (success), enough to get it approved, and then we'd wrench it back (and administer the drug earlier)," he said.
The strategy has been (about) doing big studies and hoping to find a little improvement in a subset of trail patients and move on from there, he said.
The problem was despite removing plaques and tangles, patients didn't get better, he said.
As a result, people were testing drugs "highly unlikely to work," he said.
Q: Can we administer the drugs earlier?
A: Golde said yes and there are studies underway in which the drugs are used before symptoms appear. This is where much of that basic pathology research and genetic work pays off.
Scientists, for example, have found an isolated population in Columbia, that when they have the genetic mutation for early Alzheimer's, are sure to show symptoms, typically by age 45 years. So researchers are administering drugs by the time they are in their 30s.
The fact that the Columbians in the study are genetically determined to get symptoms by 45, it means scientists will know soon earlier whether the drugs work as a preventative measure. But results will still take time.
"In the best case we might see whether the drugs work in five to seven years. We might get a signal, maybe," Golde said.
But the problem is giving drugs to otherwise healthy people. And any indication that there are safety issues could halt trials, he said.
Q: Is there incentives for pharmaceutical companies to invest billions of dollars and keep testing drugs?
A: Preventing plaques from ever forming is still the most effective way to have the biggest public health impact, Golde said.
"We need to incentivize the private sector," he said.
So if a pharmaceutical company invests in a prevention study and there's benefits, there needs to be guarantees for a return on the company's investment, and that could include a longer exclusivity on the drug after the patent would traditionally expire, he said.    
And it's costly when a drug trial fails.
When a recent Biogen Alzheimer's drug trial failed, the company lost about $18 billion worth of its value on the market, Golde said.
Q: Might there be other causes behind the formation of amyloid plaques?
A: Golde said that even if other factors contribute to plaque buildup, plaque formation still needs to be stopped well before symptoms appear.
And we also can't forget about those people who have the disease and symptoms and must find ways to make their lives better, he said. That will probably require a multifaceted approach of drugs where drugs have multiple benefits, he said.
Q: Might the plaques and tangle theory be wrong and something else causes Alzheimer's? Could plaques and tangles be symptoms of the disease rather than the cause? What about recent studies suggesting other causes such as bacteria that causes gingivitis also causing Alzheimer's?
A: Golde said don't count on it. He thinks strains for bacteria is in the brain also detect natural aging pigment.
The studies are poorly done," he said of "bugs in the brain theory. "It's lousy science. It's false."
Another false lead is herpes virus causing Alzheimer's he said. The studies don't make sense and the amount of amyloid plaques supposedly due to the virus is more than the brain can produce, he said.
These kinds of studies have been around for years, but now they're getting more of an audience, Golde said.
They're distracting us from focusing on the good science that makes sense and has been reproducible; namely plaques and tangles causing Alzheimer's disease.
Q: Why can't Alzheimer's researchers make the same kind of progress that scientists working on cancer can show?
A: Golde said that cancer research has the same failure rate as Alzheimer's. The difference is since Alzheimer's disease has such a long trajectory from first laying down plaques to symptoms and then to death, it takes longer to see if Alzheimer's drugs work. Also, many more people have worked in the cancer research field then in Alzheimer's, he said.     
A: That's been a problem, he said.
Between 2000 and 2010, federal funding for Alzheimer's research hovered at about $440 million annually, according to the Alzheimer's Association. In comparison, cancer research is funded at about $5.5 billion a year; cardiovascular disease at about $2.5 billion.
Golde thinks that low funding cost the research one or two generations of progress.
But federal funding has improved and in 2019, with an additional $400 million, is now at $1.8 billion.
But the investment is still dwarfed by the disease's cost to the public.
The cost to Medicare and Medicaid to care for people with Alzheimer's and dementia was nearly $200 billion in 2019. That's expected to climb to $770 billion by 2050, according to the Alzheimer's Association.
Q: Could the disease be more complicated than we think?
A: Golde thinks yes. "As the disease progresses there's all sorts of (bad things) happening in your brain. You have degenerating neurons, immune responses, and you still have the amyloid (plaques) and the tau (tangles) accumulating," he said.
Q: Are the potential risks associated with new drugs acceptable?
A: Golde said that if he were diagnosed with Alzheimer's plaques and tangles but still not showing symptoms, "and I knew I had a window that was likely closing on me in terms of my cognitive function…I would be willing, after seeing what people go through, to take risks. A lot of risks actually, because I don't want to put my family through that."
Q: What would you say to those people who watched with anticipation each new trial only to see so many fail?
A: "I think we overpromised," he said. "(But) science is really hard…and this is a hard disease."
"It's been a challenge to get drugs that are really good, get (them) into the brain, and are potent enough…," Golde said. "But we understand a hell of a lot more about the disease…(and) we have much better biomarkers to understand who is at risk for the disease."
He said his fear is that if the drugs currently being tested fail, the bulk of the private sector will pull out.
As for those who said decades ago the disease will be cured in 10 years are "eating humble pie" now and the process has been "humbling."
But with funding up and the public committed in finding a cure "there's no excuse now. We have to deliver."