A local 23-year-old just might have found his calling as a clock smith, as he begins his education at an Inverness shop, Mantiques and Other Finery Antiques and Clock Repair.
Brandon Koenig is a client of the Key Training Center and part of their Key Supported Employment program. The program assists individuals with intellectual and developmental disabilities (IDD) with finding successful careers in the community.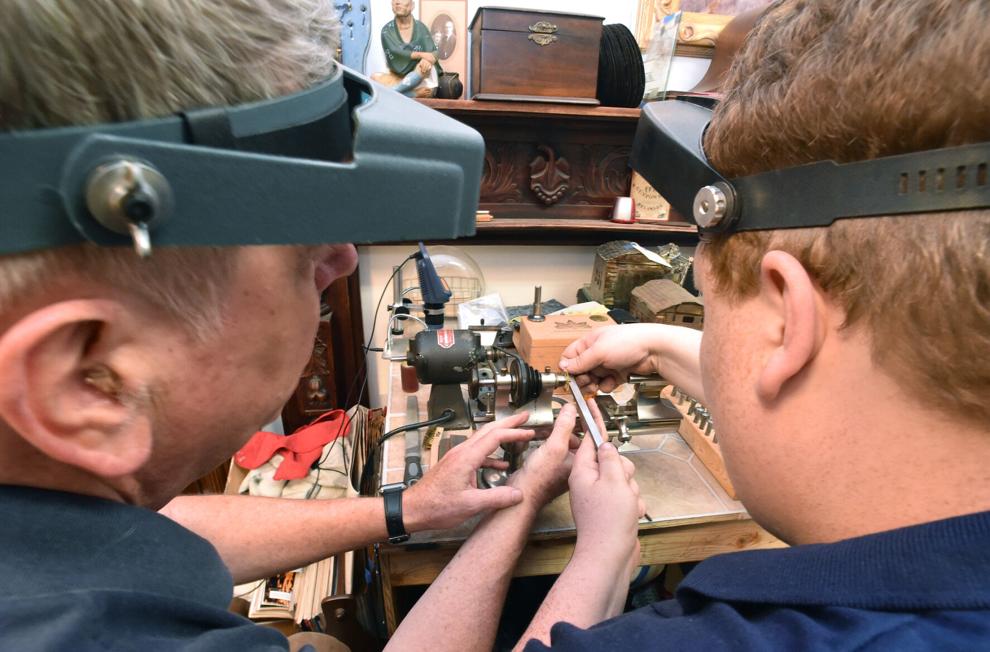 Koenig has been working with Mantiques owner and certified clock maker, Mike Moore, since May 19. "I'm loving it so far," Koenig said. "I very much prefer hands-on work."
Every Wednesday, Koenig comes into the shop at noon for his four hour shift. As he progresses, Koenig will be invited to participate more and more.
"It's strictly his call," Moore said. When the Chronicle asked Brandon what he thinks he'd like to do, he said, "I might ask for another day."
"He probably has an encyclopedic knowledge of clocks," Moore said. "He can recount information about clocks that is astounding, especially for anyone that's 23 years old."
"Who's the master of masters?" Moore asked Koenig as he pointed to a photograph. "That'll be Thomas Tompion," Koenig said.
Moore explained that Tompion was a clockmaker in the 1600s and by all historical accounts, likely the finest. Tompion's knowledge has been passed down from master to master.
"He's a direct recipient of that knowledge throughout the ages," Moore said about Koenig. "It's an honor."
When asked what he enjoys most about working with clocks, Koenig said, "It's very relaxing for me." He also explained that he likes the sounds that clocks make.
During the Chronicle's visit to Mantiques on June 23, Koenig and Moore were working on a restoration project that Koenig brought from home.
"We've been working on this for a couple weeks," Koenig said. "This is the mechanism for my clock," he said as he set the brass gears on the table.
Moore said that the clock was made more than 100 years ago. "He knows exactly when," Moore said. Koenig said, "1920."
Over the course of weeks, Koenig will carefully take the clock apart piece by piece to gain a complete understanding of its workings. "We're currently polishing each one of these parts right now," he said.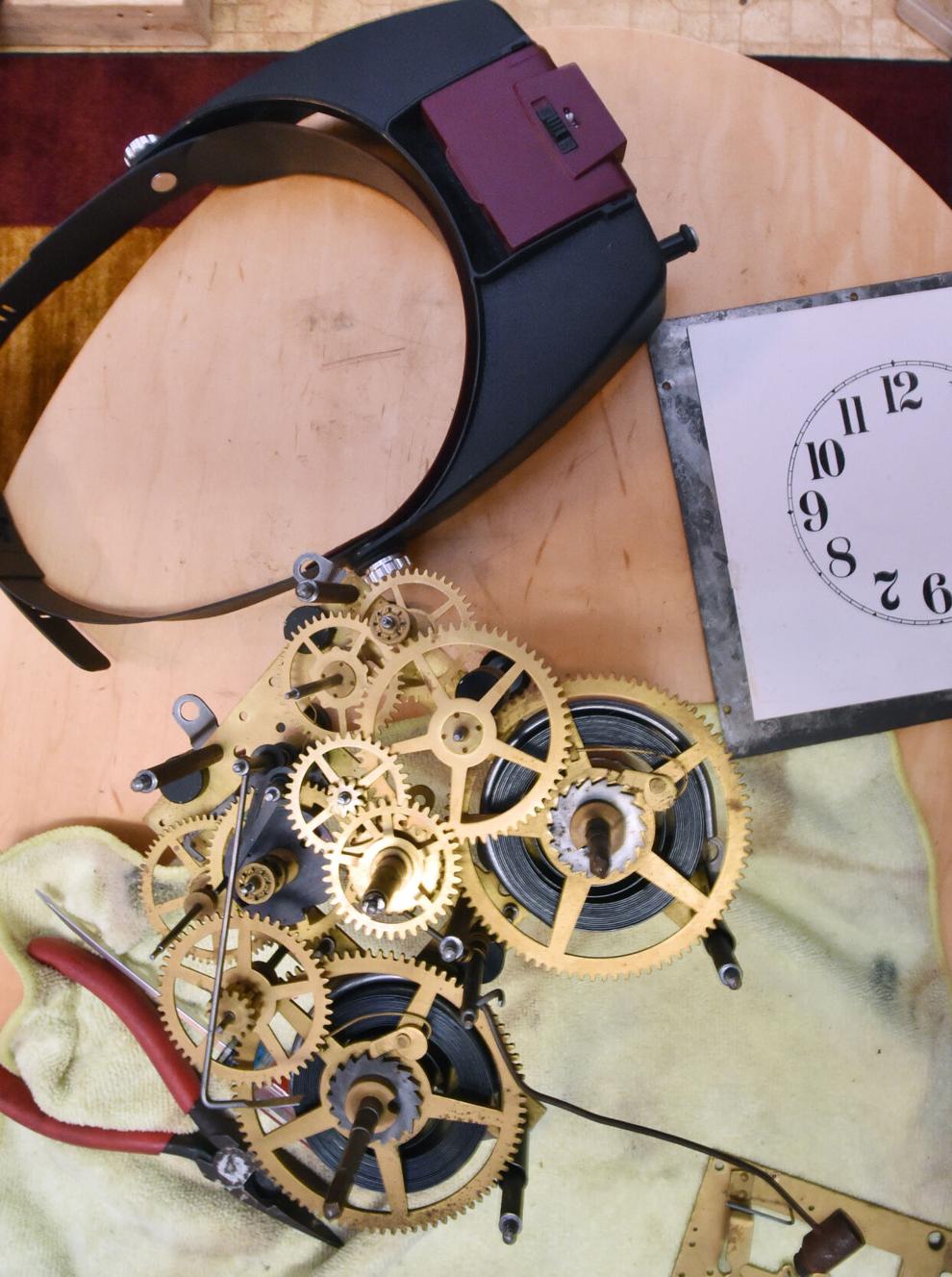 Koenig began using a special rough sponge to carefully polish the brass clock pieces. "This type of material is sympathetic to the brass, but not corrosion," Moore said. "We remove discoloration without damaging the brass."
Once the brass is all polished, Koenig will use a special European wax to seal the metal so it doesn't corrode.
After Koenig learns the basics, Moore said he's going to start teaching him about the aesthetics of clocks. A combination of mechanics and aesthetics, Moore described clock making as a mechanical art form.
"It has a method and he has responded to the method extraordinarily well," Moore said. "He's really a very good candidate for clock making. It takes a certain kind of person to do that kind of work and he's got what it takes."
When Koenig isn't working at Mantiques, he finds other things to do, like work with his 3D printer. "He printed me a Buddha," Moore, a practicing Buddhist, said. "It was just a wonderful thing for him to do for me."
Koenig also enjoys old black and white films, taking things apart and putting them back together. "That was a lot of my childhood — taking stuff apart," he said. "I've always been interested in mechanical movements, a lot of my life really."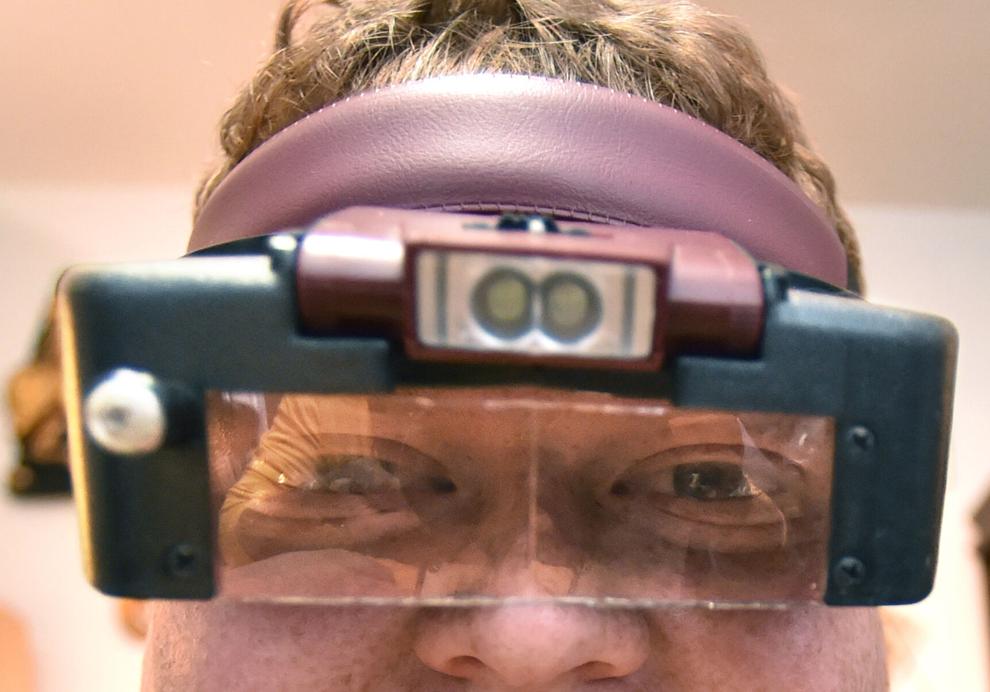 Bethany Carpenter, Key Training Center employment coordinator, has worked closely with Koenig since the beginning of his employment process.
During one of her first conversations with Koenig, Carpenter said he told her about going to a garage sale and finding an axe head. Koenig found out exactly how old it was and the size of its original handle.
"He redid the handle so that it was back to its original thing," Carpenter said. "A restoration," Koenig said.
Carpenter also said Koenig connects with his father over their shared love for mechanics. "He showed me how to fix a lot of stuff with the car and stuff like that," Koenig said. "He's a very do-it-yourself kind of guy."
Originally Koenig wanted to explore more employment options with his 3D printer. "I talked to him about various ideas; we kind of went back and forth and then this opened up," Carpenter said. She said Mantiques is a perfect fit for him.
When asked what he's currently considering as a career, Koenig said, "Probably this — I like this job so far."