With all her might, Chloe Hemmer threw a pine cone from her wheelchair onto the grass near the Withlacoochee State Trail in downtown Inverness.
"Fetch!" the 5-year-old told her new friend, Brielle Brady, who's a year older than Chloe.
Brielle ran over, picked up the seed pod and handed it back to Chloe, who had a collection of pine cones piled on her lap. Both girls giggled over their new game.
"Here you go," Brielle said before bounding after another pine cone Chloe had tossed. "I got it!"
Chloe's mom and dad and Brielle's parents watched the girls play.
Monday afternoon was the first time the two Citrus County families met, but they came together over a life-changing bond.
Their two young girls are fighting one of most crippling conditions: spina bifida.
October is the month to bring awareness to the spinal cord birth defect, and Brielle's parents, Dan and Trisha Brady, wanted to spread the word about its impacts.
In late September, Dan Brady partnered with Nature Coast EMS, where he works as a supervisor and paramedic, to sell spina bifida awareness T-shirts he helped design through a local company.
"It's been really cool, it's been unreal," Brady said. "I've had some really amazing conversations with a lot of people…to help them understand what it is and what's possible with it, which is a massive range of things."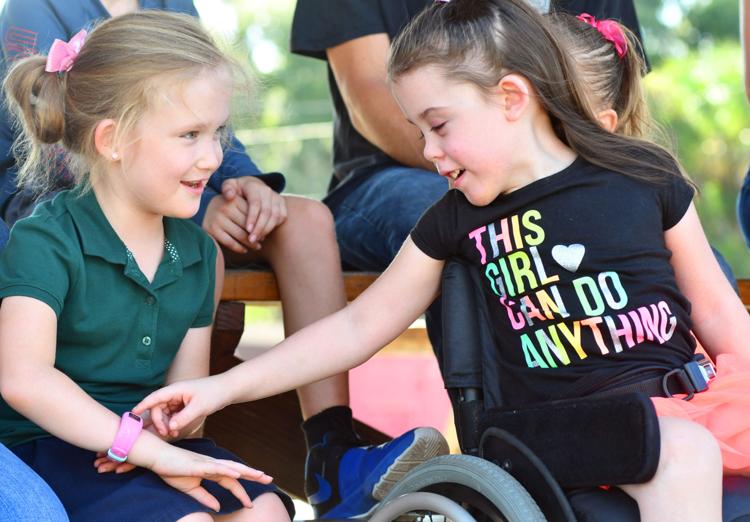 Brady also reached out to the Spina Bifida Association of Central Florida for guidance on where in the county he could send the proceeds. Officials with the nonprofit put Brady in touch with Chloe's mom, Crystal Hemmer.
Not soon after his phone call with Hemmer, Brady knew Chloe was his candidate.
Brady said roughly $500 has been raised so far to buy Chloe a specialized chair and other equipment to improve her mobility and quality of life with her family.
"We're eternally grateful for whatever comes out of it," Hemmer said.
Nature Coast EMS is selling the $20 shirts out of its headquarters at 3876 W. Country Hill Drive, Lecanto.
About 1,645 infants are born with spina bifida each year in the U.S., according to the Centers for Disease Control and Prevention (CDC). 
It's called the "snowflake condition" because those living with it, depending on available care, grow up with a variety of disabilities, like being unable to use the bathroom or walk.
"No two children are the same," Hemmer said. "There are so many medical conditions that come along with it … and, unfortunately, Chloe has just about everything that could go wrong."
Chloe and Brielle were born with the most serious type of spina bifida: myelomeningocele.
Myelomeningocele is when the fetus' backbone doesn't close around its spinal cord, and the vulnerable nerves are then damaged and unwind in a sac of fluid that formed through an opening on the infant's back.
Trisha Brady said she did her research on spina bifida before she became pregnant with Brielle.  She took her routine vitamin of folic acid, which the CDC recommends mothers-to-be should do every day in doses of 400 micrograms.
"It was already a fear for her," Trisha Brady said.
Hospital staff found evidence of Brielle's condition during an ultrasound 18 weeks into the pregnancy, three days before the Bradys vacation to Alaska.
Relatives helped look into care options, and discovered an operation Brielle would later have in the womb to correct her spine, sparing her from possible paralysis. 
It was an option the doctors didn't know about or share with the Bradys.
"They don't even know and it's scary," Trisha Brady said.
Brielle still has to have annual operations to cut away the scar tissue that regrows and constricts her spinal cord, a symptom known as tethering.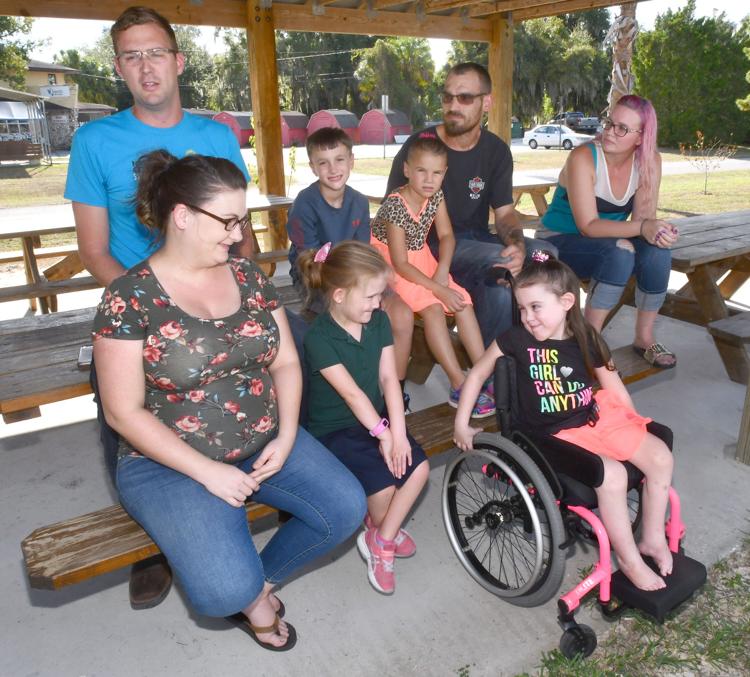 Her parents try to document every little pain she feels, because it could develop into something much worse.
Hemmer said it was four days before Christmas and 22 weeks into her third pregnancy when she and Chloe's father, Terry Nevills, heard the news about Chloe.
"I hadn't been feeling her move that much," Hemmer said about how Chloe wasn't kicking. "I had that 'mommy-gut' feeling that something was wrong, but I had no clue what."
Hemmer's doctor showed her Chloe's ultrasound.
"He goes: 'You see this sac right here … that's where her spine is outside of her body … and that's why you're not feeling her move because she is paralyzed,'" Hemmer said, recalling what he told her. "My heart sank."
Because her mother was a high-risk pregnancy and it was passed the cutoff date, Chloe was not eligible for in-utero surgery to operate on the two sacs that developed off her spine.
Chloe also has to undergo regular treatments that could require her to be anesthetized.
Because of her CHARGE syndrome, a genetic disorder, Chloe has a chance of not making it through surgery, which also makes her more prone to have seizures.
"But she wakes up with smile on her face," Hemmer said.
Constant medical appointments and unexpected hospital trips for infants with spina bifida can cost a family between $21,900 and $1.35 million within baby's first year of life, according to a 2012 study cited by the CDC.
"It doesn't matter if you think you're getting comfortable," Nevills, said about Chloe's sudden emergency room trips. "It constantly changes."
"It's been a rough road," Hemmer added. "We've hit some major bumps in the road."
It's estimated a person with spina bifida spends an average of $791,900 in healthcare costs during their lifetime, the CDC reports.
Hemmer said she'll never tell her daughter she won't be able to walk.
"Our goal is ultimately that she will walk, and we're not giving up on that," she said. "We never tell her 'no.'"
Each success that Chloe has reminds her parents to not take things for granted.
"People don't know how difficult it is to eat dinner or go to park," Hemmer said. "A small victory that nobody would even think about becomes the greatest thing that you celebrate."
For Hemmer, spina bifida awareness should not just clarify the warnings, but also the possibilities that can still occur.
"There needs to be a better way to explain what's going on," she said. "They need to tell you the positive things."
Hemmer said her family — Nevills, Chloe and her older brother and sister — are trying to save up money for their own house. 
They're living in the Inverness Highlands with Chloe's "nana,"  Laura Shelley, who's been invaluable in supporting her granddaughter.
But first, Chloe's parents want her to be able to eat with them at the family table. Chloe's current wheelchair is too short, and she doesn't have the stability to sit in other chairs. 
Hemmer said she's looking at soft-touch seat liner designed by Special Tomato to make Chloe's seating higher, more comfortable and safer.
Hemmer would also like to get a new minivan that's wheelchair accessible, making it easier to take Chloe to her many doctor's appointments.
"She's getting bigger and heavier, and it's getting harder to get her in and out," Hemmer said.
Dan Brady said he's still not done selling first large order of spina bifida shirts, and he'll order more if the demand is there. He's just happy to help 
"Just the idea that we could help you guys do something as simple as eating dinner together as a family," Brady said to Hemmer.
"This is amazing," Hemmer said. "It means everything."
For updates about the local spina bifida fundraiser, check out Nature Coast EMS' Facebook page.