April Brittain took a giant leap at 19 and fresh out of Citrus High School when she took off on her 26-year service with the U.S. Air Force.
Now she's relaunching her military career as a Guardian of the U.S. Space Force.
Chief Master Sergeant Brittain transferred into the country's galactic service branch during a Dec. 15 ceremony — almost the Dec. 29, 1994, anniversary of her joining the Air Force.
"We're protecting those American interests," the Inverness native told the Chronicle, "and just being able to be part of that, I love that; it feels like you're part of a greater good."
As a Command First Sergeant in the Space Force, Brittain was responsible for the staffing and career progression of more than 47 First Sergeants serving roughly 26,000 space professionals worldwide.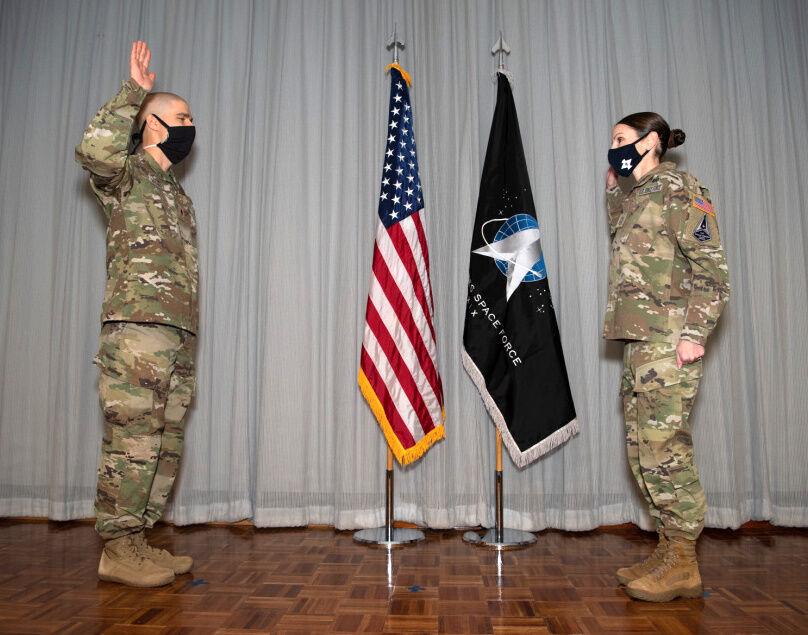 "Whether it's professional or personal, it's in my lane of things I can help out with," she said. "We want to get every person to be the best person of themselves."
On Monday, Brittain's role changed to Delta 2 Senior Enlisted Leader.
She now advises the commander of the newly-activated Space Domain Awareness Delta, which spans across the globe with personnel at 10 locations supporting missions in four countries.
Space Delta 2 is responsible for assigning forces to operations seeking to deter aggression and, if needed, fight to protect the U.S. and its allies in, through and from space.
"I go to taking care of a team that's responsible for a pretty important space mission," she said. "The decisions we're making with people will still be in my wheelhouse, but it's more of a leadership specialty."
Originally called Air Force Space Command — which, since September 1982, focused on missile warnings, satellite control and space surveillance — the Space Force was renamed in December 2019, following the signing of the National Defense Authorization Act of Fiscal Year 2020.
Brittain is no stranger to defending U.S. interests in the stars.
For four-and-a-half years before her transfer to the Space Force, Brittain was assigned to Air Force Space Command, supporting communications there with her IT experience.
When the Space Force was established, Brittain volunteered for it on May 4, 2020, paying homage to "Star Wars" and one of the movie series' many catchphrases, "May the force be with you."
Brittain found out in November she was accepted into the Space Force, making her one of around 30 chiefs who were selected.
"We've never, in my life time, created a new service," she said. "There's the unknown, there's the challenge of the unknown, and so just to be a part of that, there's nothing else I'd rather do."
Even based as far as the Peterson Air Force Base in Colorado, Brittain doesn't forget her memories of Citrus County, where her mother and brother still live.
"It's my stomping grounds," she said, reminiscing of days as a clarinet player with high school bandmates as the Hurricane football team took the field. "There was so much camaraderie there."
Brittain was also a member of the Girl Scouts.
"I loved all of that," she said. "Inverness was so small that when we got the Checkers, it was a big deal."
Brittain "kind of stumbled" into the Air Force while in Citrus High. 
"It's really all I've known," she said.
Except for her grandfather, who was drafted, Brittain didn't know of any immediate relatives with a military background, and she wasn't part of her high school's Air Force JROTC program.
"I really didn't think it was for me," she said. "I was a pretty small, pretty timid girl."
It would later be Brittain's mom who'd encourage her daughter to speak with a recruiter during a career fair senior year. Brittain's mom was also there to see her daughter transfer to the Space Force.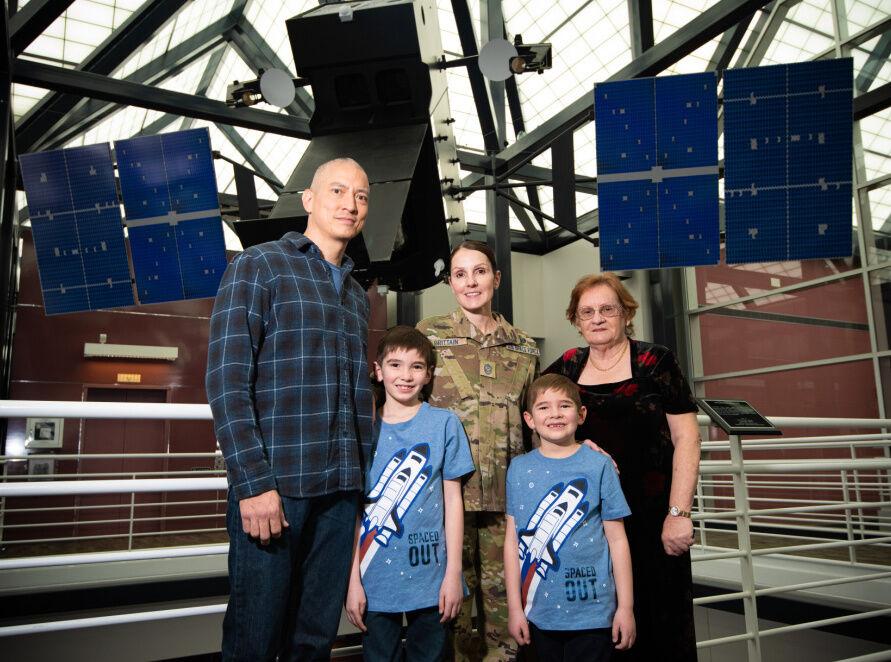 "I took a chance on the military," Brittain said. "I was a small-town girl and I had no money to go to school."
It turned out to be one of Brittain's best decisions, exposing her to an affordable education, worldwide destinations, unforgettable experiences and unbreakable friendships. 
Whenever she visits her high school every couple of years, Brittain reminds students of those opportunities offered by the Air and Space forces.
"I know there's a lot of folks like me that sit in those seats, in those walls, who just want to think bigger than maybe than what's immediately right there in front of them," she said. "You can get somewhere if you have a goal and put in the work."
Brittain celebrated New Years of 1995 in Air Force basic training. Her recruiter, keen rule-following and good behavior helped her adapt to life in the service.
"I felt like I grew up in the military," she said.
Brittain left basic open to whatever the Air Force had in mind for her, and started out in security forces, now called "defenders."
"I was 4 feet 10 inches and 120 pounds of mightiness," she said. "Very quickly I adapted to that military … kind of mindset that it didn't matter if I was 100 pounds, I had a responsibility to protect and guard the installation."
Brittain got injured almost two years into the role, leading her to pick military communications as her next job.
According to the Space Force, Brittain cross-trained as a Communications-Computer Systems Control apprentice at Kessler Air Force Base in Mississippi. Her stationed first base was in Germany.
"That was a long way from home," she said, "but getting to see that kind of culture was cool."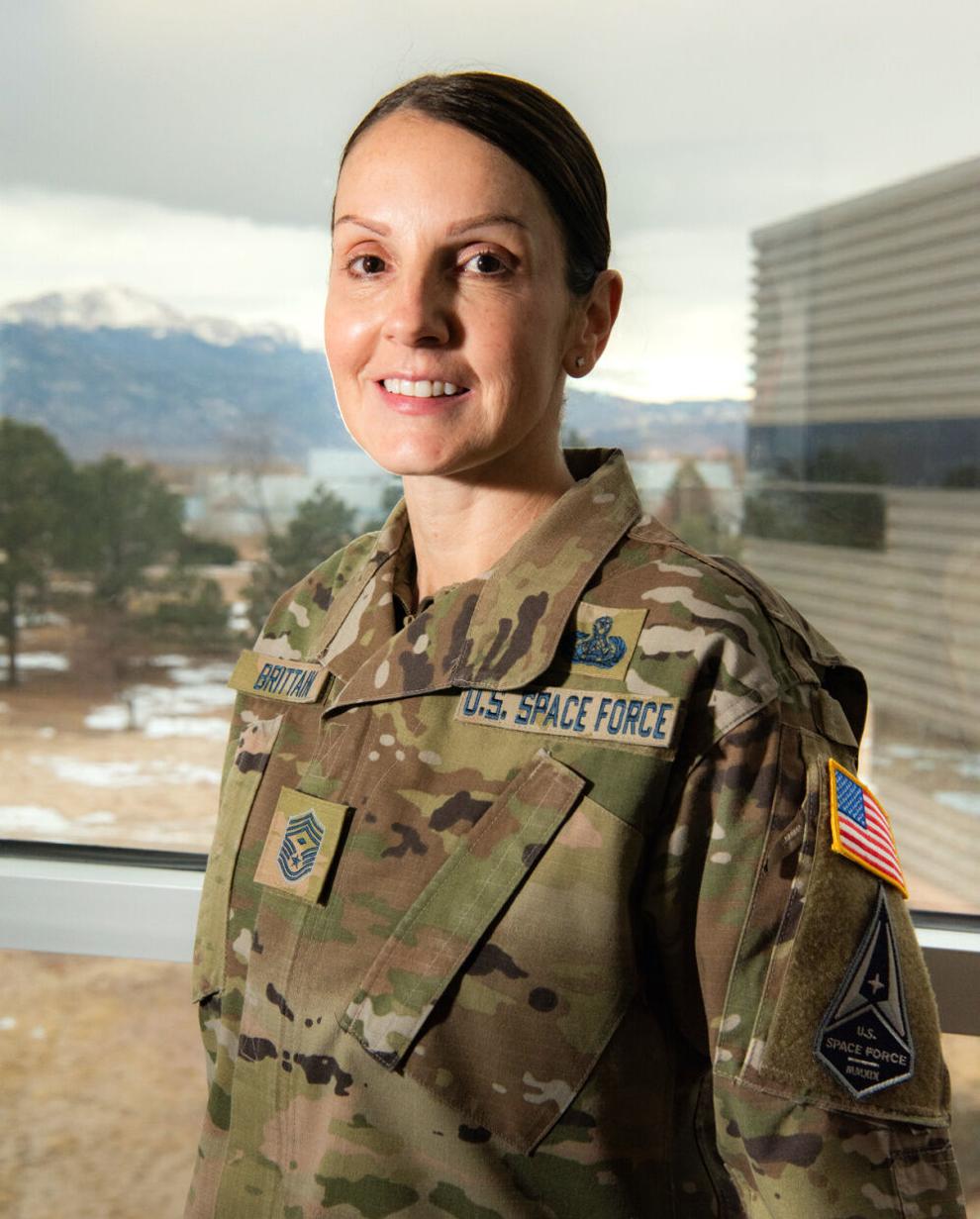 Coming up through the ranks, Brittain also handled intelligence and communication support for ground-fighters from the National Reconnaissance Office, both at Cape Canaveral and at its headquarters in Chantilly, Virginia. 
"No matter what kind of role they put me in, I had to learn it and master it," she said, crediting her colleagues and mentors for helping, "and I'm the person who has to ask a lot of questions; I don't like it when I don't understand something."
Per her contract, Brittain must spend at least two years with the Space Force. She's planning to stay for two-and-a-half years, but can't be enlisted for more than 30 years as an E-9 chief. 
As Brittain continues her steadfast service, she hopes the citizens she's been protecting keep putting their confidence in her and Space Force missions.
"It's important that they trust we have our best interests in mind," she said. "We'd like their faith and trust in us, and their support in us."