An illegal fire burned down a building and damaged several vehicles in a Crystal River-area neighborhood.
Citrus County Fire Rescue (CCFR) crews responded to the blaze at 6:38 p.m. on Friday, Dec. 3, off of West Cherrywood Street, where firefighters arrived to find a 600-square-foot metal building fully involved with flames threatening nearby automobiles, according to CCFR on Monday.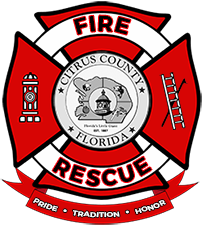 Firefighters from the CCFR stations of Connell Heights, Kensington, Pine Ridge and Homosassa controlled the fire by 6:52 p.m. 
According to CCFR, the metal building, a Harley Davidson Fat Boy motorcycle and a moped were lost to the fire. A 25-foot Trophy tow behind camper, 2017 Ram ProMaster van and 1994 Gulfstream 32-foot camper were 50% damaged.
No injuries were reported.
CCFR found a large tree stump drilled with holes and filled with split firewood in the center of a burnt-out crater two feet from a wooden frame of the metal building.
According to CCFR, the homeowner admitted to burning the stump at around 5 p.m. and went back inside his house after believing the fire was extinguished.
Fire damaged showed the flames spread from the stump, through the grass and to the building's wooden wall, where it entered the structure and proceeded to ignite plywood and 15 gallons of oil, according to CCFR.