The Homosassa Riverside Resort is getting a complete overhaul: new name, retooled bar, new restaurant and gift shop.
But the same "Old Florida" motif will remain, courtesy of Blair and Ethan Hensley, who are bringing their Hernando County restaurant to the river.
They believe their "old Florida Cracker-type" restaurant-bar concept that has proven successful in Brooksville will be an equally big hit in Homosassa.
The brothers have entered into a partnership with the Lowman family - owners of the Homosassa Riverside Resort — to re-imagine the Monkey Bar & Grill there and introduce craft beer and cocktails. The Hensleys also plan to renovate an existing building on property for one of their Florida Cracker Kitchen restaurants.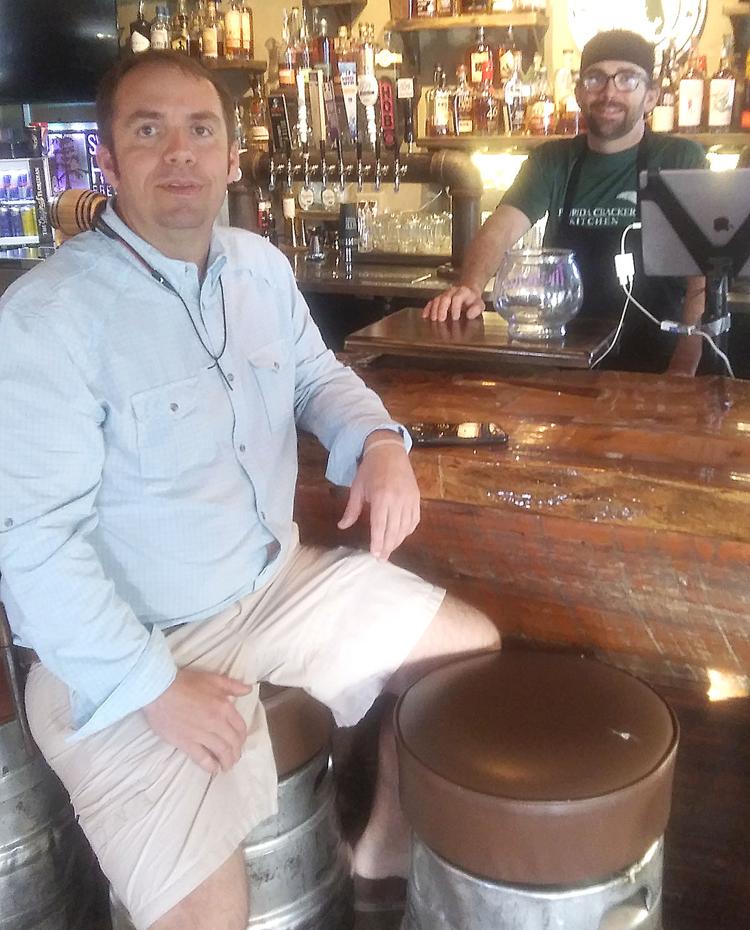 A new gift shop is also in the works.
Located on the picturesque river at 5297 S. Cherokee Way — in sight of famed Monkey Island — the complex will be renamed Florida Cracker Riverside Resort.
"It's just going to be a solid project all the way around for Homosassa," Blair Hensley said. "It fits into our culture and our heritage of who we are in Florida."
The Hensleys have a long history in the restaurant business. They are the former owners of Brooksville's Coney Island Drive-Inn and sold that place to open Florida Cracker Kitchen off Jefferson Street in downtown Brooksville in 2012.
In addition to Brooksville and Homosassa, they have three other locations in Florida.
The restaurant prides itself on original "cracker-type" meals, harking back to Old Florida "where everyone is treated like family with true Southern hospitality."
Nothing comes out of a can, Hensley said. It's all fresh and made from scratch.
Like its Brooksville counterpart, the Homosassa location will be open for breakfast and lunch from 7 a.m. to 2:30 p.m. Tuesday through Sunday.
Hensley said he's working on the permitting right now and hopes to get the new Monkey Bar open in four to six weeks. He's shooting for a fourth-quarter opening of the new Florida Cracker Kitchen.
Hensley figures 40 percent of business at the Brooksville location is from outside Hernando County.
"We have a pretty big following there (in Citrus County)," he said.
Ethan Hensley said the move into Homosassa fits in with his vision of bringing a bit of Old Florida to the public.
"I think it's a great opportunity," he said. I like Homosassa and I've spent a lot of time in the area. It really just fits and goes right along with our theme."
The Hensleys will hire 25 to 30 people for their Homosassa restaurant. They plan to retain the existing staff at the Monkey Bar.
Brent Lowman, part of the Lowman law firm, said his family bought the Riverside Resort Dec. 31, 2019, because of the vast potential of the property. He contacted the Hensley brothers and asked if they'd be interested in bringing their restaurant and other amenities to the facility. The rest is history.
"We thought that the Florida Cracker would be the perfect restaurant for the Homosassa River area," he said. 
When all the property improvements and renovations are complete, the resort will look more uniform in appearance and the Old Florida theme will be visible throughout.
"From the moment you walk onto that property or bring your boat, you're under one common experience," he said.
The resort will have 54 hotel rooms, 85 boat slips (including rebuilt docks), storage sheds for tour guides, trailer and boat parking, a retail center, a complete marina with pontoons, paddleboards and kayak rentals, scalloping gear and manatee tours.
"It will be something that Homosassa probably hasn't seen in a long, long time," Lowman said.
Lowman did not reveal how much this will all cost, but admitted it is well into seven figures.
"That is an unbelievable piece of property and we want to fix it up so that it's a staple of Homosassa," Lowman said. "We've been involved in many projects and the family is excited. We want to make sure this retains the character of old Homosassa. I've been going to the Riverside resort since the 80s so we want to keep the traditions."
The resort is open while the remodeling is going on. But the Monkey Bar is closed.