When Hannah Hendrickson was in second grade she asked her mom to curl her hair so maybe a boy named Bradley would notice her.
Being a second-grade boy, he didn't — and then one day he changed schools, ending Hannah's second-grade crush.
Fast forward seven years later to 2011.
"I was at a Relay for Life event, volunteering with a team from Crystal River Middle School, and I saw him for the first time since second grade," Hannah, now 23, said. "Still the same blond-haired boy, same handsome face."
He was there with his dad's team, "Team Eddie."
With butterflies in her stomach, she approached him and asked, "Are you Bradley Hendrickson?"
That's all it took, she said.
A few days later, after getting her number from a mutual friend, Bradley called, and they've been inseparable ever since.
They got married this past Nov. 24 in a dream wedding, the winners of the 2019 Chronicle Dream Wedding contest.
As part of their dream wedding package, Cavallo Estate Winery in Lecanto provided the venue, Southern Event Planning and Boutique in Crystal River provided event coordination, and Queen of Cakes in Crystal River provided the cake.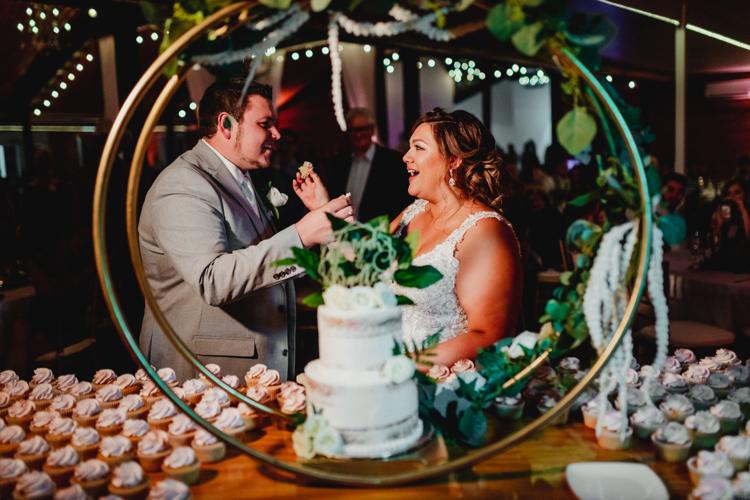 "We had a two-tier lemon cake for us to cut and enjoy and the same flavor cupcakes for our guests," Hannah said. "The taste was incredible! She really outdid herself."
The couple's first date was to Crystal River High School's homecoming dance when Hannah was a freshman.
Bradley went to Lecanto High School.
"We went as 'just friends,' but secretly we both liked each other," Bradley said.
"He was my homecoming date, biggest fan at all my games when I was a cheerleader, and above all, my best friend and the man I have loved all along," Hannah said.
Back in high school they jokingly made a pact: If neither of them were married by age 30 they would marry each other.
"Our lives took a few twists and turns and we went our separate ways for a short time, but it always seems that we've made our way back to each other," Hannah said. "We were so young when we met, and to me it's incredible that we've seen each other at every low and high throughout the different phases of our lives. From innocent adolescents to grown adults … our love for each other has only evolved — our friendship truly set fire."
After high school, Hannah went to nursing school in Ocala.
"Bradley proposed to me at my nursing graduation party in front of all our family and friends, and with my dad's permission, asked me to be his forever," Hannah said.
Then life got busy and wedding plans were put on hold.
After graduation, Hannah was hired at Citrus Memorial Hospital and also went back to school for her bachelor's degree.
Bradley works as a rating field inspector for Conservation Plus in Inverness.
Plus, they had purchased their first home.
"With student debt and other financial barriers, we had decided our wedding day would come when we were financially ready for it," Hannah said.
When they heard about the Chronicle's Dream Wedding contest, they hesitated, but entered on the final day.
"The day we found out we won was completely overwhelming, but in a good way," Hannah said. "We were elated and felt so blessed to be chosen."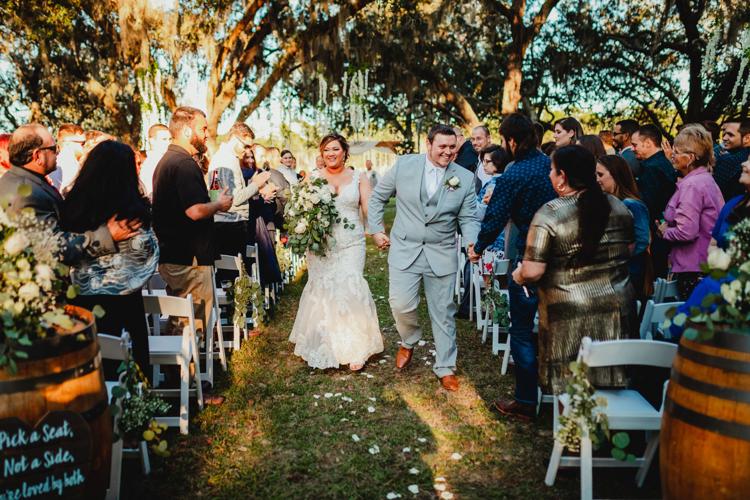 And at 4 p.m. Nov. 24, a beautiful but slightly chilly day, the couple said "I do."
"The first time I saw Hannah in her dress, I had complete tunnel vision, she looked so stunning," Bradley said. "My chest was tight and I truly felt in my heart at that moment that she truly was my soulmate and partner for life. I will never forget that moment."
"I love his patience, his positive attitude about any situation, his drive, determination and work ethic," Hannah said, "and most importantly how respectful he is."
"I love her selflessness and her charm and dedication to things she loves," Bradley said.
As for their best advice to other couples planning a wedding, they advise taking time to take it all in.
"It comes and goes so fast, especially the day of the wedding" Hannah said. "Plan ahead, budget and try to space things out so you aren't doing everything in a short period of time. And take any help that's offered!"