Forming a special bond with people is nothing new to military veterans. But what has been new to several local vets are the bonds they have created over the past month through the game of golf.
For the first time in it's history, a PGA HOPE program was offered this summer to Citrus County veterans at Plantation on Crystal River. Created in 2016, the national program uses professional instructors to teach the game to those who have served our country.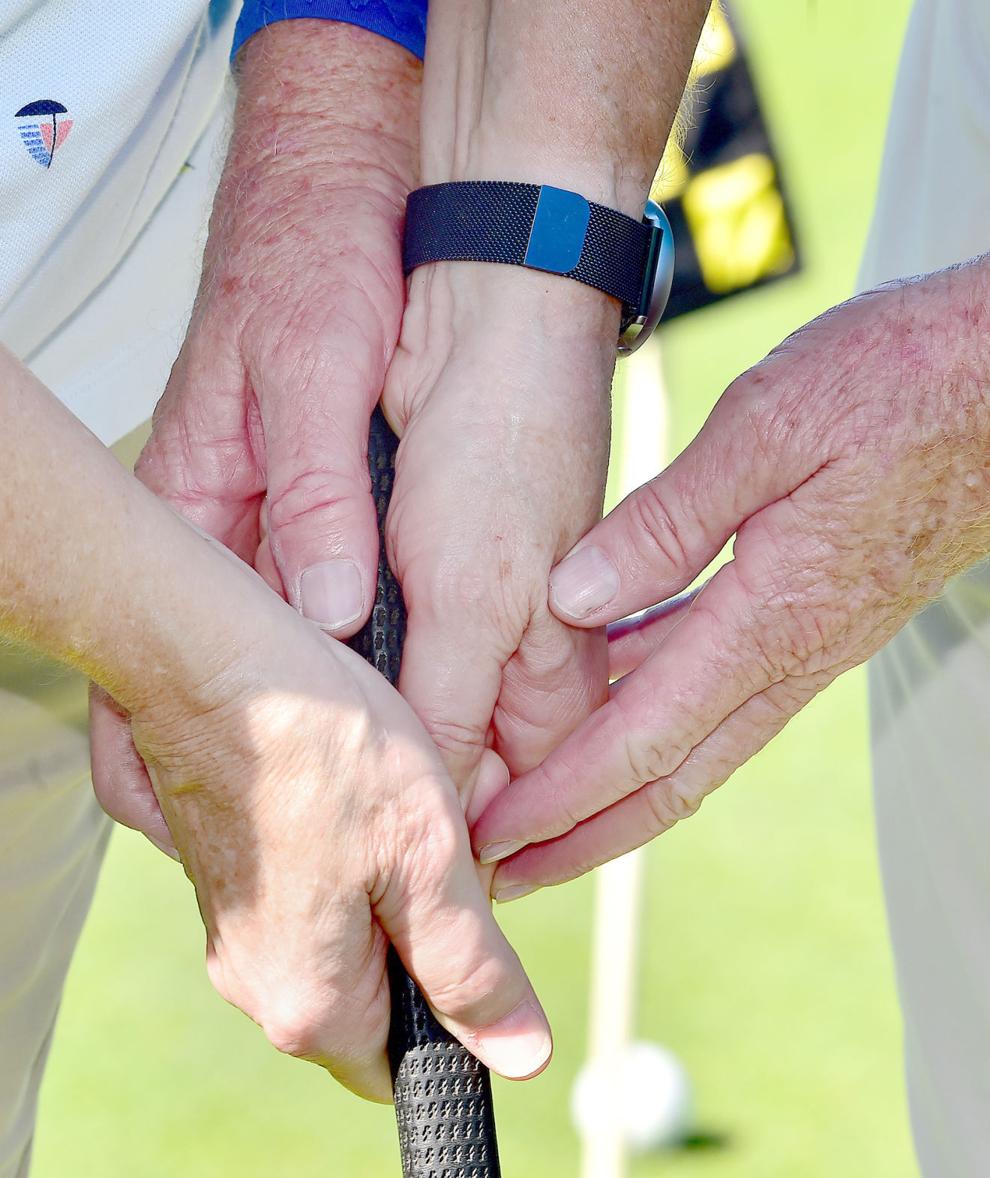 Charlie Meade, PGA golf instructor at Plantation on Crystal River, played a large role in bringing the program to life in Citrus County and said there is much more to the program than just golf lessons.
"What the HOPE program does is it really gives the veterans something very positive to look forward to," he said. "They know the PGA of America is behind them. It gives them encouragement that a national organization is supporting them. A lot of veterans are becoming aware of the program.
"The game is a great tool to get people to relax."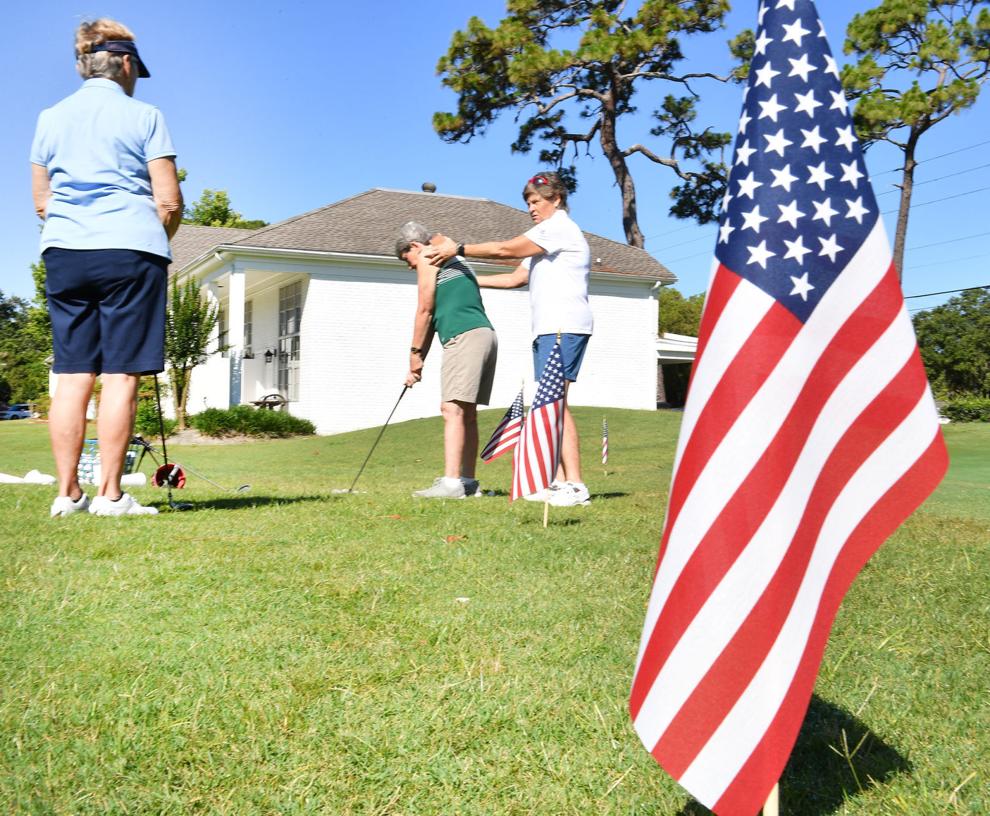 After an initial introductory clinic where the three instructors – Meade, Tim Hume and Mary Slinkard – met their students, the first of six lessons was held June 2. The course will conclude Thursday, fittingly just days after Independence Day.
The veterans who signed up for this initial course in Citrus County were Vinnie Covino (Navy), Cynthia Henderson (Air Force), Joann Hirst (Army), Nick Howley (Army), Richard Jordan (Marines), Ron Kearse (Marines), Eileen Mackrell (Navy), Edward Monty (Navy), Jo Monty (Navy), Jane Mundis (Navy), Linda Sorondo (Air Force) and Joshua Langston White (Marines). All but Hirst – who had to withdraw due to a bad hip – will finish the program.
Jordan, who was in the Marines from 1965-1971 and served in Vietnam in '67 and '68 as a helicopter door gunner, said the program has been amazing and he would encourage any military veteran to sign up for future lessons.
"I've been talking to some of the other golfers who are veterans at our post and they're all interested in getting involved in the next round. I'm talking it up a lot. I think it's a great opportunity for veterans, male or female. Handicapped or not handicapped. We're all handicapped to a certain degree," Jordan, whose nickname is "Gunner," said. "It's a great opportunity. I love golf. I've loved golf all my life and to be a part of it now is great. And everybody here is so nice. Encouraging each other. And that's what it's all about. It's not how good you are, it's just being able to go out and play with people and everyone has a great time. It's very helpful."
White, a Crystal River native who lost both lower legs in 2012 from an IED explosion in Afghanistan serving as a Marine, said he only got serious about his game after his injury.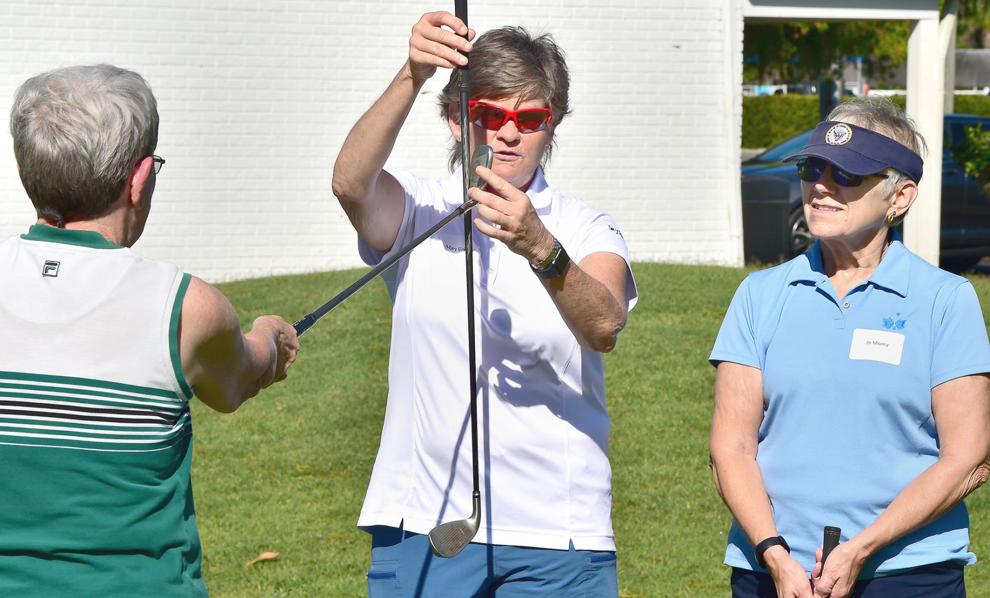 "I've golfed for about eight years now. I never really golfed before I was injured. I did grow up right by here and played here quite a bit, but never took it serious," he said. "I started taking it really serious after I got home. Loved it ever since. Loved-hated it."
The lessons have been eye-opening for White.
"I've never had lessons before of any kind. I've only ever played with my buddies, who are generally as bad or worse than me," he joked. "Just finding things out like 'You're supposed to put your hands here,' 'You're supposed to stand like this,' 'Look at where you think you aimed, this is where you actually aimed.' There's been quite a few things that I didn't even know I was doing wrong. It's been nice. At least now when I do them wrong I can kind of have an idea why I did it."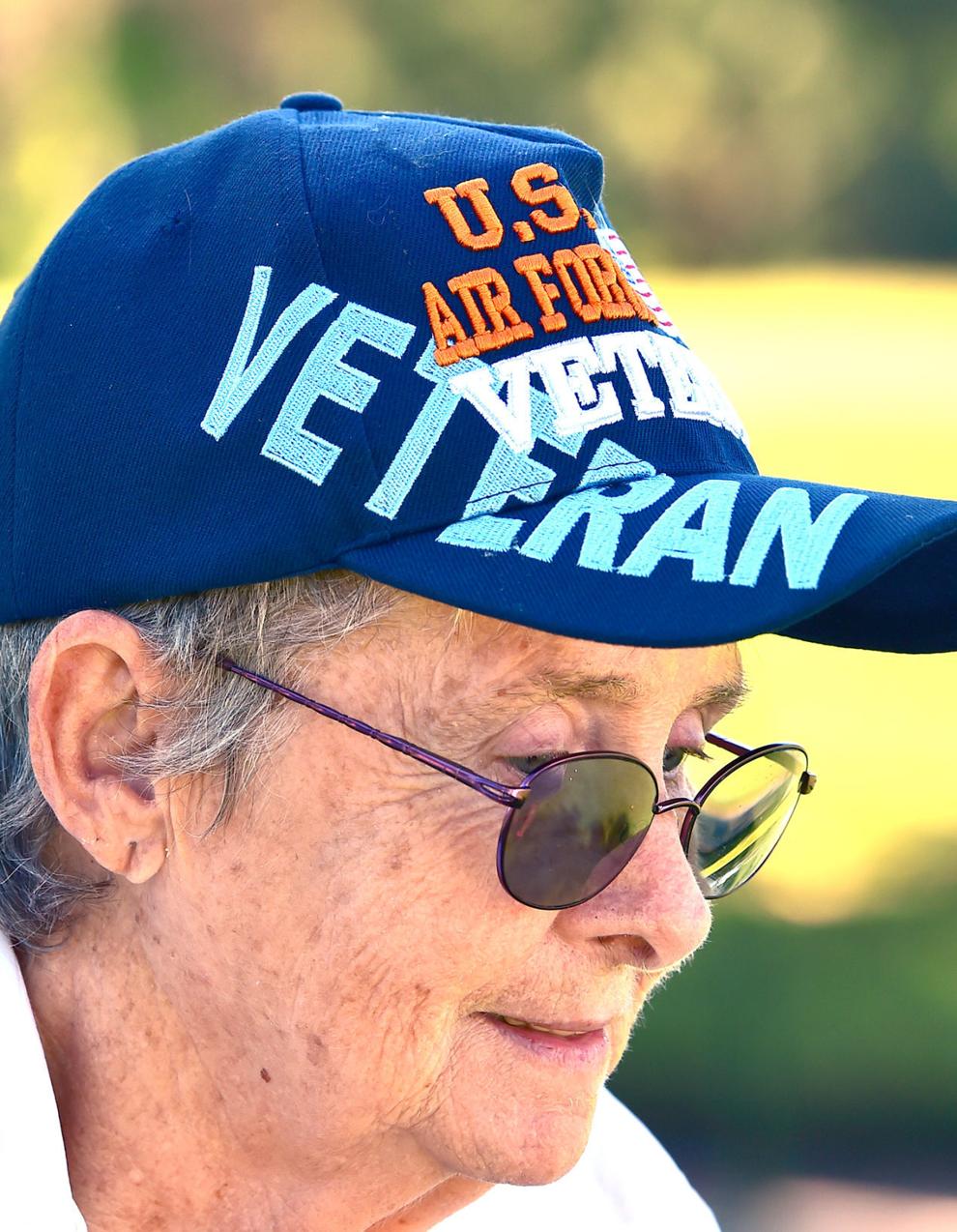 With a ratio of four students for each of the three instructors, there is plenty of time for one-on-one teaching and also a chance to get to know each other.
"The veterans have just been tremendous. We have a really good group," Meade said. "We have a mix. We have three veterans who have never played golf before. They're beginners. We have some who are good golfers.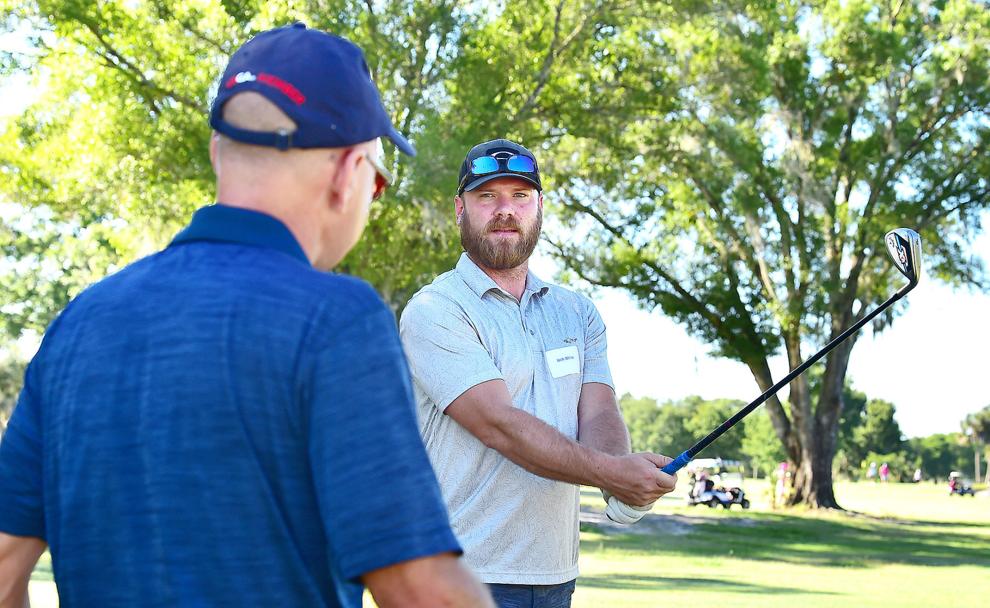 "They're having fun. That's what it's all about. We take our teaching seriously, but the goal is to have fun."
Someone in the group who was a true beginner at the game and is having a blast is Henderson, an Air Force veteran and the founder/president of Female Veterans Network of Citrus County.
"Charlie called me. He wanted some female veterans. I was just going to send him some people, but then I thought I may as well be part of it also," she said. "I'm totally glad I did. It's one of the nicest things I've done this year for myself. I just love it.
"Never picked up a golf club and never thought I would. But I love it. I highly recommend it. Especially if you've never played golf. You'll find a new outlet and a new group of friends."
She added that the instructors have helped her do something she never would have thought possible before.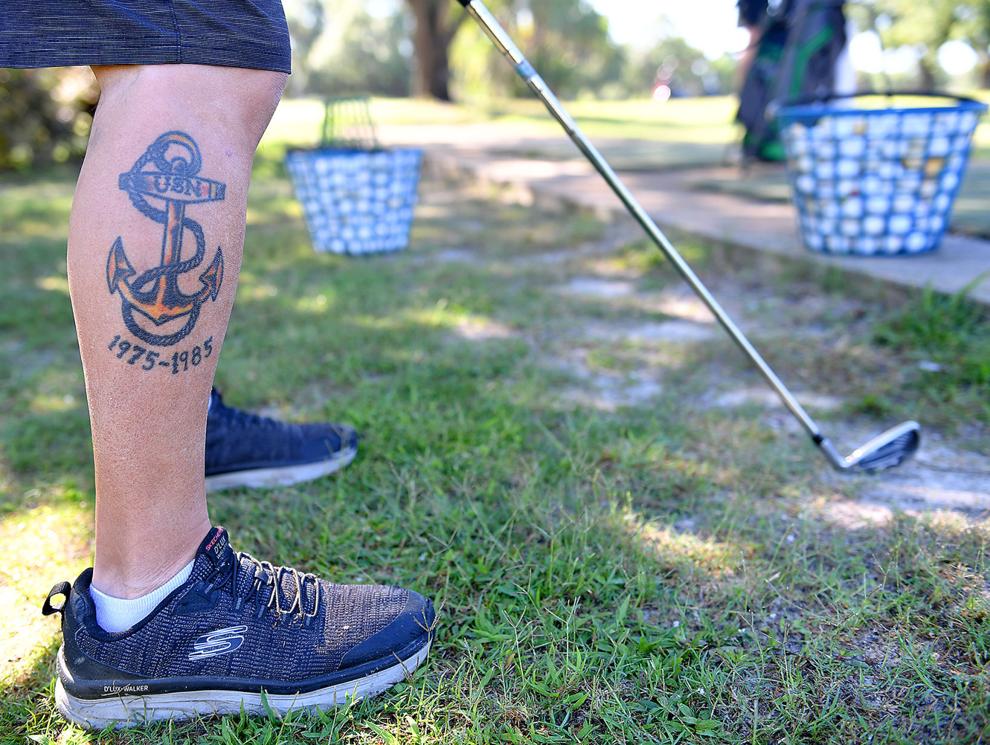 "The instructors are just totally on top of it. They know what they're doing and they get the point across," Henderson, who served in the late 1960s, said. "For me to be able to hit a ball is amazing. I never thought I would be able to hit the ball and I did."
Jordan said he took up golf years ago, but then quit out of frustration. He came back to the game recently and jumped at the opportunity to improve.
"Charlie came over to the American Legion Post in Crystal River. A couple of us had come over and played earlier in the day and went back to the post," Jordan said. "They were there and asked if we wanted to sign up for it. And three of us – me, Nick and Vinnie – signed up for it."
He added the instructors have taught him more about his game than he had hoped for coming in.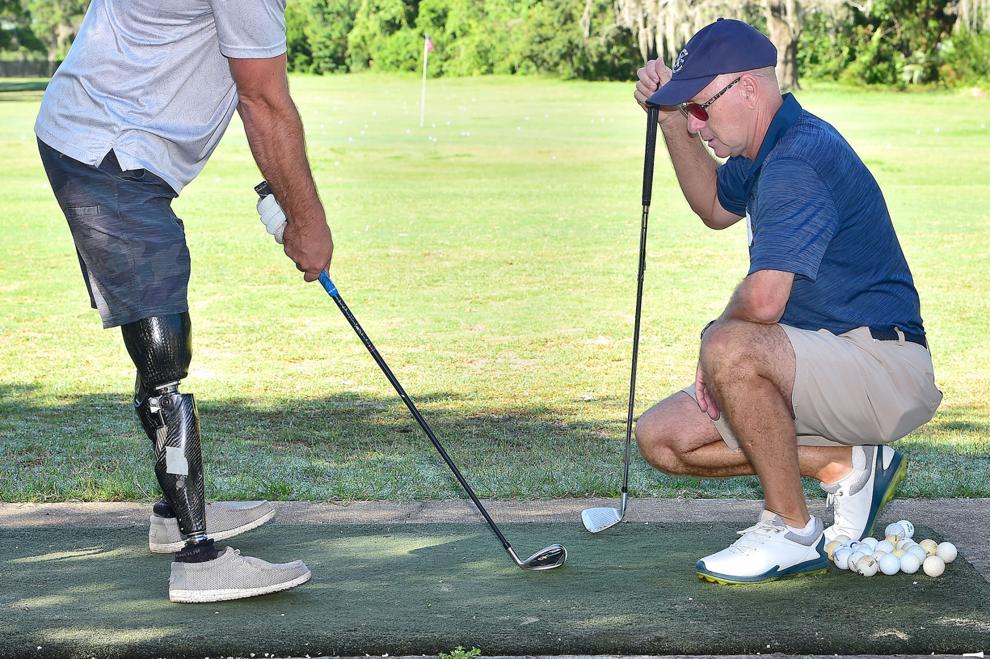 "Great instructors. Really learned a lot. A lot of things I've been doing wrong for years and years and just a little correction on them has been helping a lot," Jordan said. "I'm 74. Hopefully one day I'll be able to shoot my own age. Of course, the older I get, the easier that's going to get. No, not really."
White knew of the HOPE program before joining, but wasn't sure he would ever get the chance to participate in one close to home.
"I heard about the program a while ago from a buddy, but the only offer they had was in Tampa. It didn't seem feasible to drive all the way to Tampa and back every time," he said. "I had worked with Charlie's wife and she contacted me when he started this. So they called me. I didn't even know it was coming. So I was like, 'Absolutely. I was looking to join anyway.' I didn't know we had one."
If Meade has his way, the program will continue in Citrus County for years to come and expand with more than one set of lessons a year. That way, any veteran who wants to take part will get the opportunity.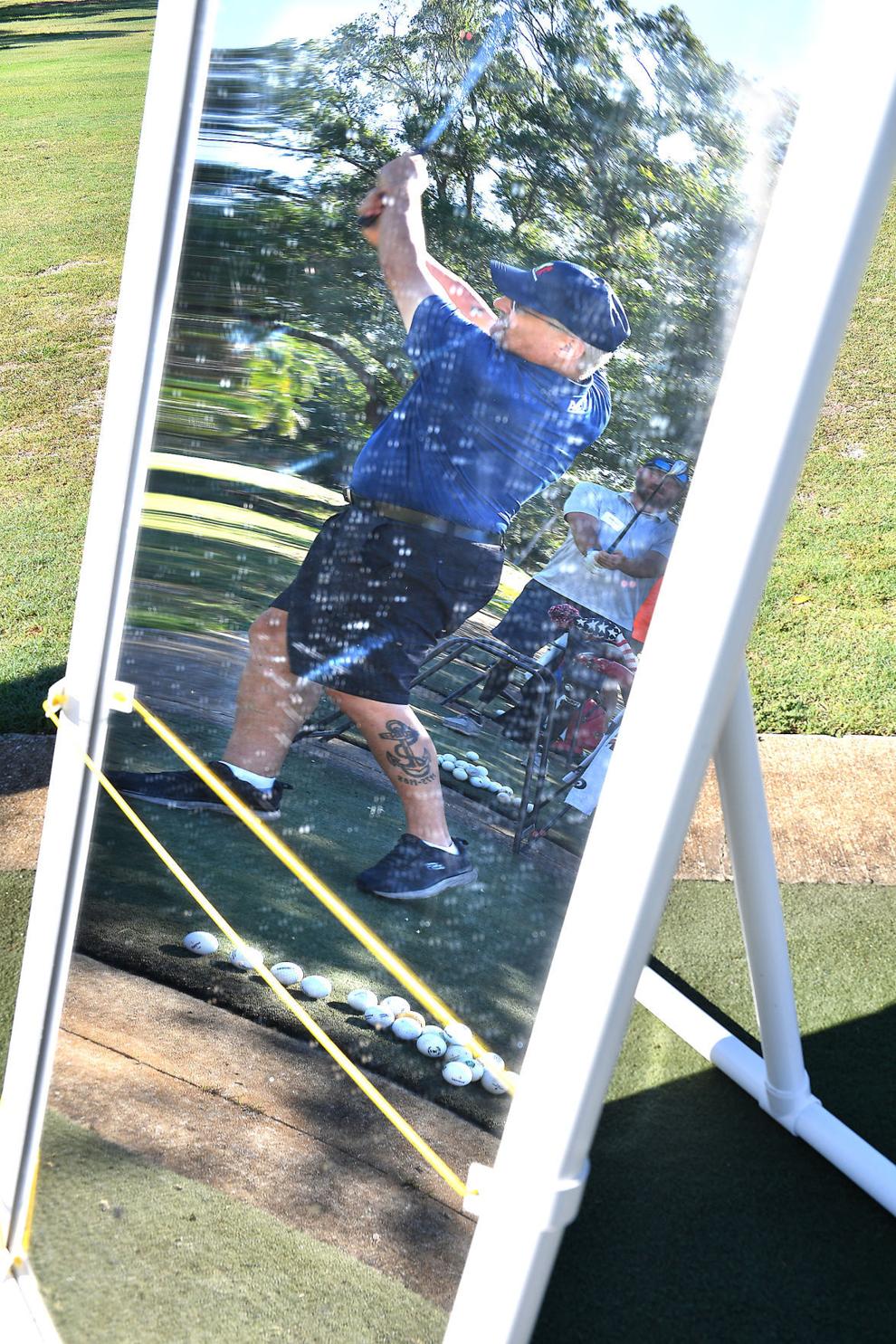 White said he would love to do it again and said the bonds made the past month will last.
"It's a really tight group. There's quite an age difference, but we've become pretty close," he said. "We started out I think a little shy in the beginning but the joy of it seems to gain every week."
Henderson, who said the Female Veterans Network of Citrus County is looking for a permanent building to house the group and can be contacted at cyn2719@yahoo.com if you want to help, agreed that strong bonds have been created in just a few short weeks on the course.
"It's been great. I've had a wonderful time. The camaraderie, which is what we're all about, was just so obvious and it's so wonderful. It's just a wonderful group and I love them all," she said.