More details were released Tuesday morning about a Monday afternoon boating crash in Crystal River that hospitalized two people. 
An 18-foot, 1995 Challenger vessel captained by 68-year-old David Allen, of Crystal River, was coming into King's Bay from the Crystal River a little after 4 p.m., according to a preliminary investigative report from the Florida Fish and Wildlife Conservation Commission (FWC).
Also on board were: Sheila Richardson, 64, and 41-year-old Holly Adams, both of Crystal River; and 41-year-old Allison Aquiar, of Gainesville, FWC's report states.
FWC's report states that Richardson and Aquiar were sitting near the vessel's bow, obstructing Allen's view to see an approaching channel marker, which the boat then struck.
According to FWC's report and a prior Chronicle story, the impact ejected mother and daughter, Richardson and Adams, into the water, and threw Aquiar forward onto the boat's floor, injuring Richardson and Aquiar.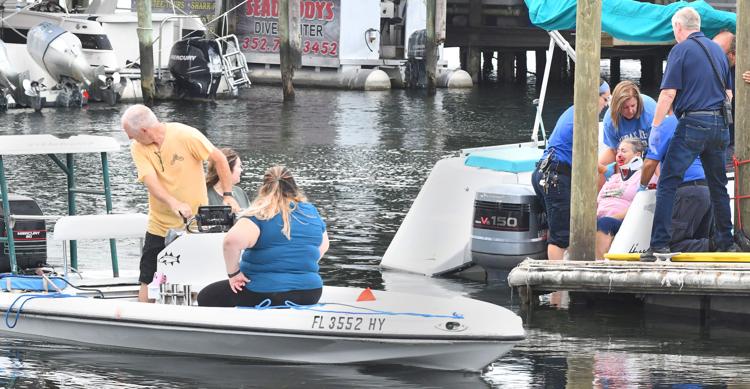 A pair of good Samaritan boaters brought the crew to shore at Pete's Pier to meet emergency responders, who drove Aquiar to Bayfront Health Seven Rivers in Crystal River and airlifted Richardson to a regional hospital, FWC and Chronicle reports show.
FWC spokeswoman Karen Parker said Tuesday there are no citations or arrests pending.